Fans of The X-Files, rejoice: Agents Dana Scully and Fox Mulder have finally transcended their televised medium, thanks to Twitter. They've taken on emoji form.
The account @XFilesbutemoji is exactly what it sounds like, and since mid-July, its been tweeting out alternate dialogue between Scully and Mulder, conveyed in popular Japanese symbols: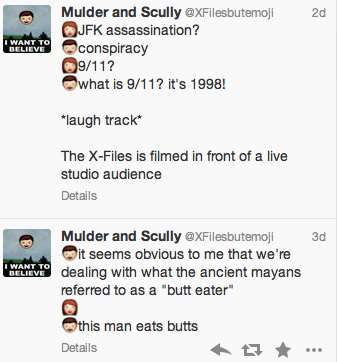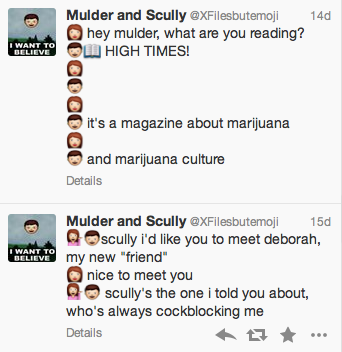 Of course if you're a die-hard fan of the '90s sci-fi show, or prefer admiring David Duchovny's beautiful mouth in HD, these tweets might leave you a bit underwhelmed. As the emoji cache continues to expand, though, the possibilities for revising your favorite TV shows via a string of symbols do too.  
This sort of seems like a teenage approximation of the show, but it looks like this guy and this guy are the "writing" team. As someone whose mother just sent a text in all emojis, I can't discount their cross-generational appeal and influence.
Phota via Neil Bird/Flickr