Completing a successful live-interview session on Reddit isn't as simple as surfing Jay Leno's couch. Woody Harrelson found out the hard way.
On Friday, the Hollywood actor took to the social news site Reddit to engage in a live IamA with its million-strong user-base.  When it became clear that Harrelson wouldn't answer a single question unrelated to his upcoming movie Rampart, the session quickly turned ugly, and the epic fail was subsequently mocked by redditors—and mainstream press—all weekend.
The top comment for a good portion of the weekend, upvoted by thousands of people, came from redditor AndyRooney, who wondered if Harrelson remembered crashing his after-prom party and sleeping with one of his female friends. His long comment included a visual representation of the encounter with the use of animated GIFs, and for motive, linked to a comment reading "This is what he gets for whoring out his movie."  
Angry at Harrelson's callous treatment of the community, users proceeded to downvote Harrelson's answers by the thousands, as well as make Reddit threads mocking Harrelson, his new movie, and his IamA.
On Sunday the mockery of Harrelson came full circle, with users criticizing the threads that mocked  the actor. Several of these threads hit the front page of Reddit at various times over the weekend, making the IamA debacle inescapable for any casual redditor.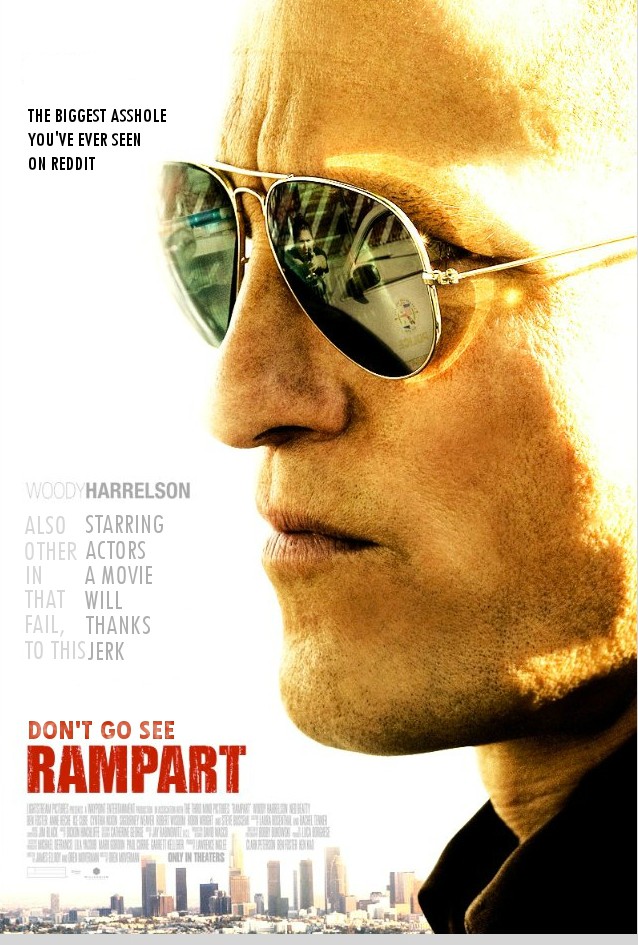 The fault of the IamA blunder was quickly assigned to Harrelson's PR and was made even more apparent by Harrelson's admission that he hadn't been on Reddit before.
"Mr. Harrelson/Mr. Harrelson's PR agents: You answered a total of [15] questions here today, and when I say "answered", I mean that loosely," wrote sailormooncake, in a comment that had over 3000 upvotes. "You have also embarrassed Mr. Harrelson in the process. Please inform the rest of Hollywood that Reddit is not a publicity outlet and that Redditors don't tolerate this kind of crap."
Even still,  thousands of redditors thought about Woody Harrelson and his upcoming movie, however begrudgingly, at some point over Super Bowl weekend. And that is an easy and relatively cheap success.
Photo by Steve Rogers