What happened Tuesday night at the Texas State Capitol was so enthralling and suspenseful that it deserves to be a movie. A movie starring the actress who played Friday Night Lights' Tami Taylor, the most beloved Texan woman in pop culture history. 
Senator Wendy Davis's failure to complete her filibuster of the anti-abortion measure SB5, only to have her Democratic colleagues (and hundreds of angry citizens in the gallery) pick up where she left off, made for some compelling drama. On YouTube, more than 178,000 people tuned to the Texas Tribune's live webcast of the proceedings. It was the level of engagement that studio and television executives dream of.
This being Texas, it was only a matter of time before people started co-opting the Friday Night Lights mantra made famous by Tami's husband, Coach Taylor—Clear Eyes, Full Hearts, Can't Lose—and applying it on Twitter to Davis and her Herculean task.
Clear eyes. Full hearts. Can't lose. #standwithwendy pic.twitter.com/ukMBMMN1Oz

— Aminatou Sow (@aminatou) June 26, 2013
There were also variations of Coach's rallying cry.
Clear eyes. Full hearts. Uteruses. #standwithwendy

— Ned Hepburn (@nedhepburn) June 26, 2013
And then came the inevitable calls for actress Connie Britton, who played the headstrong counselor-turned-principal-turned-counselor-turned-dean Tami Taylor on the show, to portray Sen. Wendy Davis in a biopic.
As @JakeSwearingen pointed out, I think we know how Connie Britton is going to win her Oscar now. #StandWithWendy

— Jack Moore (@JackPMoore) June 26, 2013
The movement to cast Britton as Sen. Davis hit a fever pitch when Feministing's Jos Truitt made a fake movie poster for Let Her Speak: The Wendy Davis Story—starring, you guessed it, Tami Taylor.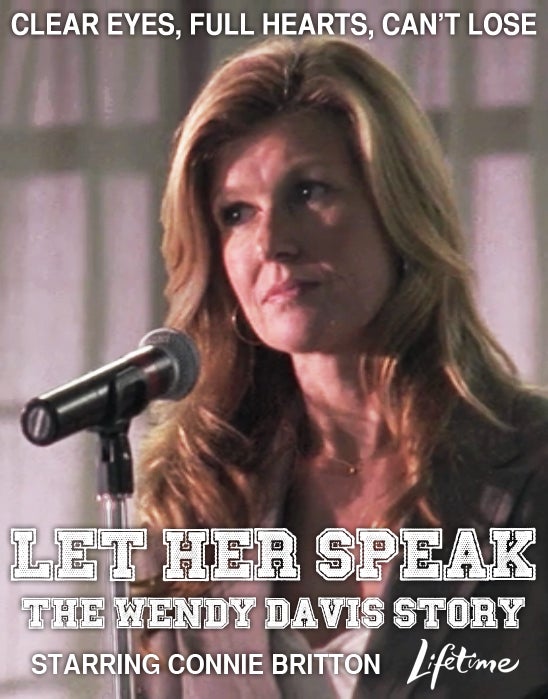 Photo via Jos Truitt/Feministing
We most definitely agree with having Britton portray the resilient Democratic state senator. But why stop there? Why not cast the other key figures that participated in last night's historic events? 
That's exactly what we've done below.
Britton obviously gets top billing. 
Every movie needs a villain. The antagonist of last night was acting chairman Sen. Robert Duncan, who presided over the proceedings after Lt. Gov. David Dewhurst issued the third strikes against Davis that stopped her filibuster and forced her to yield the floor. Duncan should be played by William Fichtner. You might remember Fichtner as the crooked bank manager in the beginning of The Dark Knight. The two share the same scowl.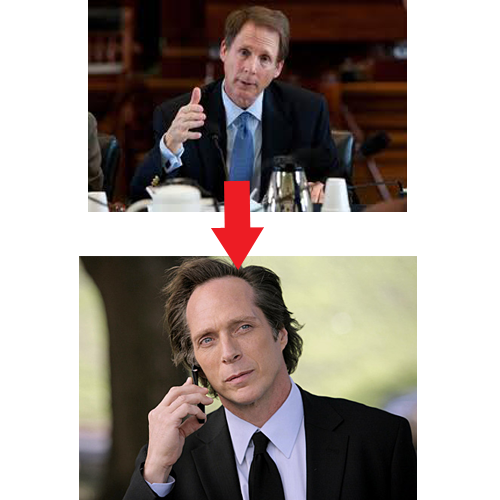 State Sen. Leticia Van de Putte, who stepped in for Davis toward the end and delivered the finishing blow to the Republican effort to pass SB5, will be played by actress Sara Ramirez. Ramirez is best known for her role as  Dr. Callie Torres on Grey's Anatomy. Don't like this casting choice? Then Hollywood should hire more Latino and Latina actors. 
Sen. Kirk Watson, whose district include the city of Austin, played a pivotal role in preventing SB5 from passing. After Duncan and his Republican cohorts killed Davis's filibuster, Watson and his extensive knowledge of legislative procedure further delayed a vote on the controversial bill. The most obvious casting choice is Brad Leland, best known as Buddy Garrity from Friday Night Lights, whose Texas accent sounds exactly like Watson's.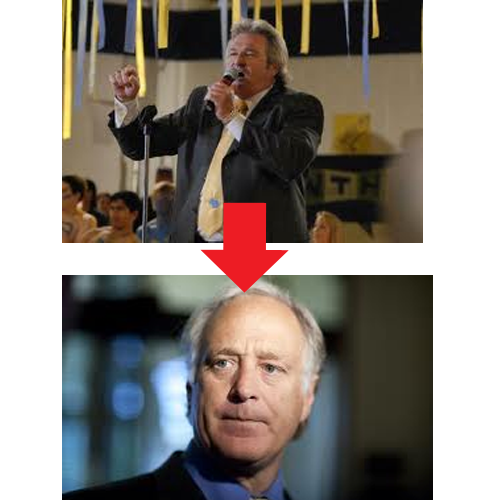 And last but not least is Sen. Royce West. West completes the trio of Democratic legislators who talked in circles for close to two hours. He should be played by Forrest Whitaker.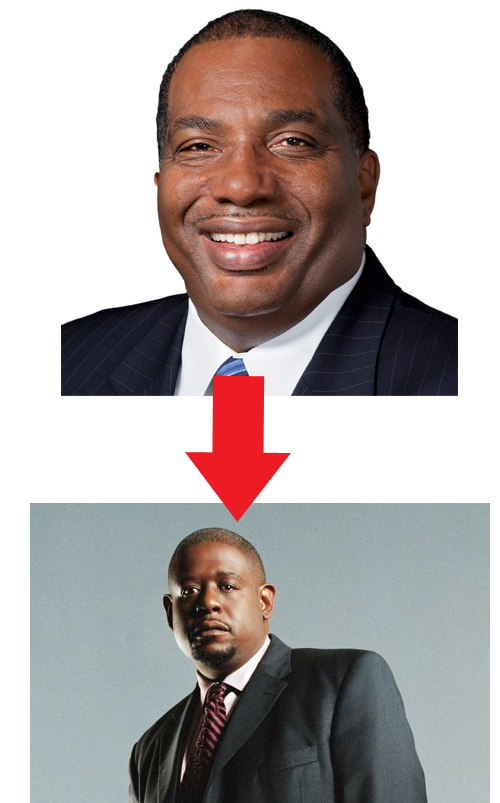 Photo via Fernando Alfonso