Remember when Andrew W.K. was going to be a cultural ambassador to Bahrain? Or when it came out that he was a brony? Whether you think his music has cultural value or not, he has somehow managed to remain relevant as a therapist/performance artist. Every once in a while, through the Internet ether, Andrew W.K. reappears, never changing in appearance or party-positive message. It's hard to believe "Party Hard" was released in October 2001.
Currently, he is playing drums in a New York City Oakley store, attempting to set the world record for "Longest Drum Solo in a Retail Store" by playing for 24 hours. This is all to promote the tech-heavy O Music Awards, in which he is nominated for for "Must Follow Artist on Twitter." Other categories include Best Artist Instagram, Best Interactive Music Video, and Best Music Hack, which include the Bonhamizer and Leap Orchestra.
Andrew W.K. started yesterday at 7pm EST and sent out a tweet asking for "good vibes and omens."
Early in the night, he spoke of pushing bad energy out via drumming. Later, someone brought him tacos. This tweet, from music writer Marc Masters, pointed to the irony of someone pulling a 24-hour stunt in our attention-deficient  times: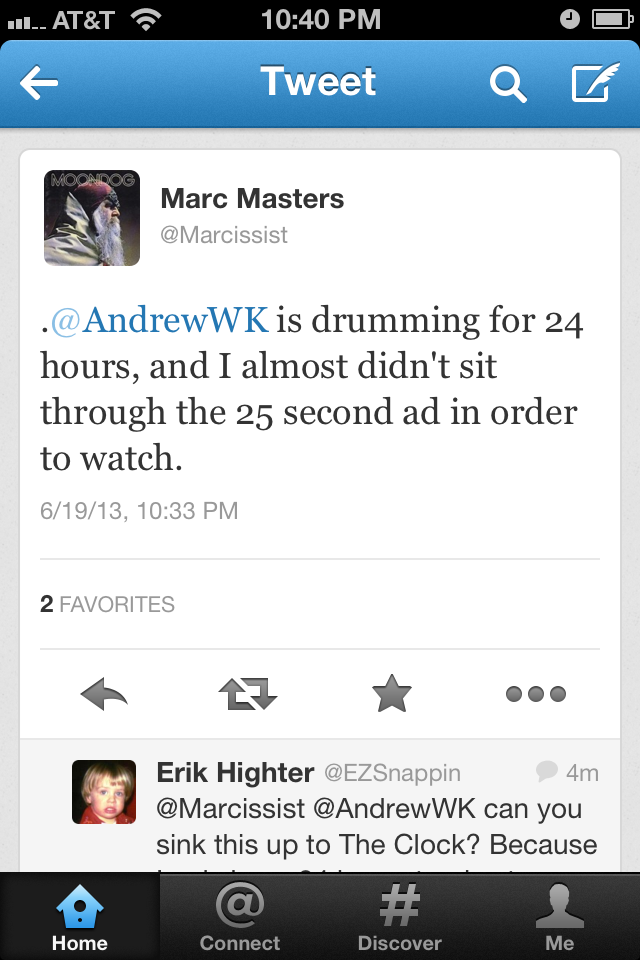 This stunt also brings to mind Austin guitarist David DiDonato, who broke the record for world's longest guitar solo at Austin club Red 7 in May 2012, clocking in at 24 hours and 55 minutes. The record for longest drum solo currently belongs to Steve Gaul, who drummed for 121 hours.
As of 7am, Questlove and Marky Ramone had already joined him.
As of 10am, it looks like Andrew W.K. has developed "zone face," but it's hard to tell, since he is wearing sunglasses and a baseball cap. Bitch Magnet drummer Orestes Morfin will join him at noon today, which you should definitely try to catch. You can watch the livestream here until 7pm EST.
Photo by whartonds/Flickr