All 17-year-old Ciara wants is to get shot in the head.
The catch is, she wants to be decked in zombie makeup as an extra on The Walking Dead, and she wants Norman Reedus, one of the show's main actors, to be holding the (prop) shotgun.
Ciara has launched a viral photo campaign on Twitter and Imgur, asking people to tweet #cleftstrong to help her fulfill her "one dream." Ciara, who was born with a cleft abnormality, hopes the tweets will help grab the attention of The Walking Dead's producers, Reedus, and AMC, the show's network.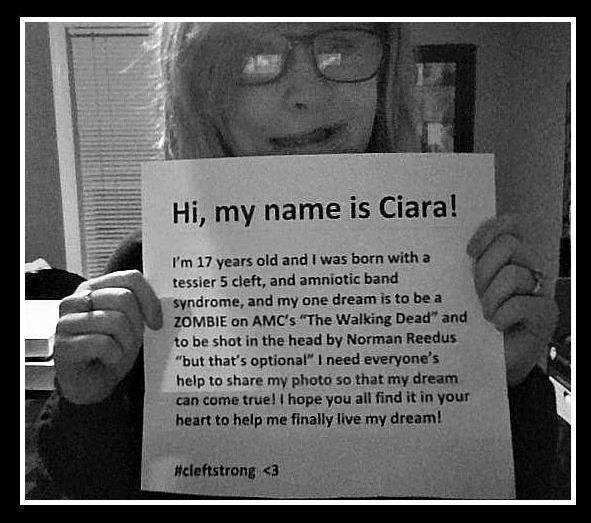 So far, Ciara's image has been tweeted about 35 times. On Imgur, however, the photo has been viewed more than 102,000 times and collected more than 700 comments.
"Oddly enough, this is not the first time I've told someone I hope they get a crossbow bolt in the head," Unknowiac commented. "Good luck!"
On the show, Reedus plays Daryl Dixon, a zombie-killing fiend whose heart of gold and gruff demeanor has made him a fan favorite. On Reddit and other social media, The Walking Dead has developed a cult following; thousands of fans apply to be zombie extras before each season.
"At the beginning of each season, we have what we call 'Zombie School,' and what that does is give me an opportunity to audition anywhere from 150 to 200 extras," special effects director Greg Nicotero told CNN. "I grade them on two criteria: look and performance. We have a visual aesthetic that is really important to the show and [to] the zombies, that they look thin and gaunt and emaciated."
It's not clear whether Ciara fits Nicotero's zombie requirements. Her photo is a little fuzzy. But even if that's the case, she says she'll settle for any role at all. Sure, she'd like Reedus to be the one to pull the trigger, "but that's optional." 
Hoping for an update, we reached out to Ciara, but she hasn't responded.
Image via Facebook