In school Ciara Provencio was bullied relentlessly because of her cleft palate, a congenital deformity that affects five different parts of her face and which has been operated on 25 different times starting when she was 6 months old.
They called her "crooked face," "crooked nose," and "slop face," the one insult she has never been able to shake even years after being home schooled.
"My friend actually got jumped because she was my friend," Provencio told the Daily Dot.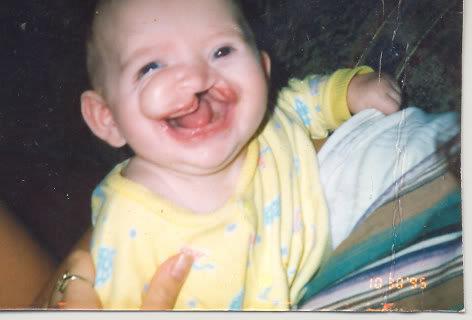 Now 17 years later, Provencio has figured out the perfect way to get back at her bullies. And it involves eating their brains.
Provencio is a devout fan of The Walking Dead who launched a photo campaign Sunday asking to be transformed into a flesh-eating zombie extra. The photo, which asks for actor Norman Reedus to shoot her in the head, has since been shared 2,300 times on Facebook, collected 296,000 views on Imgur, and garnered 37,000 views on Buzzfeed. The Twitter hashtag #cleftstrong has collected more than 500 mentions and captured Reedus's attention, who sadly admitted that he doesn't have much pull in terms of zombie extras.
"They have hundreds of zombies out there, I don't care if I'm in the back row," Provencio added. "I've loved Norman Reedus since the Boondock Saints. As soon as I found out that he was on The Walking Dead, I was like, 'I need to watch it.'"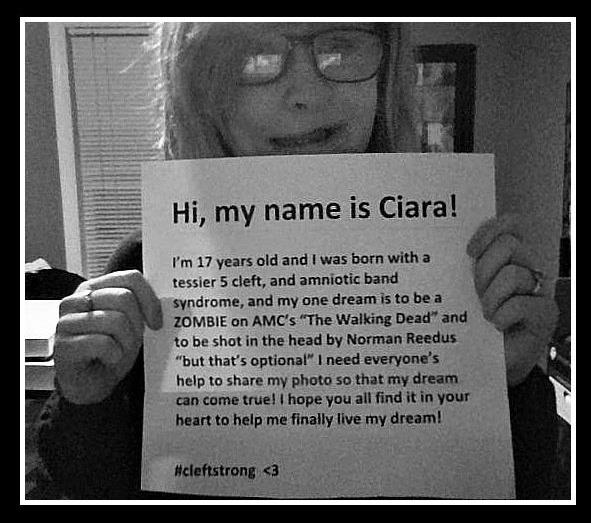 Since The Walking Dead premiered in October 2010, producers have been inundated with applications and requests to appear as a zombie extra. Special effects director Greg Nicotero interviews about 200 extras each season, most of which are from the Atlanta area, where the show is filmed (which Provencio says wouldn't be an issue since she lives in Columbia, Tenn., about four hours away).
But even if she doesn't make it as a zombie, or any extra at all, Provencio hopes all the attention helps raise awareness for her deformity and prevents others from being bullied. Just five weeks ago, Provencio and her family traveled to Cincinnati where she had her 25th surgery. The four-hour procedure was to reconstruct her jaw and involved inserting 25 screws into her face. And in a few weeks, she will have another surgery.
"I can't get rid of this. I can't help this," Provencio said. "I want to get our names out there. We are strong people."
Photos via Ciara Provencio