When you die, there's a company that will press your ashes into a vinyl record—a jazz funeral at 33rpm.
It's no mere gimmick. And Vinyly (rhymes with "Finally") has been in business for four years now.
While founder Jason Leach began the site "just for fun," word spread slowly, and by halfway through 2012 he began to get hundreds of inquiries.
To date, he's only pressed four actual records, at £3,000 a pop, including one for a DJ that spun at his favorite club. So it's not surprising the Web is a little short on reviews and testimonials for this service. There has been a notable recent customer: an Amsterdam artist named Francesca Grilli.
"She had a classical score written and played by string instruments," Leach said. "This was filmed. The instruments and score were burning during the performance. We pressed the ashes from the performance into clear vinyl cut with the audio recording from the performance."
It can't be the cost alone that gives most people cold feet about this clever final resting plan. Many traditional funerals are far more expensive. Nor is it the possible recordings: Leach notes that you can record your voice, laughter, ambient noise, commision your own music, or just leave the vinyl blank so relatives can listen to your crackles and hiss.
The problem may boil down to a very important constriction: The deceased only gets 24 minutes to fill, 12 minutes per side. If you were the nostalgic type and wanted to be pressed into a copy of your favorite album, you'd likely be out of luck. Most LPs run almost twice that length.
Searching for seminal short albums that might sneak under the 24-minute bar proved largely fruitless. Even the self-titled Ramones debut would have to shave off a bit more than five minutes to make the cut, and X's Los Angeles would go three minutes over. A Hard Day's Night has a half-hour running time. And don't even think about jazz.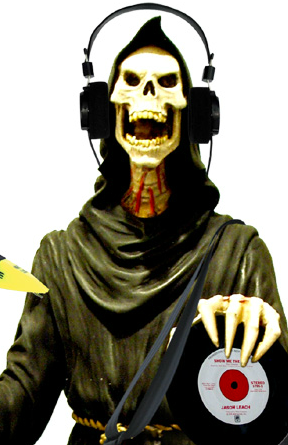 That's when it hit me: your best option in this realm of pre-recorded music, assuming you don't just want to be the David Bowie single "Ashes to Ashes," is to find the perfect EP. My Bloody Valentine's You Made Me Realise, arguably their best release, clocks in at 17 minutes, as does the Pixies' breakout, Come On Pilgrim.
Plenty of Belle & Sebastian EPs would fit the bill, providing just the right balance of melancholy and whimsy. There's eight versions of Aphex Twin's Girl/Boy EP to choose from. If you'd prefer one song in many forms, there's lots of remix material to choose from. M83's Steve McQueen EP has the title track in album form, plus revisions of it from Maps, SALM, BeatauCue, and Alluxe—altogether, an exactly 23.9-minute deconstruction of one tune.
Of course, if you really wanted to be classy about it, you'd go with a recording of French composer and pianist Erik Satie's simple, beautiful, and haunting Gymnopédies Nos. 1-3, with a scant running time of 10 minutes. That leaves a whole side free for a live Rush song.
All of which begs the question: What's your ideal B-side?
Photo via t1ger/Flickr