It's pretty easy to find your new favorite band or song online, but what about your new favorite filmmaker? When's the last time you fell in love with a movie and couldn't stop watching?
Over the last couple years, the video site Vimeo has quietly become a source for showcasing those films you might want to watch on repeat. More specifically, the company's Staff Picks have become stamps of approval for new talent.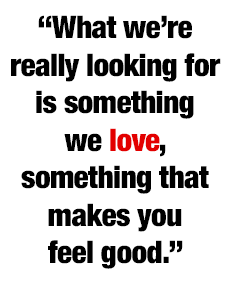 The Staff Picks are curated by Jordan McGarry and three staffers in New York. They pick five daily videos during the week, and three on Saturdays and Sundays.  
"We try to really feature a blend of work," says McGarry, Vimeo's U.K.-based lead curator for Staff Picks.  "We feature music videos, short films, animation, motion graphics… and we really try to make sure we're featuring a mix of content every day, rather than doing four short films or five music videos. We're also very keen to look for new talent, so it's not the same people again and again."
In contrast with a network like YouTube, which is heavily populated with videos that might go viral then disappear into the noise within a day or two, Vimeo is attempting to create a dialogue around experimental, sustainable videos that warrant more than an "LOL" or "Fake."
"Vimeo is well-known for being the place where everybody who really cares about what they're making uploads their videos, so we have a lot of people who are highly skilled in their craft, people who create really beautiful work," McGarry says. "Sometimes we'll see something that was shot on a phone, and doesn't have the super-high production value, but what we're really looking for is something we love, something that makes you feel good and you can't wait to show it to more people.
"At the end of the month we put together our staff favorites, and during that process, one of the things we think about is, we might have put the video on the channel and we loved it, but have you watched it again and again? And most of the videos that make it into Staff Picks are videos we've watched more than once."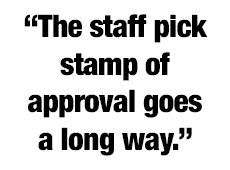 There's a focus on interaction with Vimeo. It's home to many Criterion Collection nerds and obsessives who like to find patterns in film, and there's a "shout box," which is sort of like Twitter—a place where filmmakers and artists can trade links and discuss new projects. Unlike YouTube, there aren't related videos cluttering up your vision or ads playing before clips. The focus is on the content.
At Sundance this year, Vimeo announced its audience development program, which offers financial assistance and marketing to chosen films that raised more than $10,000 via crowdfunding platforms like Kickstarter and Indiegogo, in exchange for an exclusive premiere on Vimeo on Demand, a platform launched in 2013 that allows creators to sell their films. At SXSW, Vimeo announced a $10 million fund to help those creators with distribution.
McGarry says they're seeing more filmmakers with short films in Staff Picks make the leap to feature films and bigger projects. Most recently, Fox picked up an original sci-fi pitch from Dan Blank, director of the 2012 viral hit "Monster Roll," which was a Staff Pick.
"I think that's one of the major kicks of our job," she says. "When you see someone who's maybe not professional but is enthusiastic, and they make a brilliant piece and you see it do well on Vimeo and take them into the industry."
Riley Stearns' short film The Cub was included in Staff Picks and featured on Vice. He screened his first feature, the thriller Faults, at this year's South By Southwest Film conference, and sees Vimeo's Staff Picks as a visual nod to other outlets looking for interesting content.  
"Not only did it mean more views amongst the Vimeo community, it also brought the short to the attention of several media outlets and production companies who use the staff picks as a tool for sort of wading through the sometimes overwhelming amount of short-form content available online," Stearns says. "People respect what the team at Vimeo does and their taste level and the staff pick stamp of approval goes a long way."
Celia Rowlson-Hall is another director whose shorts caught the eye of Vimeo staffers. Her fantastic three-minute short "The Audition" was awarded a Staff Pick in 2012 and featured at SXSW in 2013. She recently crowdfunded her first feature, MA, "the story of a virgin mother on a pilgrimage to Las Vegas to give birth to our savior."
"Even when you get your work into prestigious festivals, the max amount of people that will see your work is a couple thousand," she says. "But when my work gets staff picked, hundreds of thousands of people get to see my films. And that is great because that is why I make work, to share it with others, and not just those who can make it to a film festival.
"I look at Vimeo as a place to share my films with others and to also enjoy what other creators are doing around the world. I think it's a safe place and very rarely do I get a creepy comment."
Music videos have become a big part of the Staff Picks repertoire, alongside short films and documentaries. One recent Staff Pick—Kansas musician Kawehi's cover of Nirvana's "Heart-Shaped Box"—elicited a shout-out from Courtney Love. Dimitri Basil's lovely video for Vance Joy's "Riptide" is another one of those videos that's easy to watch over and over, and McGarry is excited about Saman Kesh, who's directed short-form videos for Placebo and Calvin Harris. She also pointed to fashion and music video artists Harrys as ones to watch; their short documentary on design duo Proenza Schouler is a recent Staff Pick, and it looks like a music video.
With all the groundbreaking work Vimeo features, could they one day debut original programming? McGarry says perhaps, in the future, but right now they're focused on helping you find your new favorite filmmaker.
Screengrab via Dimitri Basil/Vimeo