It's been an emotional week for fans of Veronica Mars, Rob Thomas's cult favorite TV show about a snarky blonde teen who sleuths her way through crimes large and small in the fictional town of Neptune, California. Although the show was canceled after its third season, its niche audience remained faithful—and last week they made their voices heard. 
Last week, six years after the show went off the air, her fans brought her to life once again, in a Kickstarter to fund a Veronica Mars movie that was the fastest fund drive ever to reach $1 million, then the fastest fund drive ever to hit its goal, breaking $2 million in less than 8 hours. The Kickstarter—which had the second-highest goal for a project—currently has $3.6 million from over 55,000 donors. And there are still 25 days to go.
In the few days since the project was funded, the Internet has been full of deep thoughts on Veronica Mars, but we've seen none as important or as relevant as the ones that have come directly from the show's fans. Here are the moments from the last week of Veronica Mars fandom that moved us, made us cry, and reminded us how amazing it is when fans unite to support something they love.
1) Francis Capra said Veronica Mars saved his life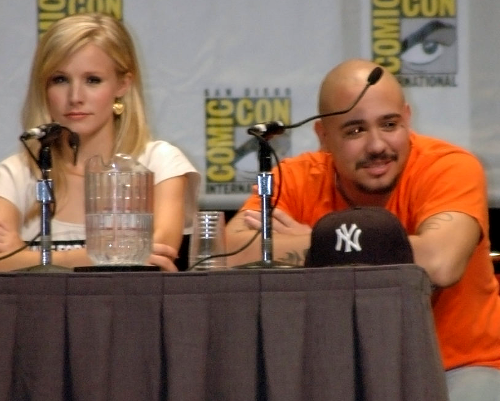 Kristen Bell and Francis Capra at 2009 Comic-Con. Photo via ldfranklin/deviantART
Francis Capra, who played Weevil, the brilliant-but-violent gang leader who becomes unexpected allies with Veronica, showed up on Reddit to do an emotional AMA on Friday:
I feel obligated to reach back out to the community that has made this possible, by showing so much love, support, and loyalty as to "Break Kickstarter Records" and personally, remind me of just how much Veronica Mars meant to me. This show saved my life years ago and it looks like its gonna do it again. … I always said we had the greatest fans any cast could ever ask for, this week, you guys showed the world just how real those claims were.
Though Capra was "discovered" at an early age, his father was incarcerated most of his life, and died in a shooting the year before Veronica Mars aired.
 
2) "This isn't just my story"
On Tumblr, nonnonmodernist treated us to a short, moving post about the role Veronica Mars played in her own life. "I could tell you the story of how Veronica Mars saved my life," she begins.
I came out the other side. And along the way I learned all kinds of things from Veronica—about how to survive trauma, how to set boundaries, how to be a person in the world again. … I know I'm not the only one. This isn't just my story. It's the story of every teenaged and 20-something girl who looked up to Veronica. I cried when they announced that the show wouldn't be renewed. I cried because I had no idea when we'd see another heroine on our tv sets who so willfully flouted the bounds of good girl behavior, and yet saved the day, and never had to be domesticated, and yet could relearn how to love, and always remain true to herself, even the unpleasant parts of herself.

But now we have the chance to bring her back, and maybe create a ripple in the placid pond of tv development, and maybe also expose a ton of new people to one of the best shows ever made.
This is the kind of eloquence Veronica Mars inspires that makes even non-fans want to contribute to the cause.
 
3) "Don't you dare feel bad"
Backlash over the Veronica Mars Kickstarter began even before the project was funded. After the Atlantic Wire published a somewhat dismissive editorial on the fundraiser, Hank Green, Seanan Mcguire, and many other fans spoke out about the merits of supporting creative projects without wanting to receive a monetary return on your investment. But it was TV Line that served up the most passionate paean to fansourced fundraising:
A lot of the time, the Internet is used to tear things down. To mock Smash, to snark about red carpet fashions, to hurt. All from the cozy, oft-anonymous comfort of everyone's couches. For 10 thrilling hours on Wednesday, though, 30,000 strangers banded together online to create something. When does that ever happen?
4) Fans can hardly contain themselves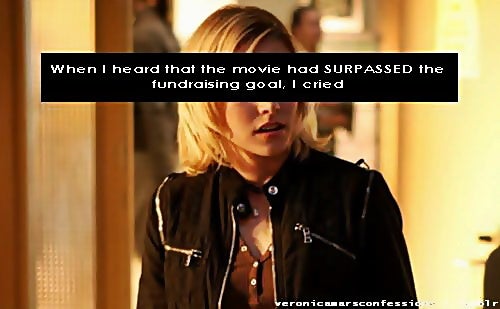 Photo via veronicamarsconfessions/Tumblr
Fan christycorr, writing on LiveJournal:
Undiluted bliss of this kind is exactly one of the biggest perks of being a fan, of being someone who is unashamed to actually get excited about things, and it feels so warm and fuzzy and amazing.
Oh, and thanks, Batman: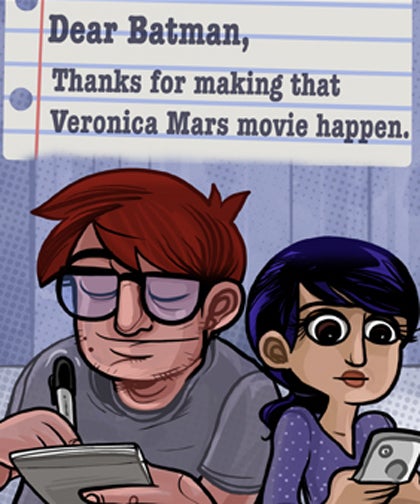 Illustration by Joe Dunn via Joe Loves Crappy Movies / Digital Pimp
Who needs grammar when you have Veronica?
whenever im sad i just think about the fact that a veronica mars movie is finally gonna happen then im okay
You and me too, kid.
 
5) It made Joss happy
Add this to the many reasons fans cult-worship Joss Whedon: when BuzzFeed asked what he thought about the Veronica Mars Kickstarter, Whedon, who is a huge fan of the show, got excited:
It was unfettered joy. A) I thought it was an awesome and ballsy move. B) I love V. Mars and want more of it. And C) It feels like a real game-changer.
Game-changer? Definitely. PC Magazine has already dubbed 2013 "The Year of the Fangirl," naming Whedon's latest project, Much Ado About Nothing, along side the Veronica Mars Kickstarter in the same breath.
That sounds like a reason to break out the marshmallows to me.
Illustration by calliope52/deviantART