The Academy Award nominees were released Thursday morning, and Twitter is abuzz with conversation about who did and didn't make the cut.
We looked at stats from social-media search engine Topsy after nominees were revealed to gauge each nominee's buzz*—and on Feb. 24, we'll see how well Twitter predicted the winners.
Best Picture
Lincoln: 6,749 mentions
Amour: 5,504 mentions
Life of Pi: 2,378 mentions
Argo: 1,075 mentions
Les Misérables: 890 mentions
Zero Dark Thirty: 684 mentions
Beasts of the Southern Wild: 546 mentions
Django Unchained: 459 mentions
Silver Linings Playbook: 420 mentions

Unless there are a lot of schoolkids turning in a report on the 16th president of the U.S. today, Lincoln is the clear leader.
Amour had a lot of mentions as well, but that might have something to do with it also being the very common French word for "love." It seems somewhat surprising, however, that a film like Silver Linings Playbook, packed with big names, would be less talked-about than the low-budget independent flick Beasts of the Southern Wild.
Best Actor
Daniel Day-Lewis, Lincoln: 955 mentions
Bradley Cooper, Silver Linings Playbook: 646 mentions
Hugh Jackman, Les Misérables: 327 mentions
Denzel Washington, Flight: 316 mentions
Joaquin Phoenix, The Master: 310 mentions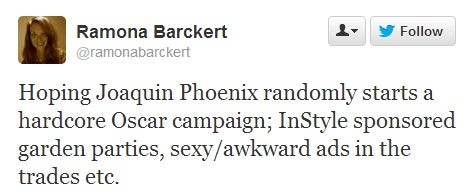 Day-Lewis is the early front-runner, garnering almost 1.5 times as many mentions as second-place Cooper. Phoenix, who believes the whole Oscars palaver "bullshit," trails just behind the mighty Washington.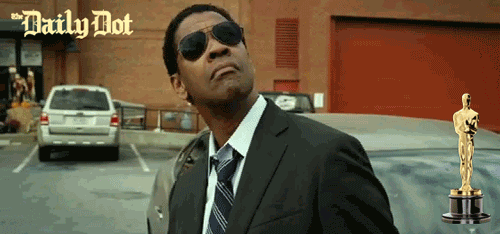 Best Actress
Jennifer Lawrence, Silver Linings Playbook: 1,324 mentions
Quvenzhané Wallis, Beasts of the Southern Wild: 405 mentions
Naomi Watts, The Impossible: 341 mentions
Emmanuelle Riva, Amour: 333 mentions
Jessica Chastain, Zero Dark Thirty: 246 mentions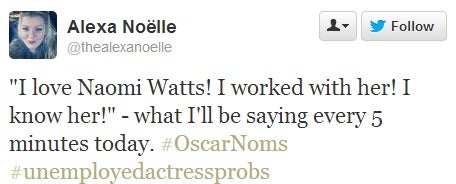 Jennifer Lawrence, perhaps Hollywood's hottest young star after the success of The Hunger Games, has no real interest in Twitter. If she did, she might have seen her name all over the place this morning. Chastain, considered the front-runner by some, lagged with less than a fifth of tweets that were about Lawrence.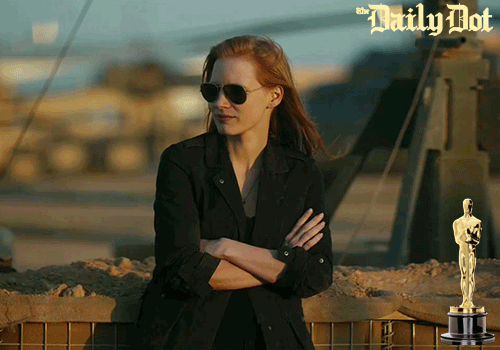 Best Director
Ang Lee, Life of Pi: 1,655 mentions
Steven Spielberg, Lincoln: 312 mentions
Michael Haneke, Amour: 198 mentions
David O. Russell, Silver Linings Playbook: 133 mentions
Benh Zeitlin, Beasts of the Southern Wild: 97 mentions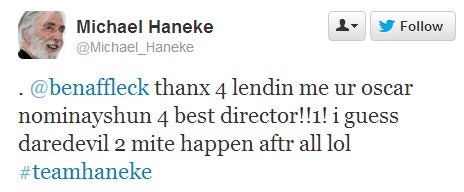 Lee, the man behind the wonderful Crouching Tiger, Hidden Dragon, has a shot at his second Best Director award, and the Twitter buzz indicates he'd be a popular choice. The venerable Spielberg was runner-up, and surprise nominee Zeitlin rounded out the top five. For the record, Ben Affleck, a widely expected choice, was mentioned 222 times in the same timeframe.
There's still a long way to go until the big night, and as discussion of the nominees sways like the boat in Life of Pi, a lot can still be said to influence voters.
*A caveat: This only covers the correct spelling of the nominees' full names—sorry, "Ben Zeitlin."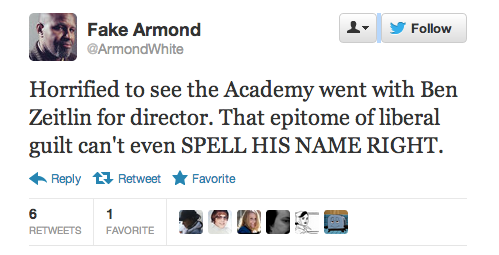 Photo by ebbandflowphotography/Flickr