Yesterday we reported on a bizarre but mostly just inevitable turn of events for the gaming world. A couple, via their Twitch-enabled PS4 and the game Playroom, which uses the PlayStation Eye camera to render one's room a virtual environment, livestreamed themselves drinking on a couch until one of them passed out, only to be creepily undressed by the other.
A Redditor noticed that Twitch, a streaming video service that can also be accessed on the web, was banning anyone who broadcasted their Playroom experience at all. On the one hand, that made sense, as the original poster had just seen "a guy having sex with his partner on the couch." But most Playroom livestreams were completely benign—featuring adorable families playing together—it's just that what people said in the parallel chatrooms was appalling. In the course of just a week, this had become a favorite platform for trolls of all types.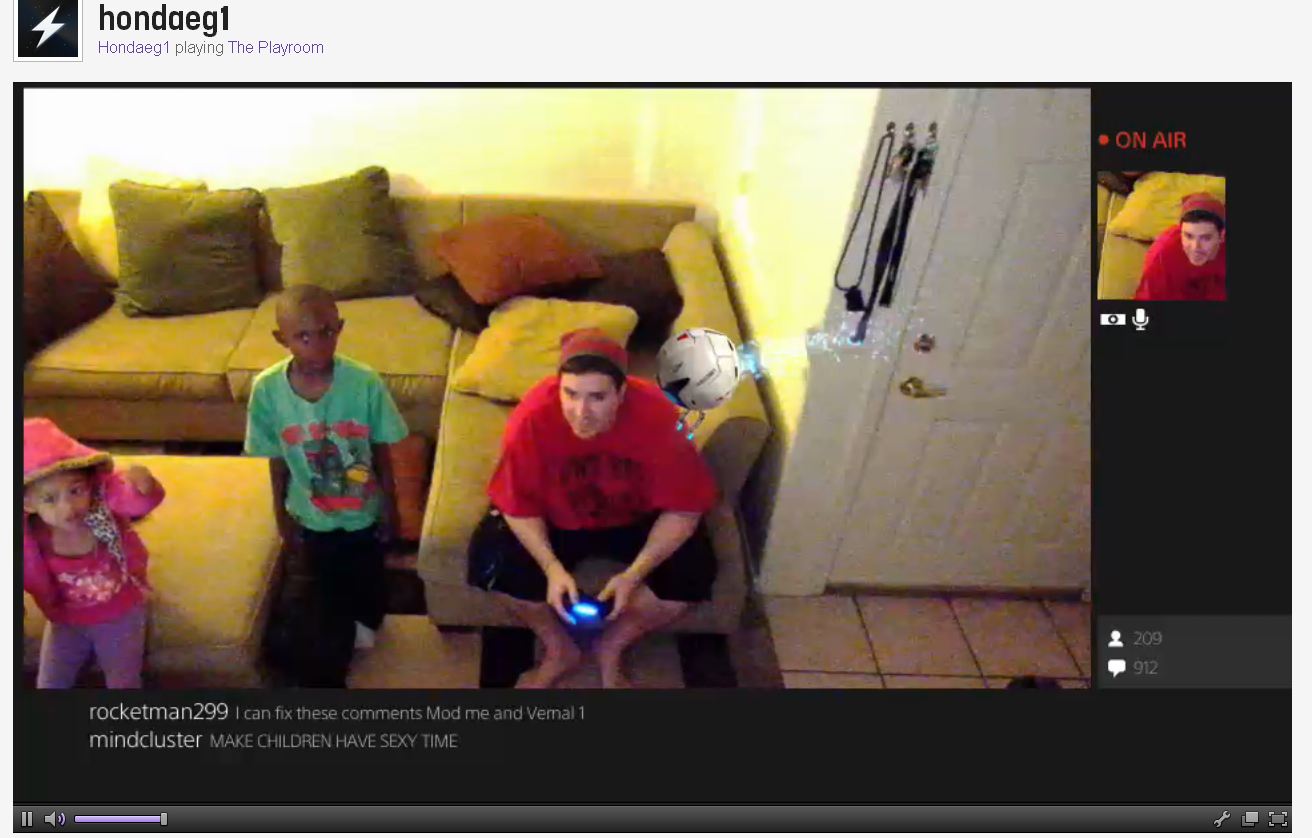 Twitch, taking stock of a situation that both they and Sony would have done well to anticipate, reaffirmed its strict terms of service, adding another clause with some deliberate elasticity about it.
FYI: We continue to moderate according to our Terms of Service. Non-gaming content is not allowed. 1/2

— Twitch Support (@TwitchTVSupport) November 24, 2013
Non-gaming content (c): If using PS4 Playroom, the content must be about games or gaming and within our ToS. Thanks for understanding. 2/2

— Twitch Support (@TwitchTVSupport) November 24, 2013
Discussing gaming is gaming content. There are numerous such channels on Twitch, such as One More Game.

— Twitch Support (@TwitchTVSupport) November 24, 2013
Twitch users are encouraged to record their exploits in games like World of Warcraft or Call of Duty—along with whatever they scream into their headsets, of course—but such livestreams do not involve turning the camera on oneself. Still, it's a stretch to claim that nobody streaming Playroom is providing "gaming" content: most are just idly experimenting with the parameters of the game itself. Straddling the fence here would be The Spartan Show, a husband-and-wife call-in program that garnered 200,000 views over many hours—the pair did auction off their PS3 and speak with a PlayStation exec on the air, but they didn't talk exclusively about gaming.
Either way, as Kotaku surmised, "Playroom could become shorthand for anything-goes behavior" if its sharing capabilities aren't disabled, "similar to the notorious UNO on the Xbox 360, which offered camera support to show players and devolved into a parade of nudity." Whatever happened to the stereotype of the introverted gamer? Nowadays it's as if they're bent on turning everything into ChatRoulette.