Some TV shows are better with the mute button on. And Joey DeAngelis would argue they're even better as GIFs.  
The Philadelphia-based student runs the TV Screen, an endlessly entertaining blog that creates screengrabs and GIFs based on popular shows. He is a master of his craft; you've probably have seen one of his many creations without even realizing it. He's also a contributor to the #television tag on Tumblr.
The GIFs DeAngelis creates mostly work due to their lack of context. Even if you missed an episode of Girls, seeing a meek-looking girl exclaim that everyone is a "dumb whore" is still funny—and that's the point.
"GIFs aren't just a way to go to immortalize the best moments from an episode, but also to show it to a wider audience and hopefully convert some people into joining your Girls cult," he said.
"I really enjoy making GIFs from one-liners or lines that either I find relatable or think many other people will find relatable. All in all, what makes for great GIFs is writing, delivery, and reliability."
With that in mind, here are the 5 most GIF-worthy shows through the critical eyes of DeAngelis
1) Girls, HBO, returns in January
Although its debut season contained just 10 episodes, the modern comedy spawned tons of memorable GIFs, mostly due to Lena Dunham's memorable and relatable moments for struggling millennials.
"I unfortunately see myself most as a Hannah (Dunham), and therefore most of her lines hit home, for me at least," DeAngelis joked. "The writing is so crisp and fresh, making it easy to pick out certain lines to transfer into GIF form."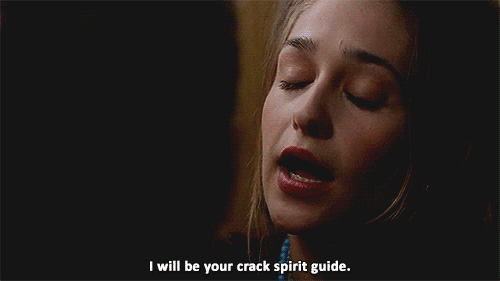 2) Parks and Recreation, NBC, Thursdays, 9:30pm ET
The low-rated but critically adored comedy has the "lovability factor" working for it, DeAngelis said.
"Everything about the show is cute, and cute makes for great GIFs, especially if it's drunk cute," said DeAngelis, referencing the episode titled "The Fight," where the now-infamous dancing Ron Swanson GIF originated.
"Out of all the characters, I would say that April (Aubrey Plaza) is the most GIFable, and I am always on the lookout for her sarcastic one-liners, and Andy (Chris Pratt) with his cuddly daftness is always a great source of material."
As for Ron Swanson, DeAngelis admitted that he wants to GIF "basically everything" that he says.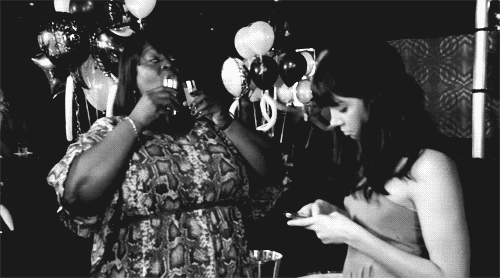 3) Happy Endings, ABC, returns Tuesday, Oct. 23
In the words of Penny Hartz (Casey Wilson), this show makes for ah-mah-zing GIFs. DeAngelis said he quotes the cult comedy "at least" 10 times a day.
"So why wouldn't I put those brilliant quotes on an endless loop and post it on the Internet? It just seems like the right thing to do.

"Happy Endings creates moments that you can rehash over and over again and it'll still be funny, and that's why it makes for great GIFs."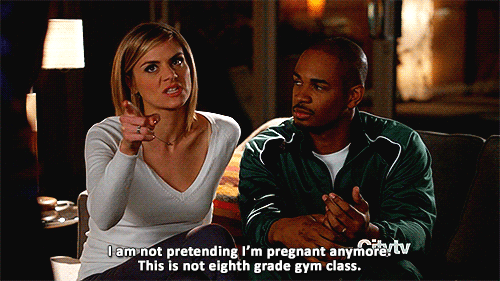 4) The Office, NBC, Thursdays, 9pm ET
In its final season, The Office is a bit harder to make GIFs from because the show revolves around gags that last  for entire scenes. DeAngelis also conceded that Dwight (Rainn Wilson) has taken the place of the always-quotable Michael Scott (Steve Carell) for quality GIFs.
"The Office is more of a multi-panelled-screenshot show instead of animated GIFs, when it nails it, it really nails it."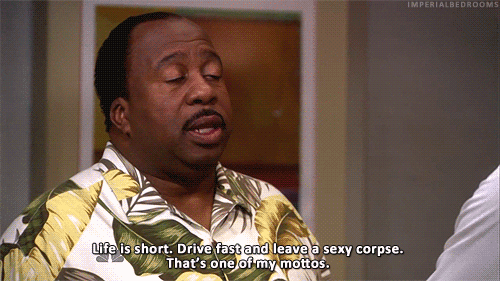 5) 30 Rock, NBC, Thursdays, 8pm PT
Anchored by Tina Fey's winsome character, Liz Lemon, 30 Rock's goofy cast of characters and pop-culture laden one-liners are perfect for multiple viewings and GIFs.
"30 Rock is great in the same way that both Girls and Parks and Rec are great. You might not be in their shoes directly, but Tina, Lena, and Amy make their characters so relatable still, and the things they say resonate with a large group of people, which is what makes for successful GIFs, because if people don't relate to them or laugh at them, then what's the point?

"And 30 Rock really succeeds at dispersing wonderful material and lines to all of its cast. Jenna, Kenneth, Tracy, Jack, and even Lutz all have moments of super hilarity."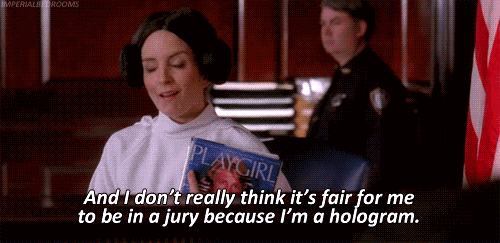 Photo via TheTVScreen/Tumblr