Monday – 11.16
Trevor Noah continued Jon Stewart's tradition of going serious after a tragedy at the beginning of Monday's show. He paid tribute to the victims of the Paris terrorist attacks as well as the citizens of Paris who opened their doors to those looking for a port of refuge when the city went into lockdown mode. It was a necessary moment of sobriety after such a somber event, and it again showed Noah's growth as a host.
Then, it was on to the Democratic debates, because they happened. Bernie Sanders called out Hillary Clinton for receiving large campaign donations from Wall Streeters. "Hashtag that look you get when bae calls you a corporate whore," Trevor Noah called Clinton's face at that moment. Damn, son. He pointed out that if Clinton wants to get donations from people on Wall Street, she has to do what Republican candidates do: distract the public with random acts of crazy. If Hillary says that Pokemon are real, The Daily Show will spend six weeks covering that. No one will notice the checks she's stacking up from the Street. The more you know, courtesy of Trevor Noah.
Hilary's channeling Puff Daddy for her next debate outfit.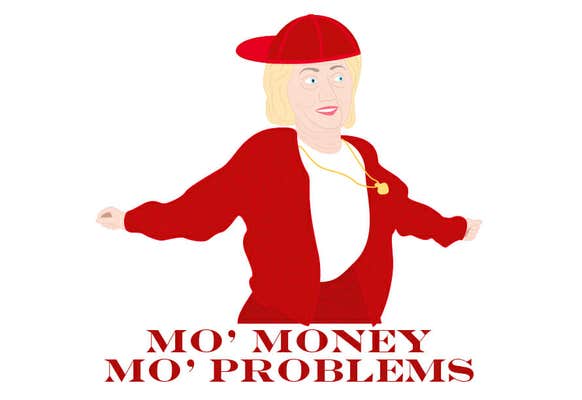 It's time for another edition of "What the Actual Fact?" with Desi Lydic, where TDS correspondent fact-checks the number-ridden statements candidates like to throw out during debates. First fact on the docket? Hillary Clinton's claim that 60% of her donors are women. Lydic determines that it's basically meaningless, "Like Hitler being nice to dogs." Oof. Next up? Bernie Sanders asserting that the United States has the highest rate of childhood poverty. Sounds ridiculous, right? Actually, the U.S. has the second highest rate of childhood poverty after Romania. That one hurts — Lydic calls it a Daniel Baldwin. Those are the only two Democratic candidates, right? Oh wait, Martin O'Malley….that guy exists. He said something about Ronald Reagan and the 70% marginal income tax rate in the '70s. It was confusing, just like Justin Bieber trying to claim that he's matured by letting the paparazzi take nude photos of him. Bet you didn't think this segment would end with a pixelated image of Justin Bieber's penis, did you?
Get Your "Industrial Grade Fact-Grinder" Today! Make your own information sausage, just like Democrats.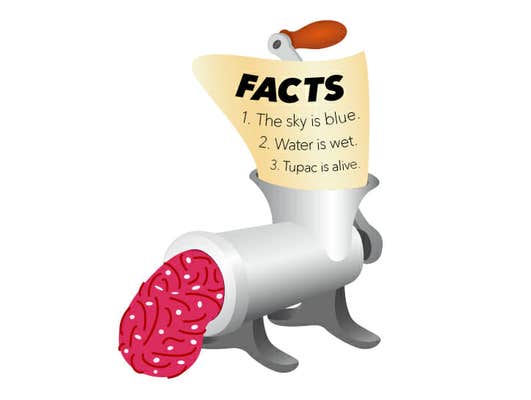 Tuesday – 11.17
It's been four days now since the tragic terrorist attacks in Paris. This means that politicians have had plenty of time to manipulate talking points about the war on terror to fit their personal agendas. Trevor Noah calls this the stages of political grief. It's just what politicians do in the wake of a horrific event. Step one involves using the tragedy as an excuse to say what they would say anyway. For Donald Trump, this means claiming that if we allowed people to carry guns, this would never have happened. Never mind that it occurred in France — for Trump, the answer is always more guns. Stage two of the political stages of grief: Break out the Nazi comparisons. Noah turns to Senator Marco Rubio for this stage. Rubio says that non-radical Muslims are the same as non-violent Nazis…except that non-fascist Nazis weren't really getting into it for non-violent reasons, as Trevor Noah points out. The final political stage of grief? Just say something really batshit crazy. Mike Huckabee has been doing a bang-up job of it, especially in the wake of what happened in Paris. Mon dieu.
We've found the source of Donald Trump's Strategy… it's exactly as complicated as you thought it was.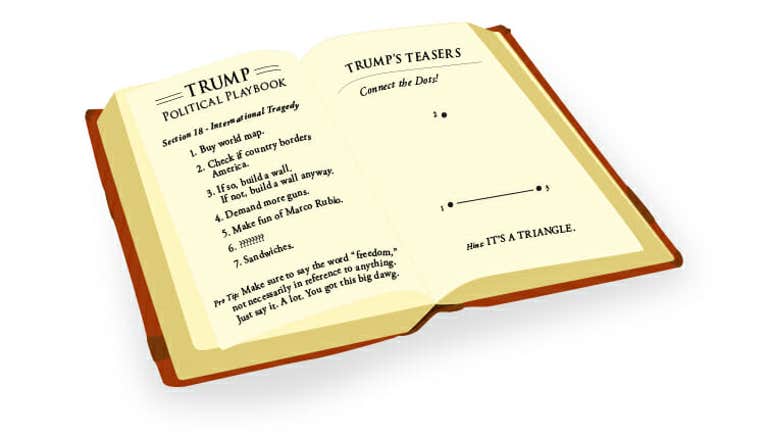 Should the U.S. accept Syrian refugees in the wake of the Paris attacks? That's the hot-button question on many state governors' minds. The governor of Alabama, for example, has been particularly vocal about not wanting Syrian refugees to live in his state. There aren't actually any refugees from Syria currently living in Alabama — nor does it fall within a state governor's jurisdiction to decide whether or not to let them live there — but he wants people to know that he's ready to bar Syrian refugees from coming to live in Alabama when the day inevitably comes. When Trevor Noah calls out the governor for his xenophobia, Daily Show correspondent Roy Wood Jr. steps up to explain the governor's actions. He's not being racist or xenophobic, you see. He's just keeping up with Alabama's long, storied tradition of finding the best infrastructure for bias against a particular group of people. They can't let Syrian refugees in until the people of Alabama figure out how to disenfranchise and subjugate them. After that's worked out, of course Syrian refugees can come live in Alabama, a state with a rich history of alienation and persecution. Sweet home Alabama, indeed.
One particular Republican creatively compares the refugee issue to a certain email scandal.
.@JohnKerry's @StateDept attacks me, claims "strict vetting for refugees". Like their "strict" protocol for email security?

— Gov. Mike Huckabee (@GovMikeHuckabee) November 17, 2015
Check out more of the Daily Show weeknights live on Comedy Central, the Comedy Central App, or view the latest episodes online here.
This Daily Dot article series was made possible by Comedy Central. The ideas and views expressed are independent and are in no way representative of Comedy Central.