Although YouTube said it has successfully been monitoring its copyright claim system and preventing abuse, one of the platform's stars continues to have major problems with people and companies trying to claim his original work as their own—and subsequently taking the ad revenue earnings that apparently belong to him.
TheFatRat, who has more than 3.2 million fans who subscribe to his channel for his electronic dance music creations, told the Daily Dot that it's been a frustrating experience. It's unclear if there's a positive end in sight.
TheFatRat, whose real name is Christian Buettner, uploaded a song called "The Calling" on March 31, 2016. Nine months later, a musician named Andres Galvis had his remix of "The Calling" uploaded, and as YouTuber Zen World reported, a Colombian music company called Ramjets then placed a copyright claim on Buettner's original version.
That halted Buettner's revenue—he makes $3,000 month off "The Calling"—and it led him into a behind-the-scenes fight to dispute the claim and to try to win back his own song.
"I think the big problem is that YouTube assumes that the claimant is right," Buettner told the Daily Dot in an email. "And that's what can make it frustrating. My songs take months of work and I invest thousands of dollars in creating and releasing them. Seeing them given to some random claimant, addressing the claimant as 'content owner,' and threatening me with a strike if I appeal is really disappointing. Especially because otherwise YouTube really cares about its creators."
A YouTube spokesperson told the Daily Dot on Tuesday that copyright holders have the ability to make claims to protect their original work and that the person who uploaded the video has the ability to dispute that claim. To protect its creators from potential abuse, YouTube said there are teams dedicated to investigating the people or companies who are making the claims and that it's revoked access to hundreds of users.
But YouTube also said it can't ultimately decide who owns the material. That has to be decided between the person who uploaded the video and the person or company who's put in the copyright claim.
In this case, a Colombian compnay called Ramjets placed a claim on "The Calling" on Nov. 19, almost a year after Galvis' remix began appearing on YouTube. Buettner filed his dispute, and according to him, the dispute was reviewed by Ramjets (and not by YouTube), where it was rejected.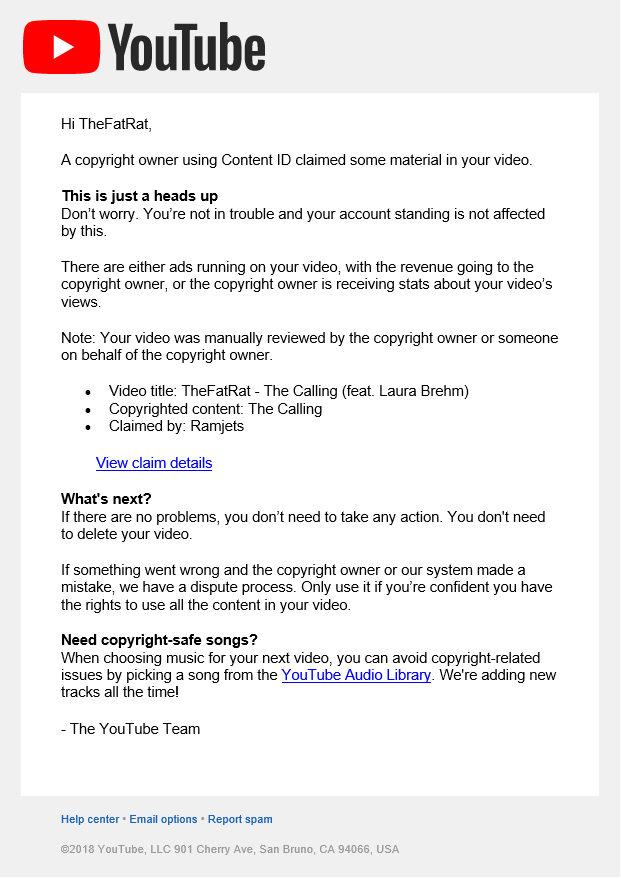 Eventually, YouTube got involved and removed the claim from Ramjets on Dec. 14.
Buettner told the Daily Dot he never received a message from YouTube telling him the claim was removed, even though the video began generating ad revenue again for him last Saturday. But he said he received another copyright claim for his song on Sunday, and the ad stopped producing revenue on Monday (while a copyright claim is unsettled, YouTube takes the ad revenue and holds it until the situation is resolved).
Buettner said he's been unable to contact Ramjets. The Daily Dot sent an email and a Twitter message to Ramjets for comment, but we haven't received a reply. The website linked on the Ramjets Twitter and LinkedIn pages does not exist, and the ramjets.co domain is for sale.
YouTube did not respond to Daily Dot follow-up questions about a new copyright claim on "The Calling" and whether the platform had been in contact with Ramjets.
Buettner began to get traction when he tweeted about the issue and when a thread on the /r/PewdiepieSubmissions subreddit received nearly 60,000 upvotes.
ARE YOU FUCKING KIDDING ME @YouTube ?!?! THIS IS MY FUCKING SONG!!! @TeamYouTube @youtubemusic @YTCreators pic.twitter.com/IToGnJuwDJ

— TheFatRat (@ThisIsTheFatRat) December 12, 2018
UPDATE: I'm sure I'll get this sorted out with a lawyer but @YouTube's attitude here is mind-blowing. A guy claims my video, @YouTube gives the monetisation to him but then tells me it's not their business. Also notice they call HIM "content owner"! IT'S #MYFUCKINGSONG GODDAMIT pic.twitter.com/yKlL9ctXh4

— TheFatRat (@ThisIsTheFatRat) December 14, 2018
Buettner also said he received an email from Galvis himself. In the email provided to the Daily Dot, Galvis said he never gave the authorization to make a claim on the song rights and that the copyright claim was made without his consent. According to Buettner, Galvis wrote, "From my position more than 2 years ago I wanted to do a Bootleg (unauthorized edition, being able to deal with music as well as books, video games, television series or movies) or tribute to TheFatRat taking it to the musical style of my country Colombia, I never having the intention of staying with the credits or receiving remuneration from it."
Yet, it seems that Buettner's fight—along with plenty of other YouTubers who say their videos have been unfairly claimed—is far from over.
Said Buettner: "Bottom line: Under the current conditions it's obviously possible to claim content on YouTube worth thousands of dollars and get away with it."