Photographer Sarah Elaine Gasperik and her husband, Chris, have enjoyed sharing puns from The Office ever since they began dating, according to BuzzFeed.
So it was only natural that they decided to announce their third child with a special Office theme, chock-full of jokes from the NBC show.
"My husband and I have been fans of the show forever and we still watch it all the time," Gasperik told POPSUGAR.
Apparently, Gasperisk has watched the series with her husband more than 15 times, which, same.
One of Gasperik's Facebook friends posted that she "LITERALLY knew" BuzzFeed was going to report on the announcement once it was posted, and why wouldn't BuzzFeed? The pregnancy is complete with the Holy Grail of Michael Scott jokes.
The couple made a shirt with "World's Best Dad" for Gasperik's husband, alluding to Michael Scott's famous "World's Best Boss" mug.
https://twitter.com/carellphotos/status/974363678723145729
They also donned matching outfits for a photo shoot that Gasperik designed herself. Gasperik wore an "I Declare Pregnancy" shirt from that one time that Michael thought declaring bankruptcy meant shouting it aloud.
Clever and cute @theofficenbc themed announcement! https://t.co/1PNCS4TFwc

— Entertainment Austin (@SocialnnEnt) April 4, 2018
She also held up a shirt for the new baby that read, "Assistant to the Assistant to the Regional Manager,"  as the baby will be one of three. Dwight, who spent an entire episode of show choosing someone to act as assistant to the assistant to the regional manager, would definitely approve.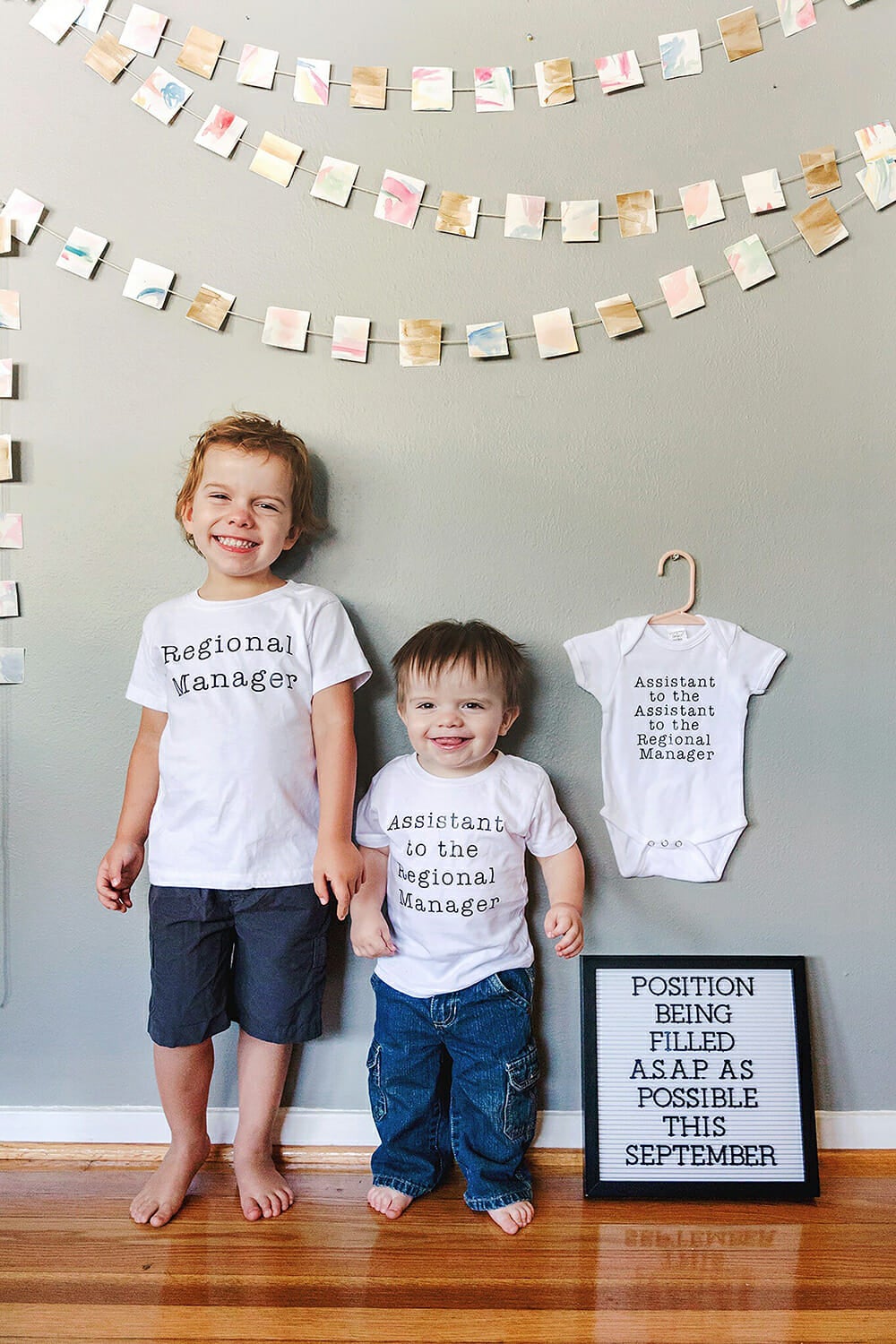 We could hear Whitney Houston singing "I'm Every Woman" when BuzzFeed reported that Gasperik took the family photos herself using a tripod.
"The most challenging part was getting the outdoor photos," Gasperik told BuzzFeed. "The boys didn't want to cooperate and there were a lot of bugs flying around. But mostly, it was a fun shoot."
Sounds like every family photo shoot ever, minus the fun part. We feel for the photographer and hope that she names her baby after an Office character, even though Gasperik has already sworn against the name "Pam."
"We love Pam the character, but not the name," Gasperik told BuzzFeed. "We're not 100 percent on the name yet."
We can only hope she rules out "Angela."
H/T BuzzFeed