Lindsay Lohan's latest comeback project, The Canyons, has not been a great success. In fact, with a 22 percent rating on Rotten Tomatoes and a $50,000 gross at the box office, it would be safe to describe it as a near-total flop. 
Penned by Bret Easton Ellis and directed by Paul Schrader (cowriter of Taxi Driver and Raging Bull), The Canyons wasn't just a Lindsay Lohan vehicle. But despite generally negative reviews, Schrader has recently taken to Facebook to lay much of the blame on her for failing to promote the film.
In a lengthy post to the film's public Facebook wall, the director revealed that despite being paid as the leading actress and co-producer, Lohan didn't show up to most of her promotional events:
She is a producer of the film, a 25% owner. I hired her when no one else would. She has no other films in the can. She has received her $250G deferment. The Venice red carpet is one of the extraordinary plums of the festival circuit. She repeatedly said she would come to Venice but never did. Richard Brody of the New Yorker wanted to do a appreciative profile but somehow she didn't have time to meet him. Film Comment gave her the cover but she would not give them an interview. I shifted the film's European premiere from Locarno to Venice so she could make her promised post-rehab appearance. But she did not show.
In full: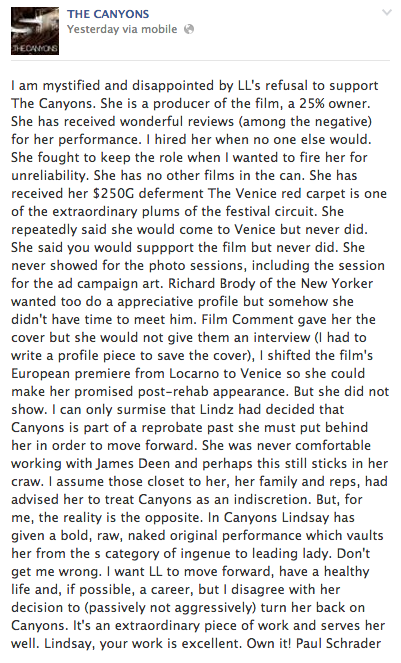 The Canyons was originally funded via Kickstarter, raising $159,000—plus $30,000 each from the screenwriter, director, and producer. With that much of his own money sunk into the project, it's understandable for Schrader to be angry. However, the Kickstarter page mostly focussed on the writer and director, with the real "star" being Bret Easton Ellis. Neither Lohan nor her costar, porn actor James Deen, are featured on the main Kickstarter page at all. It's probably safe to say that for both Kickstarter backers and critics, Lohan's involvement was hardly the main draw of the movie.
At the moment, most of the responses to Schrader's Facebook post are comments pointing out that Lohan promoted the film on talk shows like Oprah and Chelsea Lately, that she gave the only well-reviewed performance in the film, and that Schrader knew what he was getting into when he hired her.
Some movies are just destined to flop. 
Photo via Joel Kramer/Flickr