British radio station BBC Radio 1 released an amazing YouTube video on Wednesday featuring Taylor Swift and her wildly popular new single, "Blank Space." One lucky DJ, Greg James, was given the honor of starring in an exclusive lip-sync and dance in a car with Swift to promote the track.
The car involved was luckily attached to a filming truck, meaning that the well-choreographed moves didn't put James or Swift in any danger.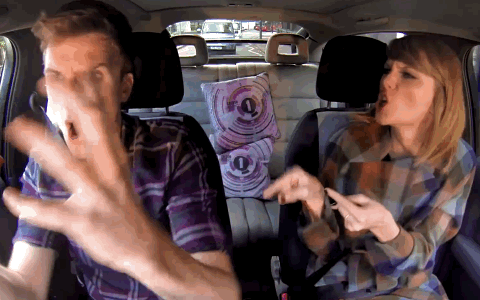 It also isn't the first time that the DJ has made a successful video based on the pop star's music. Last year to coincide with the release of 22 he released a tribute video called "I hate being 22."
In response to the "Blank Space" video, members of the fan community are already shipping the two as "Greylor."
How old is Greg James and is he straight BECAUSE HES HOT AND I COULD DEFINITELY SHIP GREYLOR

— vic(tori)a (@dancingwithtay_) November 13, 2014
Pro tip: Don't challenge Greylor to a lip-syncing battle anytime soon.
Screengrab and GIFs via BBC/ YouTube