What if turning on a light was as awesome as getting an extra life in the original Super Mario Bros.?
That's the concept behind a new Kickstarter project by 8bitlit cofounders Brian Duxbury and Adam Ellsworth that has the Internet collectively shouting "Shut up and take my money."
The two have designed a line of novelty lamps designed to resemble the "question mark" blocks from the beloved video game series.
"We came up with the concept for a fun, interactive gadget that brought back a time when 8 bits were all you needed," the cofounders wrote on Kickstarter. "A timeless symbol of our 8-bit glory days, the Question Block Lamp brings back everything we love most about old school gaming."
The product is the first project undertaken by the company. A limited number of novelty lamps already proved wildly successful during a spring 2012 Etsy run, during which over 1,000 of the lamps were sold—and a great degree of publicity was garnered.
Duxbury and Ellsworth turned to Kickstarter to raise funds to construct a superior version of their prototype. If funded, the new lamps will feature such improvements as a longer power cord, table mounts, and—perhaps most importantly—a better respond to touch.
"To make the lamp more reliable and sensitive to touch, we've integrated the capacitive touch sensor into the circuit board. Now it's super sensitive, activating instantaneously with a single fingertip," the cofounders wrote.
Since launching the project on June 18, the project has impressively raised close to $60,000, over half of its $100,000 goal. Backers who pledge at least $49—the desired asking price of the lamp—will receive one of the novelties as an incentive. The cofounders hope to finish assembly over the summer and ship the lamps to supporters by November 2013, just in time for the holiday season.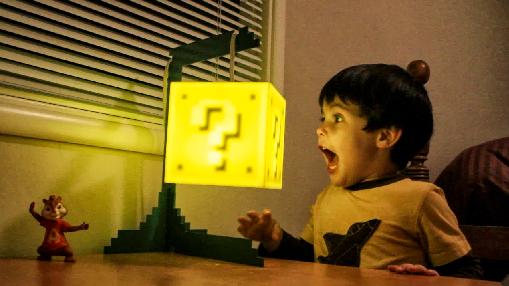 There is nothing like the innocent reaction of a child to know that your novelty is successful.
Duxbury and Ellsworth are not the first to use Kickstarter to appeal to the nostalgia crowd. In July 2012, Inverse Phase released "Pretty Eight Machine," an 8-bit cover of the classic Nine Inch Nails album Pretty Hate Machine.
All photos via Adam Ellsworth