Between red carpet selfies powered by Livefyre, the backstage award show Twitter Mirror that's certain to make an appearance, and the telling fact that the Oscars are being live-streamed for the first time ever, it's obvious these aren't your grandma's Academy Awards. These aren't even your parents' Academy Awards.
Compared to the relative simplicity and refined elegance that used to surround the Oscars, today's award show has hit space age status.
But not all things Oscar have been given a digital makeover. Case in point, the envelopes. Marc Friedland, the founder of Marc Friedland Couture Communications, is the man behind the golden pieces of paper that change actors' lives in an instant. His company has been creating the Academy Awards' envelopes and winner cards for four years now, and it's a labor of love.
"This is actually the 74th year that they're using these couture envelopes," he tells me. "Previously the envelope was just something used for the information, not as a visual icon to go with the statuette. Before that, it was just an off-the-shelf printed envelope. It was only about function."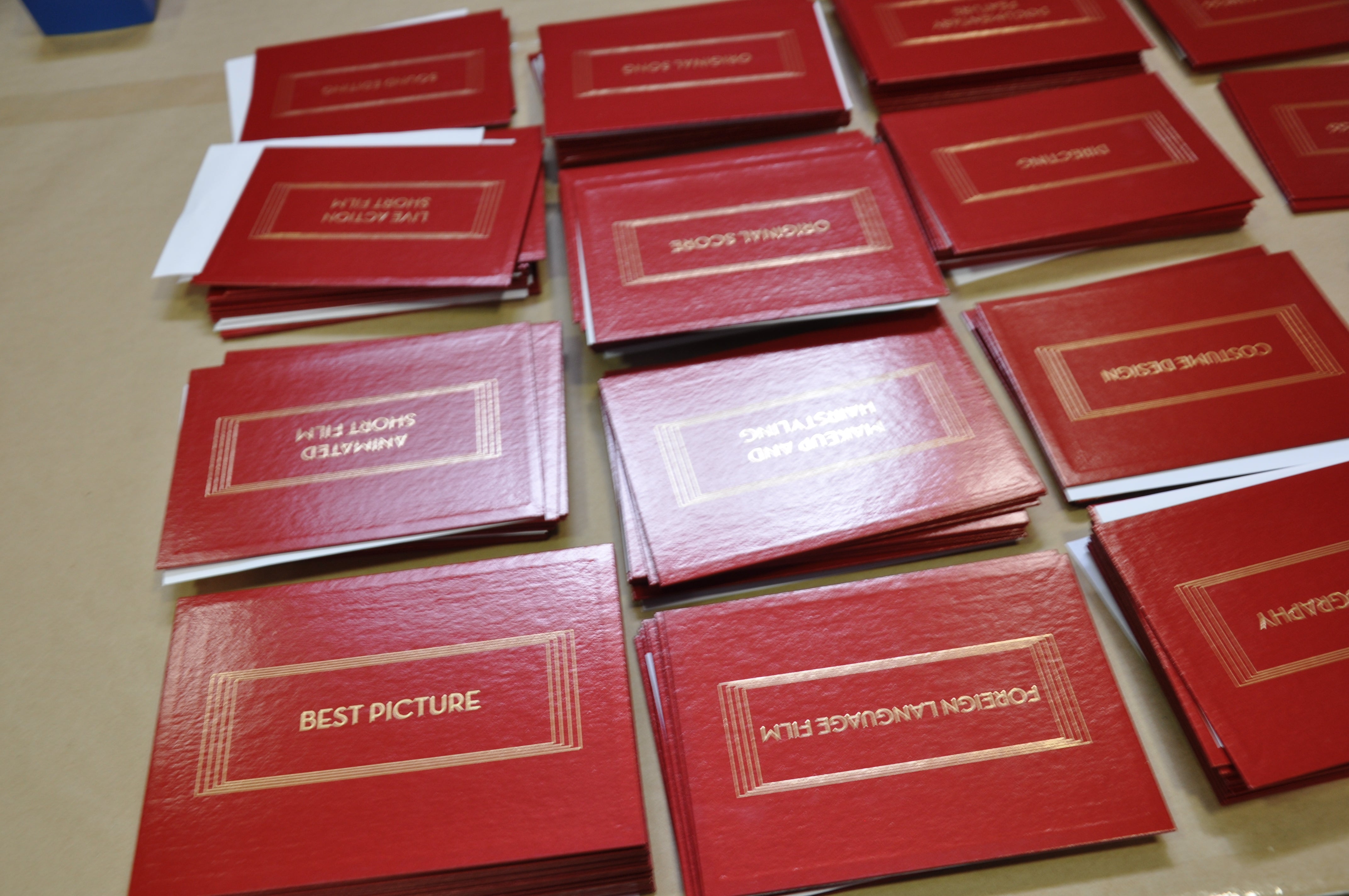 Friedland's company also creates the very important item inside the envelopes: the winner cards. But don't get too excited; he doesn't have any intel. "We do a winners card for every nominee. This year there are 121, and there are 24 categories of winners across differences branches of the Academy.
"Then at some time prior to the Awards, probably within the week before, we hand off those envelopes and winners cards to Pricewaterhouse Coopers, and after they've been doubled, tripled, quadrupled checked, they're delivered in person and then the votes are tabulated."
After this, the winners cards are put into the correct envelopes, and squired away by policeman they go. "It's all very secretive and protective," Friedman says.
Don't expect to find any of the non-winners' cards that were preemptively made floating around: They are all destroyed.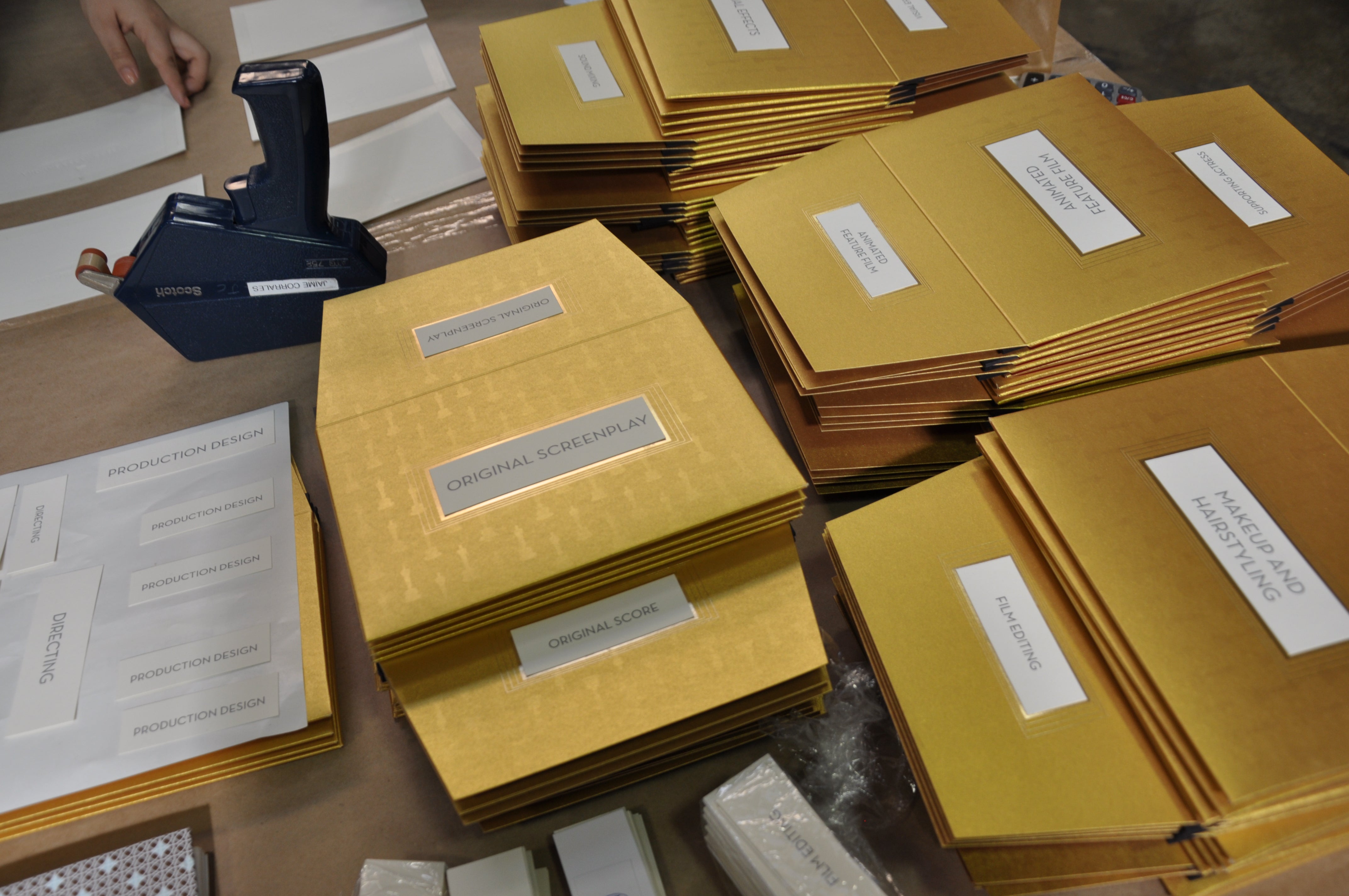 These days, function be damned. The envelopes, Friedland says, are inspired by old Hollywood glamour, and the colors take cues from the red carpet and golden statues. "They go through embossing, engraving, hand processes, there are four different types of papers used, there's real gold in them," he says.
"One-hundred and ten man hours go into the making of these things. Until people hold it, they don't realize it weighs a quarter of a pound, and it's an eighth of an inch thick. It has eight carat gold flakes in it. These things are what make them so special!"
Special, but priceless. While there's been some talk about the cost of these keepsakes, when I ask how much it would be for me to buy a set, I'm told you can't truly put a number on them. "That's like asking how much would Dorothy's red slippers cost," Friedland tells me.
Friedland's company is a staple of celebrity events; it's the name in custom paper solutions for the stars. "People spend so much money on home design, on wardrobes, and what they drive, he says. "Yet, how they communicate is equally as personal and individual. So we carved out a niche for ourselves to be the luxury staple of this."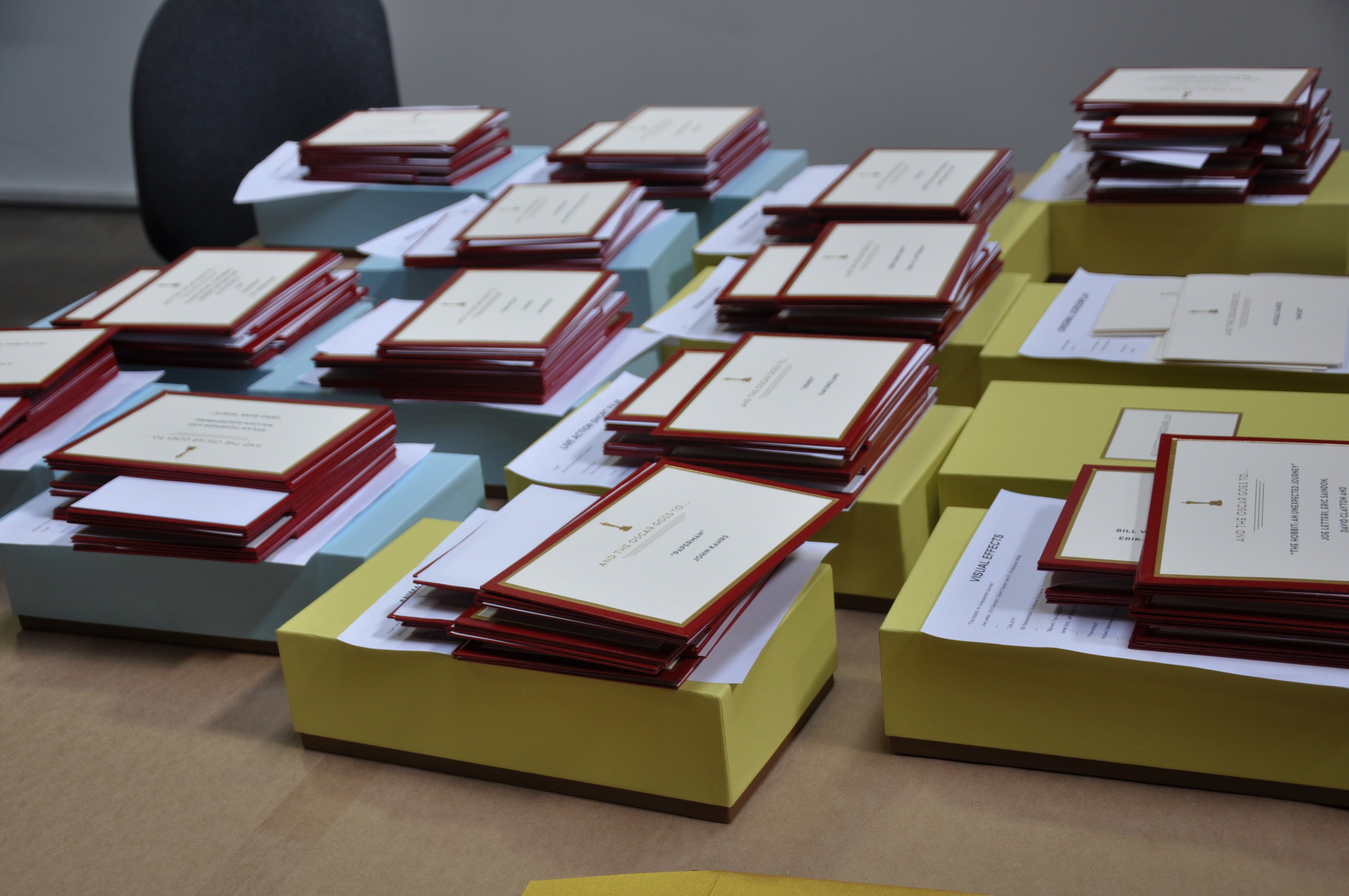 Pinpointing that niche has been a rewarding one. He's made envelopes and invitations for many a celebrity's wedding, "some are still, others are not." Brad Pitt and Jennifer Aniston used his services for their nuptials, the company's creativity was contracted for "one of Charlie Sheen's weddings," and they also made the invitations for Oprah's Legends Ball.
And while all of these names and moments send the tabloids into a frenzy, it's the Oscars that Marc Friedland and Co…. well, roll out the red carpet for.
"These envelopes have become very coveted. They're definitely a true keepsake that will last a lifetime. They're constructed and engineered to look great on camera, on stage, and to function well over time," Friedland says.
And he's convinced they will stand the test of time, not just on shelves, but in the ceremony itself. Some award shows are starting to use tablets or other digital solutions to read winner names; does he see a future where the Best Actor is announced via iPad, or further in the future yet… via hologram? "In this world of technology, people are more connected to their devices and tweeting, but they're so much more isolated from people," he says. The Spike Jonze film Her—nominated for best picture this year—captured this sentiment profoundly, Friedland says.
"But these envelopes… they hold so much emotion, so much spirit, so much heart and soul. And I don't think that any technology device could hold anything like that. 50 years from now, these people open those envelopes and go back to that precise moment when their name was announced, when they achieved that pinnacle of success.
"We really create artifacts of a person's life, of a legacy, of how people commemorate important moments in their lives. That's what I love about what paper does."