Starkid has learned more than just how to make magic in the three years since A Very Potter Musical became an overnight YouTube sensation and spawned an entirely new fandom-within-a-fandom. 
The performance group that launched Glee's Darren Criss to stardom and turned a University of Michigan theater troupe into a professional ensemble when it created a viral hit with A Very Potter Musical showed its marketing colors on Friday night. Around midnight Pacific, it released the final Harry Potter musical onto YouTube, A Very Potter Senior Year. Oh, yeah, and it also dropped the teaser trailer for its next big project.
The video of Starkid's last Harry Potter musical, which was given a staged reading at last year's LeakyCon, has already been viewed more than 220,000 times since it was uploaded. Long-anticipated by fans of Harry Potter and Starkid, as soon as the video premiered late Friday night, Tumblr exploded in a sea of GIF-sets and emotions. Prior to LeakyCon, the group had announced that Senior Year, or AVPSY, would be the last of the Harry Potter musicals. The production brought back nearly everyone who'd been a member of Team Starkid, including Criss and writers Brian Holden and Matt and Nick Lang. The show also featured a guest appearance from Evanna Lynch, who plays Luna in the Harry Potter films, reprising her role onstage.
The cast was openly emotional at the October performance, but for members of their fandom who weren't able to be in Chicago for LeakyCon, the final goodbyes had been delayed until now. "Do you remember reading the last Harry Potter book for the last time?" asked veeblog on Tumblr. 
That feeling knowing that it was the end. Knowing that you will never again have to anticipate another book and read any new adventures? You were truly saying goodbye to something that was a really big part of your life. You were left with this sort of hollow feeling inside because you knew nothing more was going to fill it up. That's kind of how I felt after watching AVPSY.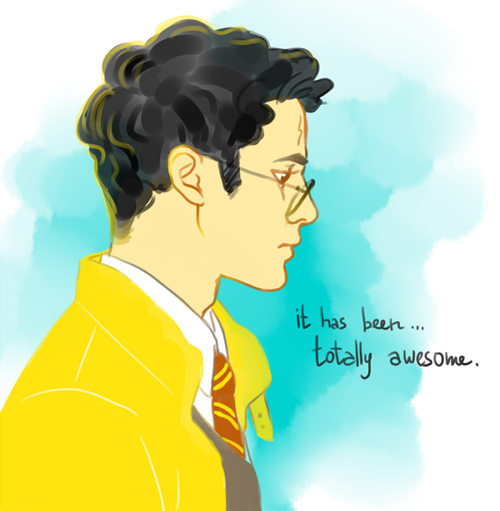 Illustration by ninakask/Tumblr
The theme of AVPSY is all about moving on and saying goodbye, a moral that serves the narrative of Harry Potter as much as it serves Starkid directly. At times the show is almost too meta, as Starkid struggles to branch out and establish itself professionally in ways that don't hinge eternally on the success of Harry Potter. While Starkid has done other projects, none of them has been as wildly popular as the viral Harry Potter musicals. 
But fans who want to know what's next for the Chicago-based troupe won't have to wait long; Friday they also uploaded the teaser trailer for a brand-new musical with an intriguing premise:
That's right: After tackling Harry Potter and Batman, it looks like Team Starkid is going the route of Wicked and getting into the mind of Aladdin's grand vizier. Twisted seems to be playing heavily off Disney's 1993 film, with references to Jafar's iconic parrot and a line from the film that's used to describe his villainous appeal.
Still, not every fan is ready to move on, and for some fans, Harry Potter will always come first—like Tumblr user jtwhiteside:
I know that AVPSY is all about moving on that nothing lasts forever.

But after I watched AVPSY, I turned on the TV and HP and the Prisoner of Azkaban was on,

and today when I ran into some friends, I realised that they were in a heated discussion about Harry Potter (which I joined in and continued for another 10 minutes).

I'm sorry, but HARRY POTTER FOR EVER. It will never die.
As the Very Potter musicals come to a close, we can only hope that Starkid's fanbase will prove to be as long-lasting.
Photo via stapletoothtiger/Tumblr