In the wake of an investigation by the Daily Dot, Spotify has shut down a third-party service responsible for one of the biggest pay-for-play schemes taking place on the platform.
On Friday afternoon, visitors to SpotLister were redirected to a new site featuring a message from the co-founders. It claims Spotify deemed the platform to be in violation of its terms of services. "[D]espite all of our efforts to rebrand and comply with their requests, our API key has been deactivated so we will no longer be able to operate on our platform," the post reads.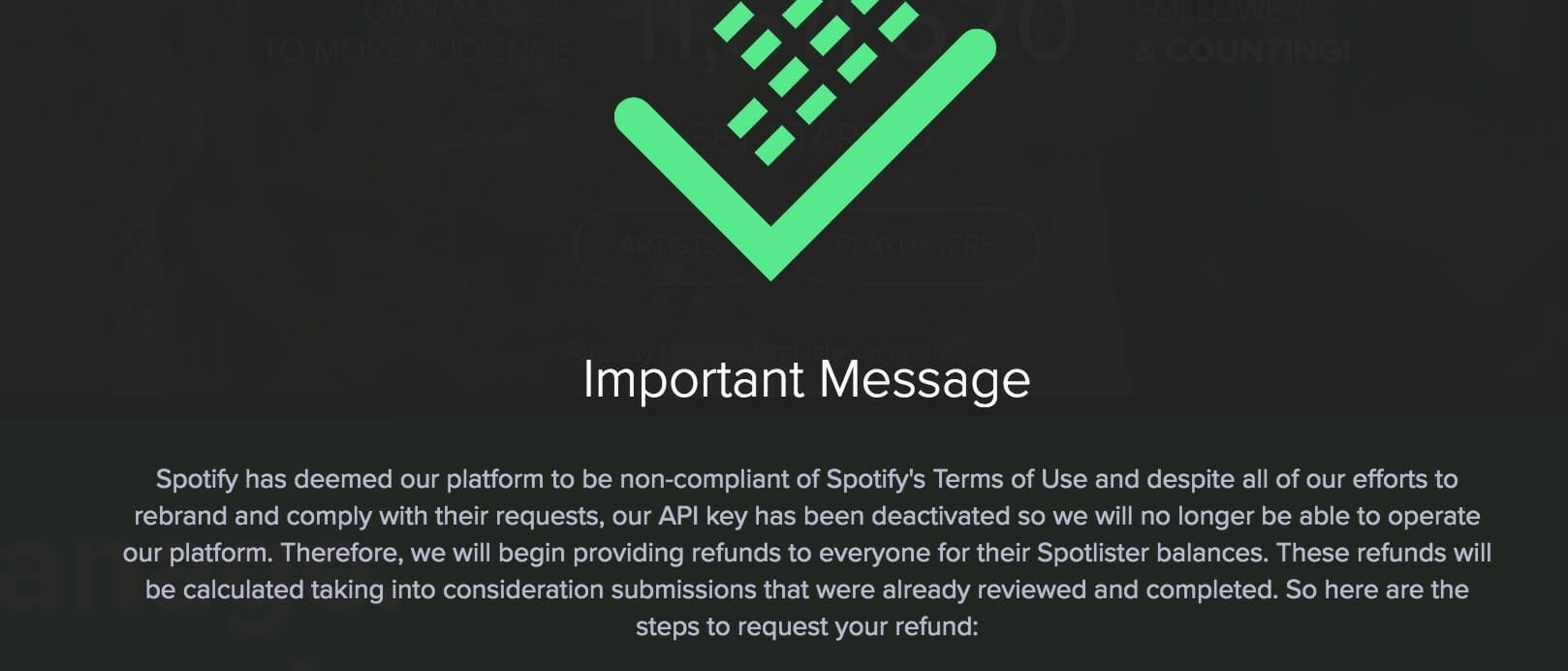 SpotLister was one of several new services that have cropped up in recent years to connect influential curators on Spotify with those willing to pay to have their songs considered for inclusion on their playlists. It's a booming marketplace—SpotLister claimed to have access to more than 1,500 curators with a cumulative reach of 11.7 million followers—one that capitalizes on both the size of Spotify's audience (71 million paid subscribers) and the rising influence of playlists, which are responsible for nearly one-third of all listening on the platform, according to the company's recent SEC filing.
Third-party services like SpotLister have been incredibly successful in helping independent artists gain traction on Spotify. The Daily Dot spoke to several acts who were able to generate hundreds of thousands of streams after being added to playlists via SpotLister. In some cases, that initial momentum catapulted their songs onto Spotify's algorithmic-based playlists and, ultimately, the company's own official playlists. And because artists generate revenue based off those streams, they're essentially reimbursed by Spotify for paying to get their music heard.
In 2016, Spotify explicitly prohibited "selling a user account or playlist, or otherwise accepting any compensation, financial or otherwise, to influence the name of an account or playlist or the content included on an account or playlist."
In addition to potentially violating that portion of Spotify's terms of service, SpotLister was likely targeted due to the way in which it used the company's web API. From the Daily Dot's original report, published Monday:  
Here's how it works: When you upload a track to the service, it gets analyzed by what it calls its Playlisting Indexing Algorithm, which uses Spotify's API and Echo Nest to scrape the song's characteristics and uses that metadata to identify the most appropriate playlists to submit to. That way an indie rock band isn't wasting time sifting through EDM playlists (or vice versa).
According to Cody Patrick, the owner of Organic Music Marketing, an expert in the world of Spotify playlists who used SpotLister and has closely monitored its new developments, the changes this week did not affect any of his artists' streams or playlist placements.
Patrick also noted that SpotLister, under the new name JamLister, briefly claimed that it was going to relaunch using a subscription model to alleviate criticism raised in the Daily Dot's report about playlists with artificially inflated playlist followers.
"I thought that was an amazing concept and was extremely excited about it," Patrick wrote to the Daily Dot.
Instead, SpotLister is closing up for good. The company promised in its post to refund users for any outstanding balances and to delete its servers after doing so. The co-founders of SpotLister could not be reached for comment.
While Spotify has clearly taken a stand against SpotLister, these recent developments will likely not have a major impact on the larger black market for Spotify playlist adds. Other comparable services like SubmitHub, which operates on a similar model but does not tie in directly to Spotify itself, are still up and running, though Patrick noted that he has seen some slight tweaks to other services, most notably Playlist Push, in the last week.  
Even if Spotify were to push back against third-party sites, it would have difficulty stopping payola from taking place on its platform altogether. There's nothing to prevent individuals from offering compensation to playlisters for consideration or direct playlist adds. In fact, the Daily Dot confirmed that PR companies are already offering these types of services.
Spotify did not respond to a request for comment.