In 1999, The Matrix showed a human race uncertain about the Internet age and critical of the ways in which technology was slowly encroaching on our humanity. The Matrix was a film borne out of post–Gen X alienation. 2004's Eternal Sunshine of the Spotless Mind was largely cut from the same cloth, an indictment of the ways we can use technology not to feel. The procedure that allows Clementine and Joel to forget their pasts isn't a technological revolution; it's a step into the future that wipes clean our pasts, the very memories that give us meaning. If anything, Her, the new film by Spike Jonze, is an indication of how much has changed since 2004: It shows what our alienation looks like today. 
Over the past 10 years, we've learned to stop worrying and love the machine. As rabid technological advances have completely transformed the role of the digital in daily life, our relationships to the world around us have changed, and movies are starting to show it. Since Eternal Sunshine debuted in theatres, we've lost our cultural ambivalence about technology—and so have our movies. Compare The Matrix to Gamer, that 2009 flick in which Butler's power is tied to his ability to control virtual reality. Whereas the digital used to be a curiosity onscreen (think You've Got Mail), CGI has made technology an increasing force given equal weight to humans. In Avatar, digital imaging allows Sam Worthington's Jake Sully a chance at redemption, a self-actualized second life to live out his white-settler fantasies. Similarly, in Her, the lines between what is digital and what is human are irrevocably blurred.
The most unsettling thing about Her is the way its vision of a futuristic society reflects the Way We Live Now, as we struggle to find connection in a world controlled by surfaces. Jonze has called Her his answer to Lost in Translation, his ex-wife Sofia Coppola's exploration of disconnection abroad. Critics have read that as a mea culpa for their breakup, but if anything, Jonze is picking up where Coppola left off.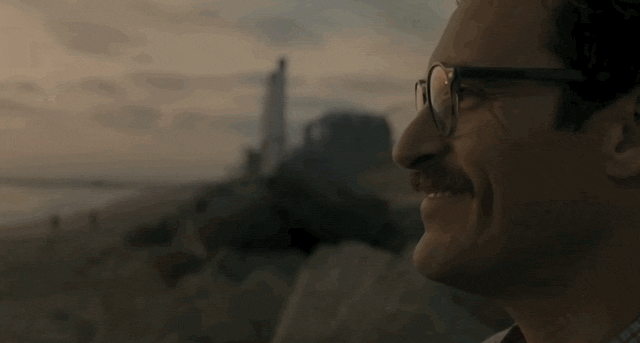 In Her, Jonze's protagonist and probable surrogate, Theodore Twombly, finds himself lost after his divorce. Twombly works for "BeautifulHandwrittenLetters.com," a company that customizes handwritten thank-you notes, one that epitomizes Jonze's view of our historical era. We live in an age where we make the personal impersonal, where love is a form of digital commerce. Like Coppola's vision of a Tokyo ruled by billboards, America lives in an online shopping mall, everything a form of consumeristic choice.
When Twombly purchases Samantha, an artificially intelligent secretary, the program advertises her as "a consciousness that knows you." In the wreckage of divorce, the promise of being understood offers hope, a chance to move on—or at least try something new. His best friend, played by Amy Adams, thinks the partnership will be good for him. (Her acceptance of the situation is jarringly casual.) At first glance, Samantha seems to be a dream realized; she's the ultimate Manic Pixie Dream Girl, a woman who exists only for your enjoyment and pleasure. You are the only reason for her existence; without your preferences to give her life, she couldn't even function. After Theodore installs her, he finds himself increasingly drawn to Samantha as his human relationships don't work out. He loves Samantha as a concept of what a woman is, but the problem is, as Samantha informs him, that she's learning at an exponential rate. She will outgrow him.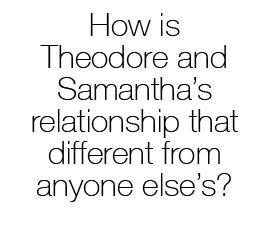 The Siri romance angle might be uncomfortable for some, but how is Theodore and Samantha's relationship that different from anyone else's? Although Samantha happens to be a computer, Jonze is speaking to our most deep-seated fears about falling for another person; love is, after all, what Adams's character describes as a "form of socially acceptable insanity." In many ways, Her is a cautionary tale about what happens when we rely on our computers to connect us, instead of taking a chance on other people, but it's also an exploration of the openness and wonder that gives life a sense of purpose. With Samantha, Theodore might not have met the one, but in their conversations, he finds himself able to be more free—to see what love might be like. It's not connection, but surely it's a step.
In most science-fiction films, we're presented with a future that's cartoonishly dystopic, devoid of all traces of humanity. Instead the not-too-distant future of her shows a world where machines are becoming more human, just as we becoming more digital; however, Jonze isn't out to chastise us for the state of our being. Spike Jonze is not a moralist. He rediscovers the Wachowskis' ambivalence not for the purposes of indictment but for healing. Her shows how we can rediscover ourselves—by balancing the consolations of technology with what you can't get from a computer, giving yourself over fully to another body. Labeled a "romantic transcendentalist," Spike Jonze speaks exactly to what makes us human, just at a time when too many of us may be forgetting. It's a vision of the future that couldn't feel more necessary to the present.