When the Shorty Awards debuted in 2009, an award show for Twitter seemed like a ridiculous idea. 50,000 votes were tweeted, along with just as many requests to stop spamming everyone with Shorty Awards votes.
Four years later, Twitter has become a global phenomenon, and the "Oscars of social media" has grown into a legitimate award show .
Internet celebrities, parodies, and television stars alike were awarded for their wits and social media presence at the fifth annual Shorty Awards, held Monday night at New York City's Times Center.
Hosted by actress Felicia Day, the Shorty Awards handed out fan-voted awards in 65 different categories—everything from best TV star to best non-human account.
The top six finalists for each category were determined after fans spent a month voting for their favorites on Twitter, and the winners were chosen by the Real-Time Academy of Short Form Arts & Sciences, a panel that includes Craigslist founder Craig Newmark, MC Hammer, Charlie Sheen, Alyssa Milano, and Apple cofounder Steve Wozniak.
And in classic Twitter fashion, winners have to limit their speeches to 140 characters.
The winners list gives an eclectic look at Twitter from astronaut Chris Hadfield to Twitter favorite Justin Bieber, NASA and @SarcasticRover to Pretty Little Liars. Supernatural's Misha Collins, who took over Tumblr just last week, conquered another social media site after winning for Best Actor.
Although no one rushed the stage and got thrown out—like radio host "East Side Dave" McDonald did when he failed to win a Shorty Award in 2010—there were a few winners who gave retweet-worthy acceptance speeches.
"I think it's safe to say my 15 mins are up. :)," Stacy Lambe, one of the creators of Texts from Hillary, tweeted after he won for Tumblr of the Year.
Former Star Trek star (and current Facebook and Tumblr star) George Takei won the award for Distinguished Achievement in Internet Culture. Along with sharing memes and viral images, he also used social media to help fundraise for disaster relief in Japan and victims of Hurricane Sandy and bring awareness to causes close to home.
"I can't express how grateful that makes me feel to know that I made a difference, however small," Takei said, before comparing the award to having an asteroid named after him.
First Lady Michelle Obama took home the #GIFStar Special Shorty Award after appearing in several GIFs that went viral over the past year, and she tweeted her acceptance speech from the official FLOTUS account.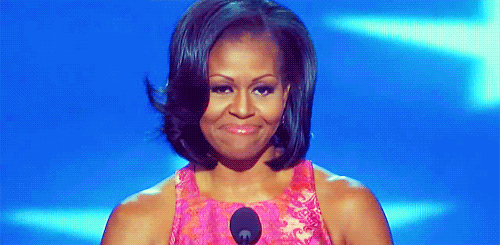 Jimmy Kimmel won this year's Lifetime Achievement Shorty Award. While flattered by the award, he noted that he couldn't possibly accept it alone.
"I share this Shorty with so many people—most especially the children who helped make it possible," Kimmel said before including clips of children crying at his achievement, a nod to one of his viral YouTube challenges.
You can watch the Shorty Awards ceremony in its entirety below:
Photo via shortyawards/YouTube