The Olympics aren't all about sex, but it sure seems that way. Athletes are so desperate for condoms they're smuggling bucketfuls of non-regulation rubbers into the Olympic village. And then there are the millions of fans around the world quietly lusting after the perfectly sculpted athletic bodies that are running, jumping, jiggling, and pole-vaulting all over their their big screen HD TVs.
Now there's a place on the Internet to celebrate the Olympic perv in all of us. Big surprise, it's at Reddit.
Say hello to r/ohympics, an age-restricted and potentially NSFW section of the social news site that describes itself as a home for anything that makes you go "Oh" about the Olympic games or that's just generally "sexually invigorating." On any given day, about 7,000 people visit  the subreddit "Oh"-ing all over their computer screens.
The subreddit includes pictures of women running, women jumping, women pole-vaulting, women playing volleyball, women sitting around, and women posing naked. At Reddit, the only people apparently going "oh" over the Olympics are men.
And that's just downright unfair. Reddit may be dominated by men, but there are a whole lot of women redditors who'd love to perv out over the Olympics, too. This subreddit is just crying for an invasion of lady boners, the paradoxical term coined by a woman's community on Reddit to describe a throbbing desire for a good-looking man.
For some Olympic lust is gender neutral, however. The most popular post of all time is a nude photograph of German judo athlete Romy Tarangul. Guess what, Romy? Every redditor on Earth wants to "wrestle" with you. How creative. At least redditor Titties had a unique approach:
"I'd physically overpower it. And snuggle."
Cute?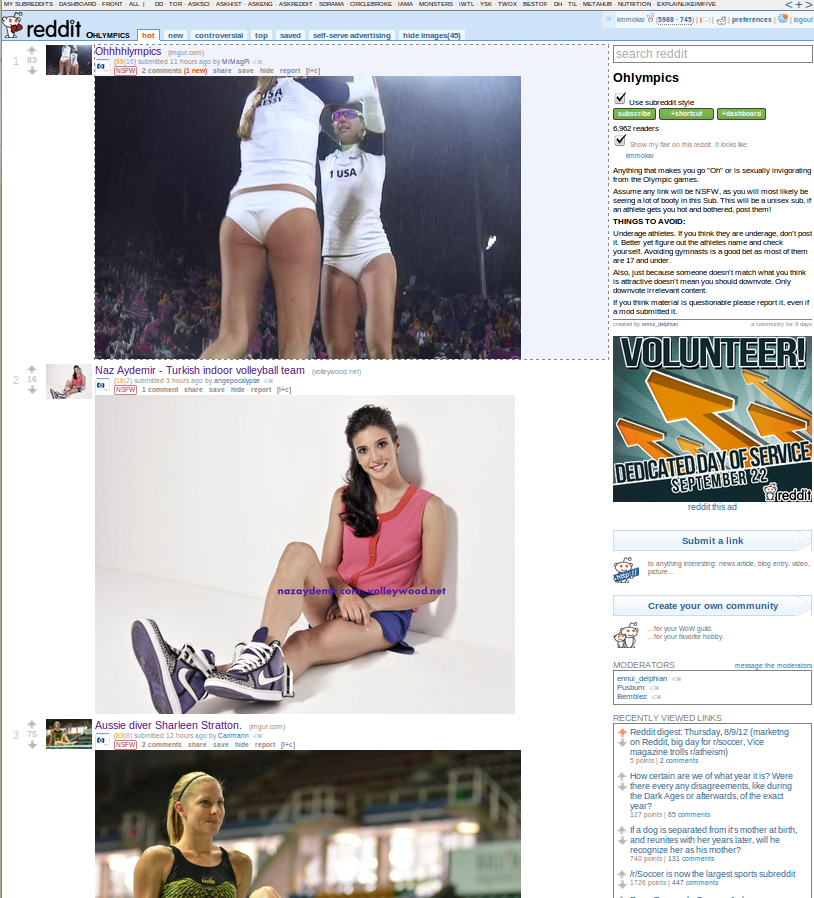 Photo via Facebook