He's won Mr. Olympia seven times, been the governor of California, married a Kennedy, and is one of the most recognizable actors of his generation.
So on Arnold Schwarzenegger's birthday Tuesday, what on Earth could the social news site Reddit have given the 66-year-old to inspire him to take a pen in his massive hand and write this heartfelt letter?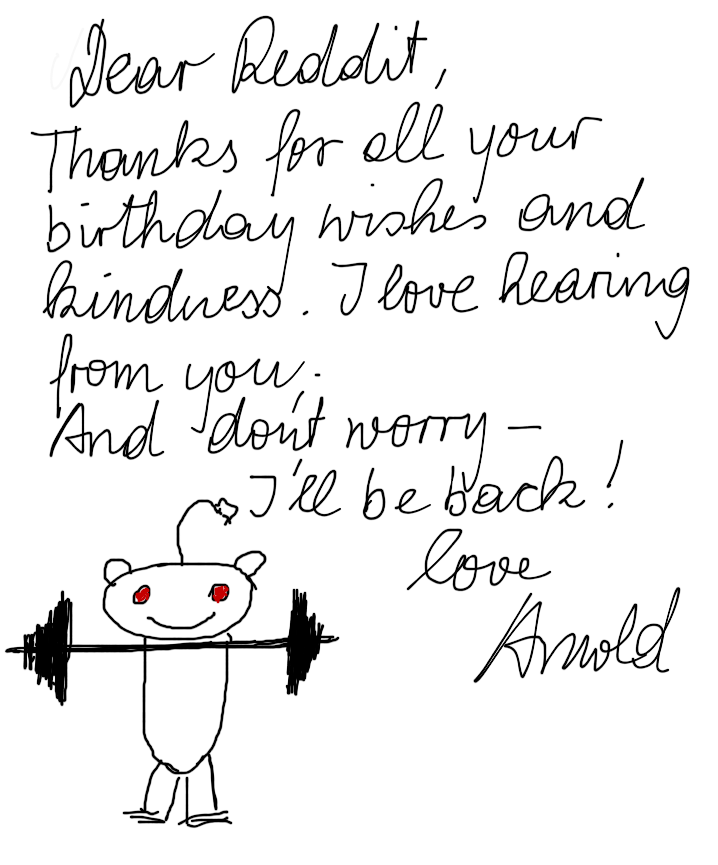 Nothing, actually—except for a few kind words and best wishes from Reddit's r/fitness community.
"Thanks for being the greatest lifting inspiration to so many young people," zuko_for_firelord commented. "Keep being the great man you are."
This is the greatness of Schwarzenegger, who has become one of the most beloved and involved r/fitness community members.
Under his official Reddit account, u/GovSchwarzenegger, Ahnold has dropped in on r/fitness to discuss dieting tips and how to motivate yourself to work out. Two months ago, he confirmed a story in r/TIL ("today I learned") about a dinner he had with Andre the Giant in 1983. When Schwarzenegger tried to pay for the meal, Andre lifted the former Mr. Universe like a baby and placed him back in his seat.
On July 11 Schwarzenegger popped into r/fitness once again to fire back against haters criticizing a cardio routine featured on schwarzenegger.com.
In celebration of Schwarzenegger's birthday, redditor jonthrei shared this touching story of when his dad met the Terminator.

Photo by Gage Skidmore/Flickr