Tech

Tech

The gadgets, platforms, and software that make your digital life possible. If it bleeps, clicks or blinks, you'll find it here.

Internet Culture

Internet Culture

There's a community for everyone online.

Streaming

Streaming

News, reviews, and guides for the world of online entertainment.
Hey girl, Ryan Gosling's also a feminist
Ryan Gosling isn't just your ordinary girl next door. He's also a feminist—at least according to this Tumblr.
"Hey girl, gender is a social construct but everyone likes to cuddle."
These are the words of Feminist Ryan Gosling, every (straight) academic feminist's perfect man. In a Tumblr blog launched this week, images of the dreamy actor mash up with sensitive—yet academic— references to feminist icons such as Derrida, bell hooks and Virginia Woolf.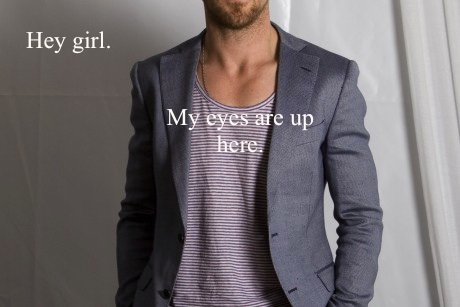 But sorry ladies, Gosling didn't come up with these rebloggable gems on his own. They're the words of Danielle Henderson, a graduate student who teaches Introduction to Women's Studies at the University of Wisconsin.
Henderson started her blog on Friday as an inside joke for her friends. Henderson,  34, who is writing her thesis on Black feminist activism, said she used the images to reference things she was studying in school.
"It just seemed funny to juxtapose something silly and something academic. The idea of using Ryan Gosling came from a joke with my fellow graduate students," she said.
They had told her about the image macro gone viral Tumblr Fuck Yeah! Ryan Gosling. To spread the meme, submitters post pictures of Gosling with heartwarming copy that begins with the phrase "Hey Girl." The images became so popular that Ryan Gosling himself read a few of them out loud for MTV.
Henderson said she hadn't heard much about either Gosling or the "Hey Girl" meme. But she went with it.
"I don't know much about Ryan Gosling, but he seems like a charming man," she said.
But while Fuck Yeah! attributes generally "aww" inducing quotes to Gosling, Henderson's blog purports to show Gosling getting in touch with his feminine — and feminist — side.
But now, her derivative has 12,000 Tumblr followers and counting. It's been featured in Time, Newsweek, and twelve other news outlets that she knows of. She said she's even been approached by a couple of literary agents for different opportunities.
"The reception has been great and incredibly, overwhelmingly positive," she said.
But no matter how big her joke has gotten, Henderson still posts her macros for an audience of friends.
"As much as it has caught on, I still think of it as a joke with my friends, and put up pictures to that I think will make them laugh," she said.
Lauren Rae Orsini is a web culture reporter who specializes in anime and the business of fandom. Her work has been published by Forbes and Business Insider.
© The Daily Dot, all rights reserved.
Represented by Complex Media, Inc. for advertising sales.