Ron Swanson is a model Libertarian.
The Parks and Recreation character played by Nick Offerman built his Pyramid of Greatness on a foundation of honor, buffets, capitalism, and handshakes ("Firm. Dry. Solid. 3 seconds.")
Ron Paul is likewise a Libertarian's Libertarian, the dark horse of the 2012 GOP primaries who staunchly believes in limited government.
Ron [Paul] Swanson pairs the two together, matching quotes from Swanson with photos of Paul. The blog describes itself this way: "The least likable libertarian and the most likable libertarian collide to create true Internet beauty."
Parks and Recreation has previously been mashed up with lyrics from Watch the Throne, while Drunk Ron Swanson danced the night away on Twitter last month. Most recently, Adam WarRock turned him into a rap song.
But Ron [Paul] Swanson works so well because of the silver lining of truth exposed by the mashup:  the hysterical thoughts of a parody character and the reality Paul represents.
For example, take this early post—published roughly one month ago—which received 144 notes:  
"I think the entire government should be privatized. Chuck E. Cheese could run the parks. Everything operated by tokens. Drop in a token, go on the swing set. Drop in another token, take a walk. Drop in a token, look at a duck."
Seriously, that's a GOP candidate I can get behind.
Here are a few other posts that caught our attention.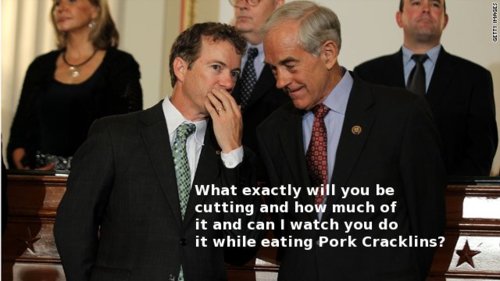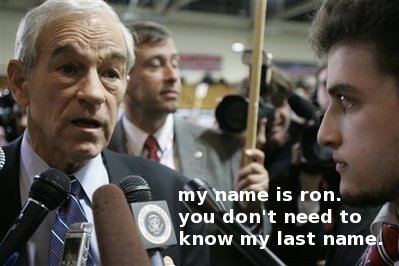 Photos via Ron [Paul] Swanson