Regardless of what you think of him politically, one must admit that Rick Santorum is well vested. Pinterest does.
Pinterest may be an open ended image-sharing service, but its early users have made it a go-to network for trendsetters in chic fashion, decorating and design.
Obviously, Rick Santorum is a perfect fit.
When Newsweek started a pinboard dedicated to curating the conservative politician's ubiquitous sweater vests, it quickly became the brand's most-followed board.
It's not just the fuzzy apparel itself that made us hit the follow button, but the board curator's droll commentary describing each outfit. Captions highlight Santorum's sweaters from rare angles (from behind, for example) and his dexterous sweater vest removal technique.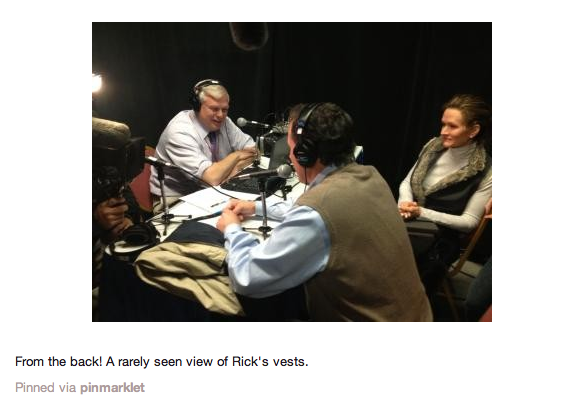 And whether you agree with Santorum's politics or not, you have to admit that you chuckled at "Networking Navy" and "Oval Office Olive."
Out of this year's Republican candidates, Santorum is the one that belongs on Pinterest the most. Clothes are even associated with his campaign, where he is giving away a handsome gray sweater vest to each sponsor who donates $100 or more.
Intentional or not, Santorum is the first politician on Pinterest that we know of. However, the way Pinterest is growing, we know he won't be the last.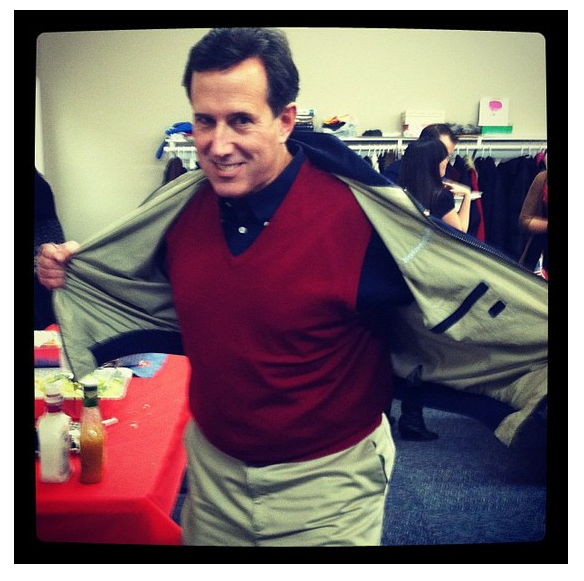 \
Pure, uncut internet. Straight to your inbox.