Out of all the in 2012 April Fools pranks on the Internet, Reddit's time machine, known as "timereddits," was by far the most extensive.
"Have you ever wondered what the popular memes were in the late-cretaceous period?," asks the official Reddit blog post announcing the timeline, a thinly veiled mockery of Facebook's contested timeline.  "Curious to see if cats and bacon will still be around in 42000 AD? Want to have a fireside AMA with Prometheus? Now is your chance to travel through history."
On April 1, the Reddit timeline let anyone travel to any point in time, from the Big Bang all the way to the end of time.  All you had to do was click your mouse over the year, and you were off.
The official Reddit blog post billed the timeline as "a groundbreaking new development in social news" using "time travel technology," but in actuality, the technology behind Reddit's timeline was its own passionate user base.  
Redditors were encouraged to create threads in various time periods in character, and more than 3,000 zealously participated.
People made threads devoted Shakespeare jokes in 1558, for instance, while the 1984 subreddit was decked out in the style of George Orwell's novel of the same title.
According to redditors, in the future cats will become extinct, the 2012 apocalypse still happens, gas prices will continue to rise, and Ron Paul will be elected as president. Oh, and former Vice President Dick Cheney will still be alive in 2099, somehow.   
Some redditors, like novelty account POLITE_ALLCAPS_GUY, scripted reddit drama about a new moderator that spanned years. Predictably, pop culture references mentioning time traveling, like Dr. Who, Back to the Future, and Buzz Lightyear, were rampant.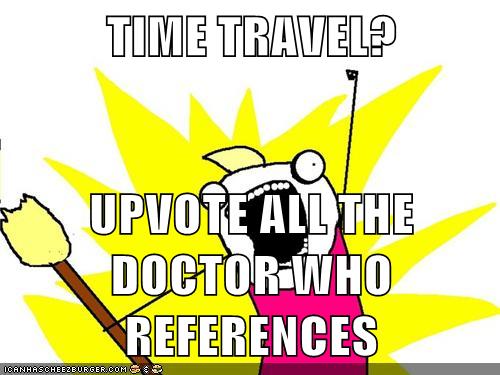 The biggest time subreddit, judging by the number of subscribers, was the one predicting the end of the time. The next largest focused on the 1990s, followed by the Big Bang.
The least popular time reddits were the 1200s, 1910, 2019, 2050, and the Renaissance, respectively.   
As the clock struck midnight, many redditors wondered what would happen to all their hard work, which spanned billions of years in the form of hundreds of posts.  
"I wish reddit would keep timereddits after April 1st," wrote billpika in a thread titled "Making /r/timereddits permanent?"
The social news site seems to have granted him his wish. At press time on April 2, all time machine subreddits were still easily accessible.
Photo by David Blackwell