Thomas Wolfley has just had his baby stolen, and he will probably never get it back.
Wolfley's child is Cloudstone, a colorful role-playing game akin to Diablo that he and his gaming company Playsaurus have spent the last two years developing.
About two weeks ago Wolfley received an anonymous tip that Cloudstone had been stolen by a Chinese company.
"We were afraid they got our server code from our office somehow. Initially we were afraid that maybe our company's servers had been infiltrated somehow,"  Wolfley told the Daily Dot. "It was kind of scary,"
Unsure of what to do, Wolfley took to Reddit Thursday to share his story and get advice on how to proceed.
Wolfley speculates that it probably took the Chinese thieves a few weeks to download the game's public files and recreate the parts dealing with your character and saving. The Chinese version of the game is called "Sky City and the Warriors."  Wolfley is unsure how many users the Chinese game has and whether they are making any money off of his company's work.
Cloudstone can be played for free on Kongregate, an online games hosting site, or on Facebook where users can purchase in-game upgrades.
The following is a screengrab Wolfley took showing his game side-by-side with the Chinese knock-off.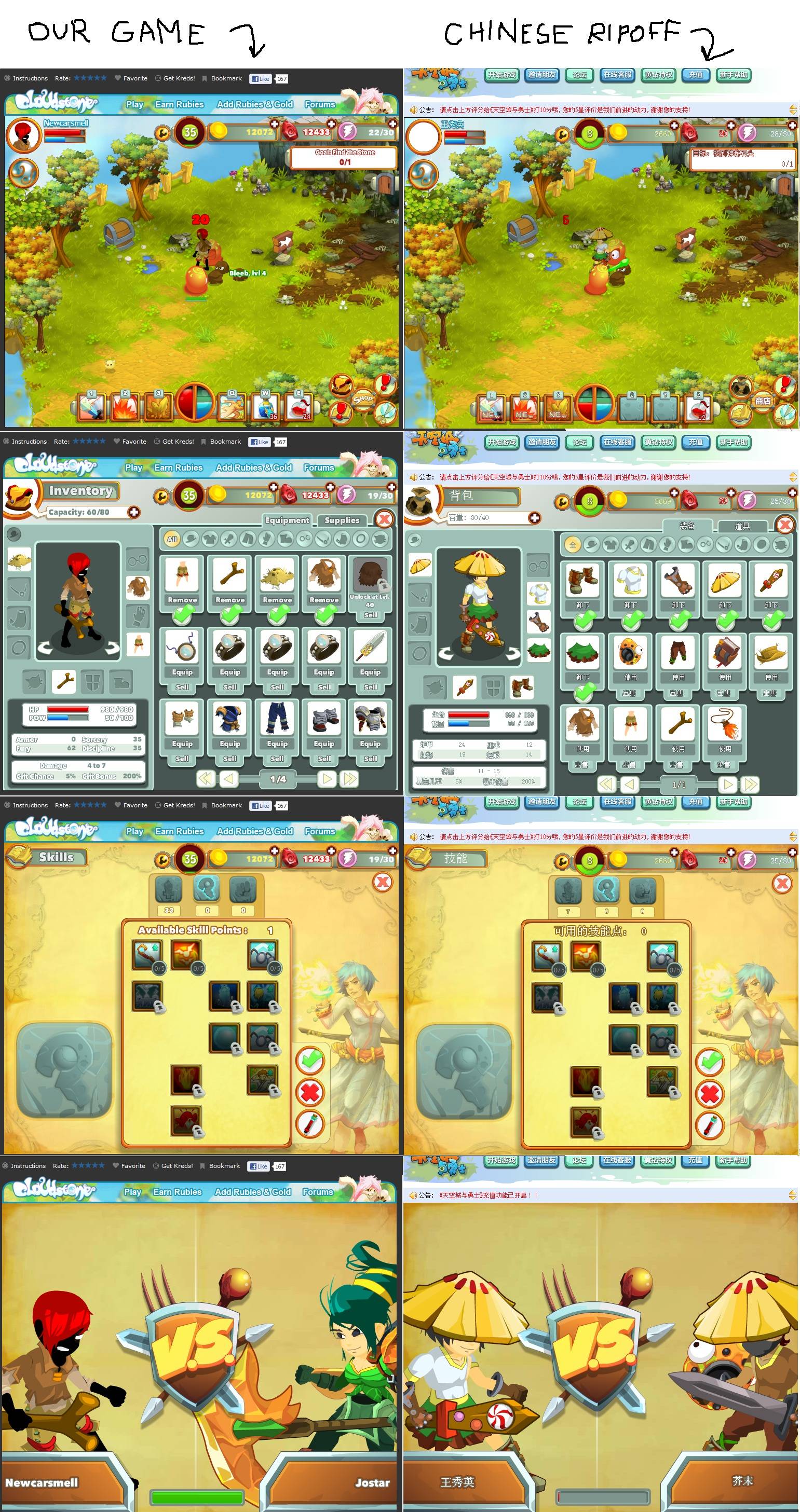 Since his post exploded Reddit's popular r/gaming subreddit, Wolfley has made contact with someone at the Chinese company.
"They claim that the developer is another entity, not associated with them," he said. "They might take the game down as a result of all the angry posts they got from Reddit."
Wolfley's Reddit post reached the front page Thursday with more than 3,000 comments. Some users flooded the Chinese site calling out the company and directing people to Wolfley's site, while others gave him some harsh news.
"There is literally nothing you can do when China steals your IP [intellectual property]. The government doesn't give a fuck and the courts will side with citizens over foreigners 100% of the time," commented ikonoclasm. "I used to do patent law and the only way you ever stood a chance of pursuing patent infringement in China was to hire someone that's actually Chinese and say they're an employee."
Despite the doom and gloom, all the news hasn't been that bad for Wolfley and his new game since posting to Reddit.
"We got a bunch of new users when we hit the front page. Our servers almost crashed," he said. "Somewhere between 3,000-10,000 users installed our game from Reddit."
For now Wolfley, who lives in Los Angeles, waits to hear if the Chinese company will take the game down. And while this is the first time something like this has ever happened to him, it may very well not be the last.
"I don't think there's anything you can do to prevent this kind of thing," he said. "Even huge games like World of Warcraft get their servers reverse engineered. Though in that case, I don't think people profited off of it."
All images via Playsaurus