Though both Bravo's Real Housewives franchise and HBO's Game of Thrones command the psyches of fanatical viewers, their respective fandoms are so antithetical they might as well be separated by the Wall. One series is based on a best-selling fantasy novels written by a man who looks like a sea captain with a vast collection of vintage Casio watches. The other sources the delicious, producer-fed delusions of perimenopausal women for plot. 
Could two genres so divergent ever find common ground? Enter The Real Housewives of Westeros, a spoof that Jimmy Fallon should have already manufactured at his viral video sweatshop. But since he's left us starved for drama and dragons, we've picked up the slack. We're pairing up your favorite GOT women with their Bravo-lebrity housewife equivalents.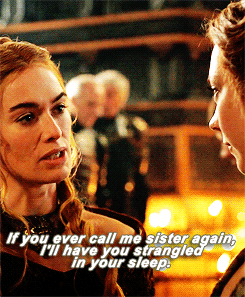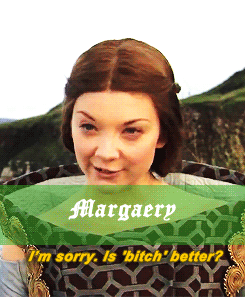 GIFs via lukecastellan/Tumblr
The seven kingdoms might be vast, but gossip travels fast with these women. Put a drop of Night Shade in that glass of Skinnygirl Margarita or Ramona Pinot and get ready to dish some dirt that would make Varys and his spiders blush. It doesn't matter if your wedding is red or purple, because when these housewives are around, there's bound to be drama more explosive than the Battle of Blackwater Bay. 
Lysa Arryn as Danielle Staub

Photos via Wetpaint & TheHollywoodGossip
"Don't trip on the Moon Door on your way out!"
Murder, sex, and an uncomfortable amount of bare breast exposure. These women are as deranged as they are insatiable, which is really saying something. One is mad enough to poison her royal husband at the command of her lover, while the other was met with accusations of a past of prostitution and cocaine abuse. 
Melisandre as Carlton Gebbia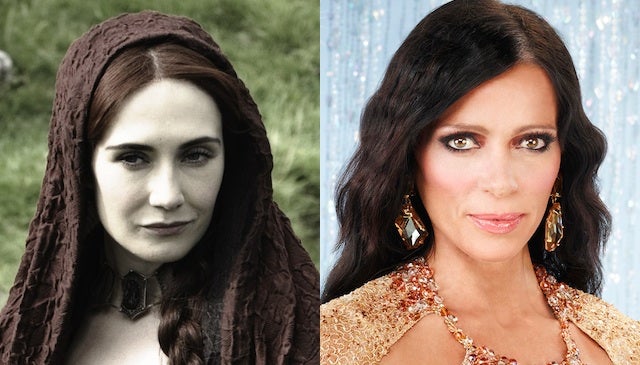 Photos via winteriscoming.net & Parade
"I might serve the Lord of Light, but that doesn't mean I don't have a dark side."
There's definitely something bewitching when it comes to the smoldering looks these two are known to flash. These women aren't just worshiping powers and spirits beyond this realm; they're in service to them. Whether it's birthing killer black smoke or threatening fellow housewives with spells, it would be ill-advised to cross these witchy women.  
Daenerys Targaryen as Bethenny Frankel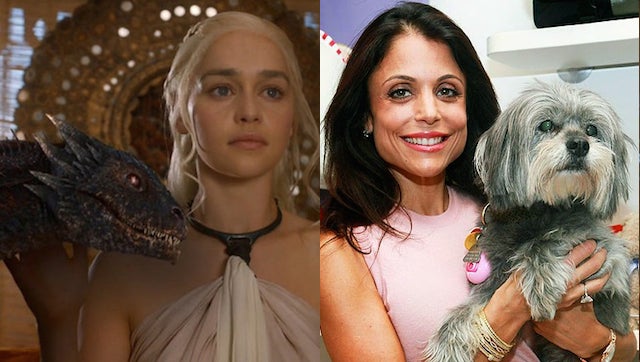 Photos via sofeminine.co.uk & bravocentral
 "It's a man's world out there, and I'm just a single mom trying to make it on my own."
One's the mother of dragons, the other's the mother of Skinnygirl. Together, they're just two women trying to do it for themselves, building their respective empires through sheer grit, dragon fire, and determination. Be it a dead Khal or divorce, these two women aren't letting their tragic past with men stop them from conquering the realm.    
Catelyn Stark as Caroline Manzo
"When it comes to my family, we're as thick as a pack of direwolves."
These two mothers are as fierce and fiery as they come, and not just because of their red tresses. When it comes to their families, these northern women will stop it nothing to protect their children against any foes. They're nurturing, caring women, but piss them off and be prepared to see teeth sharper than a direwolf's.
Olenna Redwyne as Lisa Vanderpump
"I don't grow older; I grow stronger, and the rest of these ladies just grow fatter."
There's a certain sexiness that comes with maturity, and these women have it. After you've experienced both the best and worst of what life has to offer, you simply find the rest amusing. The diplomacy, wit, and charming British accents these women employ when negotiating political marriages or ordering a glass of Rosé is what's kept them thriving.
Cersei Lannister as Brandi Glanville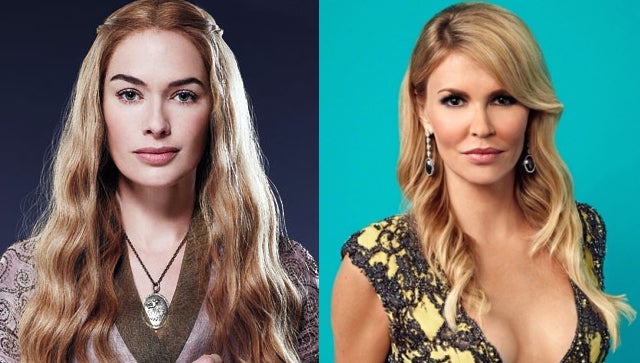 Photos via gameofthrones.wika & evilbeetgossip
"I don't keep up with Westeros; Westeros keeps up with me." 
Sadly for Bravo, there's no woman in the Real Housewives franchise that could match Cersei's cunning ruthlessness, let alone her tolerance for wine. Brandi's as close as it comes for a frigid blonde beauty whose pursed lips are constantly glossed with a venomous quip. That's not to say these women are completely cold though. With husbands who could vie for most worthless and both lose, all these mothers have left to salvage is the love of their children.
Margaery Tyrell as Carole Radziwill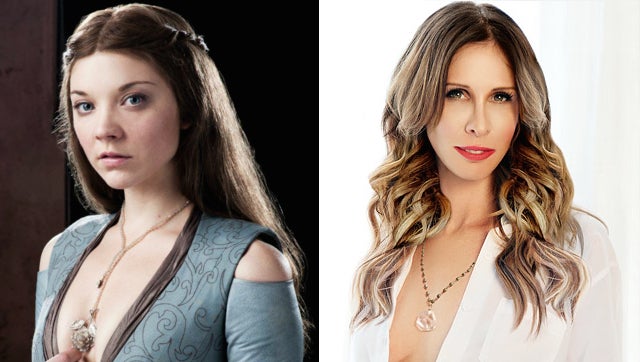 Photos via gameofthrones.wika & UsMagazine
"Every rose has its thorn, and this Tyrell is used to giving a few pricks."
There's more than just beauty behind those eyes. Don't underestimate either the cunning or the grace of these chanteuses, because they always have another plan to get what they want and where they want to be. Royal blood runs rich around women like these, be it the Lannisters or the Kennedys.
Ygritte as Tamra Barney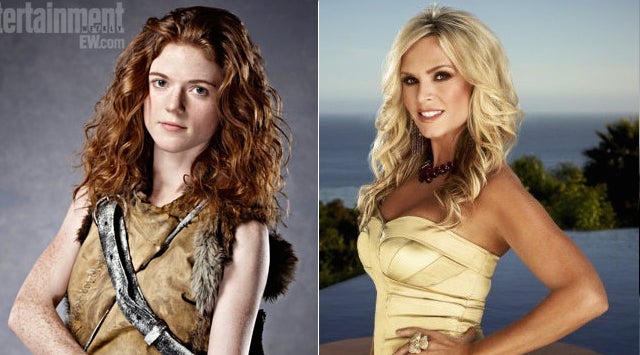 Photos via gameofthrones.wika & thehollywoodgossip
"A shot to the heart is painful, but an arrow in the back hurts worse." 
Granted, Ygritte and Tamra have different standards of beauty and creature comforts. You'd be hard-pressed to find the SoCal blonde in a climate that even comes close to replicating the camps beyond The Wall. But that doesn't mean they both wouldn't fire an arrow into you at close range if you f**k with their heart. 
Shea as Sonja Morgan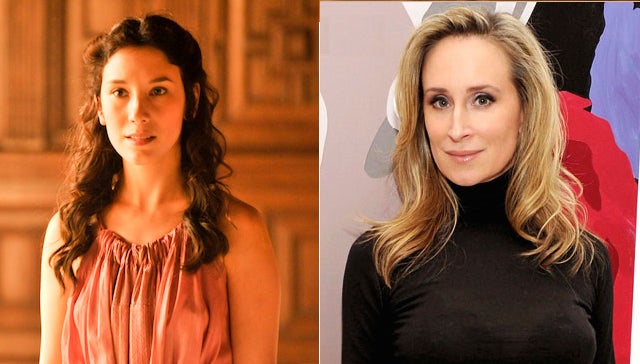 Photos via wetpaint & Hollywoodlife
"My love can't be bought with diamonds or gold, but that doesn't mean I don't know how to spend them. "
A Lannister always pays his debts, but what about an heir of JPMorgan? These two beauties, who are well-versed in the art of seduction, have a predilection for powerful and rich men. Yet scorn them, and you'll be smarting from their wrath for centuries to come.  
Hodor as Vicki Gunvalson

Photo via: msu.edu & wetpaint
"HODOR!"
Hodors have been carrying the Stark heir to the northern kingdom and his Warg posse, while Vicki's broad shoulders have supported the cast of Orange County for nine seasons. Much like Hodor, this one was a real no-brainer.
Illustration by Max Fleishman and Jason Reed