Lean. Sizzurp. Purple drank. If you listen to rap, you've likely heard mentions of Actavis or other codeine syrups, the "drank" of choice for many talented and popular rappers—especially down south. And if you follow news about rap, you've definitely heard of it: Lean was the cause of Gucci Mane's Twitter meltdown, and contributed to the deaths of Houston icons DJ Screw and Pimp C of UGK, who helped popularize the drink. Lil Wayne has epilepsy, but many speculated his sizzurp obsession contributed to his recent health problems.
Just how popular is codeine among rappers? Hot on the heels of the hip-hop vocabulary charts by data scientist Matt Daniels, Project Know took lyrics from Rap Genius and analyzed them for mentions of drugs like marijuana and cocaine, as well as different alcohol brands. The researchers discovered that codeine's popularity has substantially increased in the past few years, but it's still not as popular as weed. 
References to "Molly" have also spiked in popularity.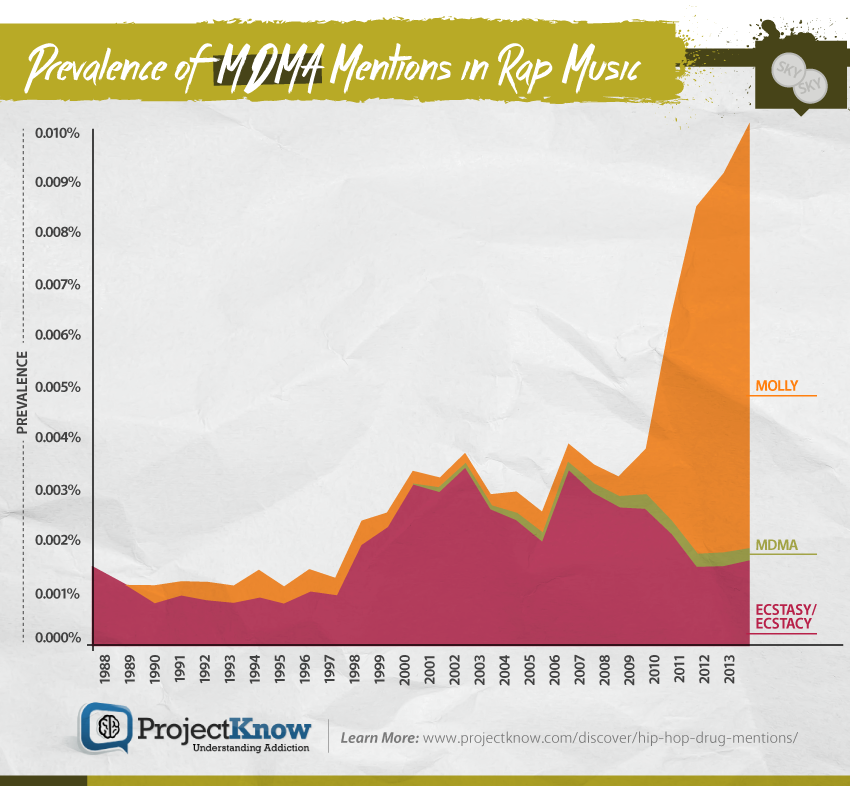 MDMA and lean are trendy, but Project Know pointed out that name-dropping pharmaceutical drugs is also on the rise. "Painkillers, such as Percs, Lortab, and hydrocodone, have risen in prevalence since the mid-2000s. And fulfilling a different void, Adderall's popularity also surged," the researchers wrote. As for alcohol, Hennessy still gets a lot of love, but it's not as popular as it used to be.
Project Know also pinpointed which rappers namecheck substances the most frequently. Lil B is on their naughty list, since he has the most references about MDMA, codeine, and cocaine.
H/T Grantland | Photo via Flickr/Images Money (CC BY 2.0)