Just in time for the holiday season, the latest toy-centric 1980s reboot is set to debut: Rainbow Brite will be launched as an online-only program.
News of the new series first popped up in July. According to Entertainment Weekly, Feeln, a video streaming site devoted to family-friendly content, will begin airing the series on Nov. 6. As part of the promotion, the company has produced a teaser trailer previewing the reboot.
Rainbow Brite's new life surely owes itself to the massive success of My Little Pony: Friendship is Magic, which also began as a toy line and cartoon program in the 1980s. Emily Osment of Hannah Montana fame will be the voice of the titular character, stepping in for original Rainbow Brite voice actress Bettina Bush.
"Being cast as the voice of Rainbow Brite for the relaunch of this iconic show is truly an honor," Osment told Entertainment Weekly. "I look forward to connecting with the audience, old and new, and going on this exciting adventure together."
In another nod to its decade of origin, Molly Ringwald, who was a staple of John Hughes' teenage comedy movies during the run, will be voicing the Dark Princess, a key adversary of the character.
Fans quickly took to Twitter and other social networks to react to the trailer and to news of the reboot in general. While some were overjoyed to see the return of the series, others were growing weary of modern takes on fondly-remembered childhood franchises.
I might have to start watching 'toons again! MT @KristinDSantos: Rainbow Brite Gets New Cartoon https://t.co/WHrwmATln6

— Jada A Graves (@jadaagraves) October 14, 2014
They're remaking Rainbow Brite. I'm kinda frustrated with all these reboots from childhood. Make NEW stuff, don't rely on nostalgia.

— Eerie Callaghan (@KiriCallaghan) October 14, 2014
They're remaking Rainbow Brite. My childhood has officially been murdered.

— Jawny Appleseed (@shibuyadreams) October 15, 2014
Additionally, some users feel that the character was no longer a progressive role model for young girls.
The rainbow brite remake looks gross. I just don't understand why people still think making a girl sound like a dingbat is an good choice

— ashleigh py hetrick (@pyawakit) October 15, 2014
Rainbow Brite debuted in 1983 as a creation of the Hallmark corporation (this was well before the greeting card company began making sappy TV movies with Rob Lowe). The story follows Rainbow Brite and her army of "Color Kids" and sprites who, representing all the colors of the rainbow, are responsible for bringing color and life to the world. Rainbow Brite's main antagonists, the scheming Murky Dismal and his buffoon sidekick Lurky, try to thwart the heroes at every turn and rain eternal dreariness down on the world.
It wasn't long before the property expanded beyond the greeting card racket and spawned a line of plush toys, books, and, of course, its own cartoon series.
In 1985, the franchise reached its apex with the animated feature-length movie Rainbow Brite and the Star Stealer, which prominently featured the Dark Princess character. While it attracted negative critical reception upon its release, over the past quarter-century it has attained something of a cult status among truly nostalgic fans.
The franchise also saw an odd, somewhat terrifying live-action special in 1986 that was meant to promote the San Diego Zoo. Thankfully, this was Rainbow Brite's lone foray into live action.
The original series ran for 13 episodes from 1984 to 1987. Reruns were shown on cable until 1997, when the franchise went dormant, relegated to the occasional cosplay at fan conventions.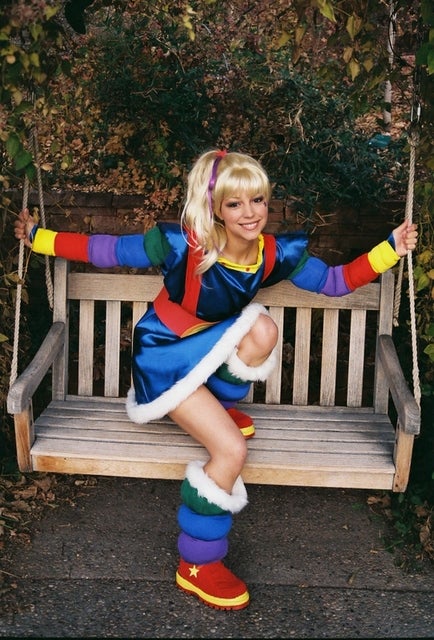 Image via akuriko/deviantart
If the new Rainbow Brite indeed strikes a chord with audiences, expect an entirely new fandom to sprout. Maybe we'll even see the Rainbow Brite equivalent of Bronies (Twitter user Andre, a.k.a. BlackNerd, already suggested the term "Rainbro"). Fasten your magical Rainbow Belts, Color Kids.
H/T Entertainment Weekly | Screengrab via Feeln/YouTube