It turns out the world isn't over Psy just yet.
The Korean rapper debuted his latest single, "Gentleman," during a concert in Seoul on Saturday (and later on YouTube), and it's already marking its place in the record books.
"Gentleman" received 22 million views within the first 24 hours of its online debut. Psy managed to take away another record from Justin Bieber: The teen sensation held the previous record for most views in the first 24 hours when "Boyfriend" debuted in May 2012, with 8 million views.
As of press time, "Gentleman" has more than 62.8 million hits in just two days.
The song may be called "Gentleman," but in the video Psy shows that he is anything but. It features Psy in his signature suit and sunglasses as he plays practical jokes on different women until he finally meets his match.
He premieres a new dance, and there's even a cameo from the "yellow suit guy" from his last video.
Phys.org reported that "Gentleman" ranked in the top 10 songs on iTunes in a number of countries, and it currently sits at No. 18 on the U.S. iTunes charts.
Psy appeared to be shocked at the video's popularity. He updated his Twitter account every time the video hit a new milestone.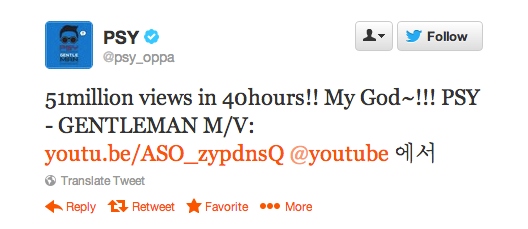 He currently has the 29th most popular channel on YouTube, with over 3.6 million subscribers. That number practically guaranteed that the video would become a smash.
Psy has been performing for over a decade, but he felt that it wouldn't be fair for critics to label him a one-hit wonder if his follow-up to "Gangnam Style" fell flat.
"I gained international fame almost by accident but that does not mean that I will make desperate efforts to maintain that global popularity," Psy told Digital Spy. "I will just continue to do what I have been doing for all these years. If it satisfies people's appetite it will. If not, it won't."
It's too early to predict the long-term success of "Gentleman," but now that Billboard counts YouTube views, it's only a question of how high it'll climb the charts.
H/T Phys.org | Photo via officialpsy/YouTube