Earlier this week in Washington, D.C., during rush hour, three minutes of Pornhub content streamed across Union Station's system of brand new digital monitors before being shut off.
Was it a hacker? A station employee who opened the wrong browser tab? Security is looking into it. But in the meantime, footage from the scene of the event is slowly appearing online.
A now-private tweet from Twitter user @_joannaw seems to have started the wave Monday night, simply stating "The monitors at Union Station just started playing Pornhub…" — a fact that many people in the building caught onto soon after.
Porn started playing in a monitor at Union Station. Passersby horrified, workers scrambled to shut it off pic.twitter.com/VcVkm0zBGh

— Kristin Wright (@kristinywright) May 16, 2017
As some passersby noticed the graphic sex and tried to turn off the screens, others were prescient enough to break out their phones. Gizmodo tracked down video of one directory monitor positioned right outside a Chipotle, and it shows confused commuters discovering the monitors: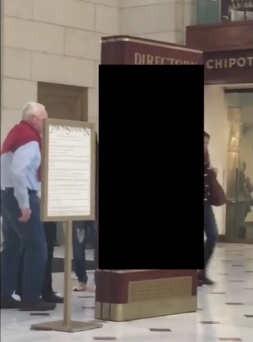 And then looking at each other in disbelief while footage of someone masturbating played in the background: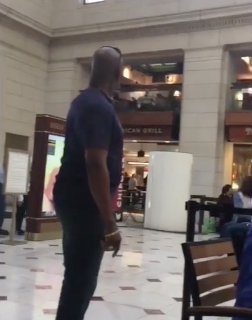 You can head here to see both semi-SFW and NSFW snippets.
Beverley Swaim-Staley, president and CEO of the Union Station Redevelopment Corp., told the Washington Post that property management is looking into the issue.
"We've asked them to certainly investigate the incident to make sure this doesn't happen again," she said. "The downside with new technology is that it comes with new risks."
No matter who turns out the be the culprit, shoutout to everyone in the video for taking this curveball in stride.
H/T Gizmodo