Podcast fans have a lot to be thankful for this year.
So far, 2012 has seen the first live podcast festival—the winning Los Angeles Podfest—as well as the debut, announcement, or success of television programs based on The Nerdist, Comedy Bang Bang, and WTF With Marc Maron. The Nerdist has also expanded into a surprisingly entertaining YouTube channel, while podcasts from Doug Loves Movies to Radiolab continue to draw big crowds for live events. Even President Obama got in on the action, becoming the first sitting president to appear on a podcast, on The B.S. Report with Bill Simmons.
But the most important thing is this: Week after week, podcasters continue to churn out a staggeringly huge number of great shows, across every conceivable genre and topic. With that in mind, Podspotting has chosen this week to highlight some of the fantastic work being produced by podcasters of all stripes—10 (well, technically 13) shows to give thanks for.
1) Professor Blastoff
Comedian Tig Notaro's had a big, enormously difficult year. On the one hand, she's enjoyed a high-profile appearance on This American Life, an already-legendary Largo set, and an incredibly successful release of said set on Louis CK's website. Of course, one of the reasons that set attracted so much attention is the slate of Job-like challenges Notaro faced this year: pneumonia, a double mastectomy for breast cancer, and a life-threatening case of the bacteria Clostridium difficile.
The accompanying publicity has, to some extent, overshadowed Notaro's top-notch Earwolf network podcast, Professor Blastoff. The podcast features Notaro and co-hosts Kyle Dunnigan and David Huntsberger. Each week, they tackle a central theme—romantic relationships, Star Trek, wealth, global warming—for a discussion that's both comedic and earnest. Guests ranging from Doug Benson to Reggie Watts often join in on the fun.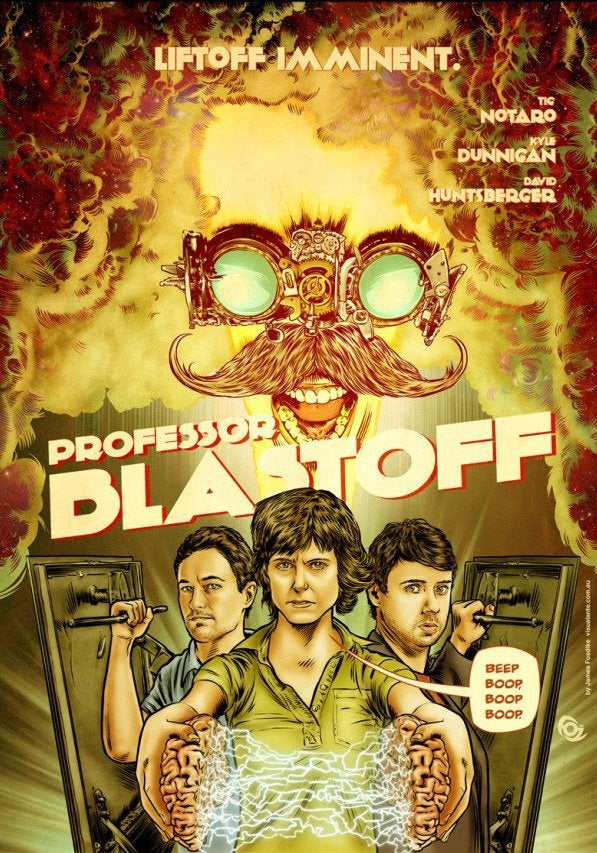 Illustration via Facebook
2) The Q&A With Jeff Goldsmith
When it comes to film and television, cinephile and journalist Jeff Goldsmith is interested in one thing above all others: storytelling. How it works, when it works, and why it works. Every week, Goldsmith pulls in some of the finest writers in movies and TV to talk about the craft of scriptwriting. Whether it's Rian Johnson dishing on the time-travel histrionics of Looper or Mike Birbiglia tackling Sleepwalk With Me's transition from stage to screen, The Q&A With Jeff Goldsmith is mandatory listening for aspiring screenwriters—and anybody with a fascination for the ins and outs of storytelling.
The computerized algorithms employed by Pandora and Spotify can do wonders to expand your musical tastes. But sometimes it's nice to have the human touch, which is where this daily delight comes in. Every day the fine folks at Seattle's KEXP—one of the most adventurous and beloved noncommercial radio stations in the land—singles out and delivers a top-notch new song from across a wide range of artists and genres. From the Southwestern Americana of New Mexico's Calexico to the grimey punk sounds of San Francisco's Thee Oh Sees to the gothic folk pop of Cate Le Bon, KEXP Song of the Day is a shockingly reliable delivery system for new music.
Imagine the intelligent, erudite discussion of flagship NPR interview show Fresh Air but with a more relaxed, convivial atmosphere—and substitute the dulcet tones of Alec Baldwin's voice for Terry Gross's more professorial style. The unlikely-yet-logical Here's The Thing finds Baldwin stepping into the role of interviewer for a series of casual conversations with artists and thinkers ranging from Peter Frampton and David Letterman to Chris Rock. The discussions are free-flowing, intimate, and consistently intriguing. It's not unlike listening in on a celebrity salon that you could never actually get invited to.
5) Scientific American's 60-Second Science
In the realm of podcasts, sometimes brevity is a nice change of pace. That's why it's exciting to happen upon a show like Scientific American's 60-Second Science, a surprisingly jovial, relaxed, minute-long blast of straightup science. Every weekday, journalists from Scientific American share fascinating bite-size nuggets of the latest scientific discoveries, developments and research. Did you know the placebo effect works better on stoic, even-keeled individuals? Or that rats can direct the airflow in their nostrils to improve their sense of smell? After a few weeks of listening to 60-Second Science, you'll have more factoids to share at parties then you'll know what to do with.
6) Bill Burr's Monday Morning Podcast
There's a lot of comedy podcasts that center around interviews, guest hosts, or targeted gimmicks. Not the Monday Morning Podcast. Instead, it's an unfiltered hour of acerbic, confrontational comedian Bill Burr at his ranting, raving, riffing, recapping best. Burr—who has appeared, among other places, on Breaking Bad and Chappelle's Show—records the podcast on Monday mornings, and spends the hour holding court on his week and whatever other myriad topics make their way into his brain.
7) Flophouse/We Hate Movies/How Did This Get Made?
There's a special alchemy to a truly great bad movie, and there's something strangely satisfying about the cinematic schadenfreude of picking apart and lobbing insults at these filmic abominations. There are at least three consistently hilarious podcasts that specialize in just that.
We Hate Movies features a cadre of New York comedians who find ample jokes in critical or commercial misfires like Die Another Day and Inspector Gadget. In Flop House, The Daily Show with Jon Stewart writers Elliott Kalan, Dan McCoy, and comedian Stuart Wellington set their sights on Hollywood's biggest bombs shortly after they leave theaters; recent weeks include such gems as Battleship and Ghost Rider: Spirit of Vengeance. And the Earwolf network's How Did This Get Made? throws guests and regular live shows into the mix while savaging duds past and present. How many funny things can there really be to say about bad movies? As it turns out, quite a lot.
8) The Thrilling Adventure Hour
One of the great joys of the podcast era is that the medium is the perfect venue for reviving the art of audio drama, from the readily available archived radio dramas of old to Jonathan Mitchell's modern-day concoction The Truth. To that pile add the infectiously funny Thrilling Adventure Hour. A staged production held monthly at the Largo at the Coronet Theatre in Los Angeles, Ben Acker and Ben Blacker's old-time radio throwback incorporates sketches and music, as well as commercials from fictional sponsors. Best of all, the show attracts an incredible array of guest performers, from Nathan Fillion and Nick Offerman to J.K. Simmons and Aubrey Plaza.
In the two decades since it was founded, the nonprofit organization the Center for Inquiry has promoted the values of science, reason, humanism, and a secular society. Point of Inquiry, the CFI's long-running podcast, brings those values to a series of enlightening, in-depth conversations with such thinkers as Richard Dawkins, Neil deGrasse Tyson, Adam Savage, and Ann Druyan.
10) Star Talk Radio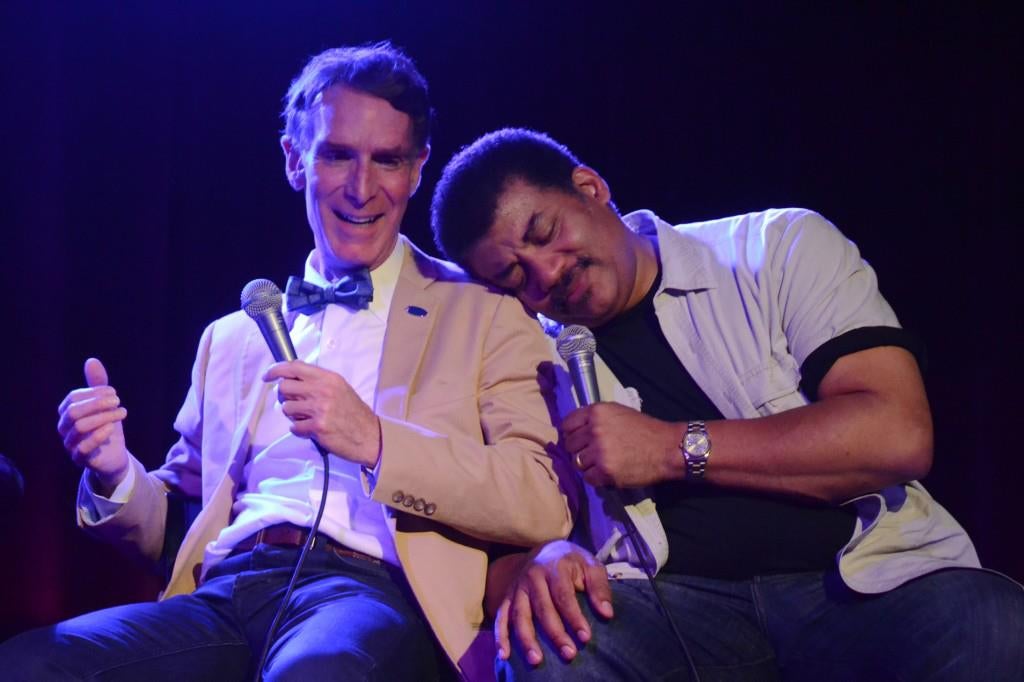 Photo of Bill Nye and Neil deGrasse Tyson at a live taping of Star Talk Radio by Elliot Severn/Facebook
Speaking of which, spotting Hayden Planetarium director, famed astrophysicist, and science advocate Neil deGrasse Tyson is like playing a pop-culture-wide game of Where's Waldo? Look, there he is telling Jon Stewart that they got the Earth's rotation wrong on The Daily Show! Look, there he is chatting up Superman in the pages of Action Comics! Look, there he is teaming up with Seth MacFarlane for a reboot of Carl Sagan's Cosmos!
But best of all is Star Talk Radio, a regular podcast with 40 minutes of pure, uncut Tyson. The good doctor's talk show features astronauts, journalists, comedians and others, conversing about the finer points of space and time with the wonder, wit and enthusiasm that's made Tyson such an adored figure.
Photo of Alec Baldwin by Mary Ellen Matthews/NPR