Sandy Carson frames Black Friday through a different lens than most.
For the past two years, the 39-year-old photographer has camped out at chain retailers and shopping malls not to scour for deals but to capture the hysterical consumerism the day engenders.
Evocative and refreshing, his images evoke the real-life surrealism of Storm Thorgerson, the famed album-cover artist for Pink Floyd, Led Zeppelin, and countless others. Carson creates moments suspended with so much depth, irony, and humor that they effuse a powerful sense of otherness.
"I am hoping to capture an honest rendition of the great American spirit of shopping with my own personal take on it," offered Carson, a Scottish immigrant and BMX rider who, for full disclosure, was a close colleague of mine at the Austin Chronicle. "I find it fascinating that Americans, despite personal debt and economy state, will put themselves to such desperate lengths for deals and bargains, as if they didn't do themselves enough damage the day before with Thanksgiving."
Carson was inspired to document the event by Picture Black Friday, a nationwide photojournalism project started in 2009, the year after security guard Jdimytai Damour was trampled to death at a Walmart in New York. Event organizer and photographer John Saponara put out an open call for submissions and published the results on the event's website.
 "It is a word of mouth project—very organic and cooperative," says Saponara, who's based in New York City.
Picture Black Friday has quickly spread online, however, thanks to efforts on Facebook, Twitter, and Tumblr. (Despite those efforts, the contest remains old-school, taking submissions only via email, according to its website; you can't tweet a photo with a hashtag or post it on the event's Facebook wall. but organizers now say you can tweet a photo with the hashtag #pictureblackfriday or post it on Facebook.) This year, the event has expanded to include an art exhibit, Window Shopping, at the Finch & Ada Gallery in New York City, and the publication of past winners—including Carson's photo below—in the fall edition of Aperture Foundation.
"I think that photographers now look forward to this event, the challenge of photographing Black Friday as their form of visual protest to the mass market, corporate invasiveness of this media-driven event, Black Friday," added Saponara.
That's certainly true for Carson. While shoppers scout for locations and deals, he prefers to his leave his plans to chance.
"I'm hoping to start at the crack of dawn to catch some eager queues and stampedes, then do the usual mall crawl and some thrifting," relayed Carson. "Still pondering fresh outlets for new interpretations."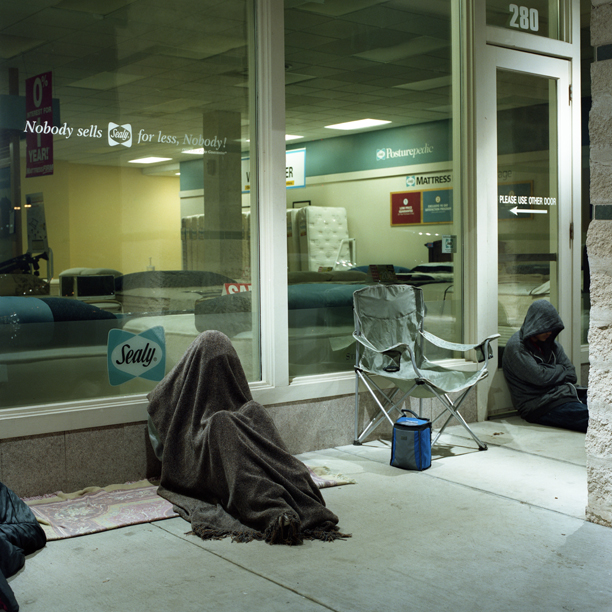 Photos by Sandy Carson