OK, so you know this dude is the newly announced Twelfth Doctor. You know he's a wiry-looking British actor. You might know he's the star of a dark British satire called The Thick of It.
But is all of that enough to get you through pub night tonight with your favorite Whovians?
No, it isn't. But if you get them really drunk, having the following facts at your disposal might just be enough to convince them you're an expert on all things Peter Capaldi. The 55-year-old is going to be on everybody's minds when Matt Smith says goodbye to the Doctor Who franchise, so you might as well get started now with phrases like "But didn't you know he's won an Oscar?" in your most snobbish, insider-y voice.
 
1) He won an Oscar for a short film about Franz Kafka.
The film, a 22-minute sort-of-absurdist comedy, was called Franz Kafka's It's a Wonderful Life, and featured Richard E. Grant as the put-upon writer struggling to pen the famous "Metamorphosis" in the middle of constant late-night interruptions. 
2) He also won a BAFTA for it, but whatever, he's won three.
Okay technically he's won two BAFTAs and one Scottish BAFTA, but he's also been nominated nine times total. This year he got nominated in two separate categories: one for BBC's acclaimed-but-canceled The Hour and one for his role as Malcolm Tucker in The Thick of It, the role that made him famous, and made profanity-laced political wonks even more of a thing than Rahm Emanuel. 
Basically, Britain thinks this guy is a critically acclaimed comedic genius.
 
3) Malcolm Tucker is why you're seeing so many profanity-laced Doctor Who jokes right now on my dash.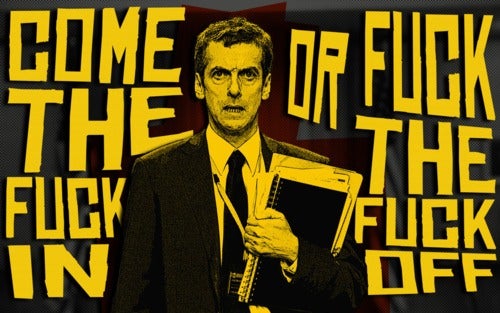 Photo via emomarrypoppins
In his role as Malcolm Tucker, Capaldi famously said, "Don't call me a bully—I'm so much worse than that." Suffice it to say his character, based off Tony Blair's communications guy Alastair Campbell. is not known for politeness.
4) There's a whole Tumblr devoted to his hair.
And it's amazing.
 
5) This one time, he pulled a mongoose out of his kilt.
In 1988 the has-to-be-seen-to-be-believed Ken Russell masterpiece of weirdness The Lair of the White Worm featured Capaldi alongside Hugh Grant as they faced off against, what else, a giant blood-sucking lamprey and its host of evil vampire queens. The highlight? Capaldi pulling a giant live mongoose from inside his Scottish kilt, because of reasons.
Also we have no idea what this has to do with anything, we just wanted to show you this.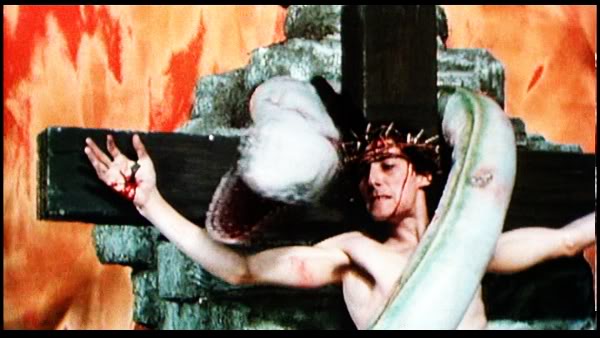 Photo via meddow/Dreamwidth
6) He's already been in Doctor Who—twice.
If Capaldi looks familiar to Whovians, it's because he plays the historical Roman citizen Caecilius in the season 4 Doctor Who episode "The Fires of Pompeii." He also guest stars in the third season of the Who spinoff series Torchwood.
 
7) He's a lifelong Who fan.
Capaldi, the oldest actor to play the Doctor since William Hartnell created the role in 1963, grew up with Doctor Who and like both Moffat and Tenth Doctor David Tennant before him, is a huge fan. In the live BBC broadcast of Capaldi's reveal, he confessed that he was a "full anorak" fan of the show, and that he had once written fan mail about the series to Radio Times.
His fellow Whovians on Tumblr naturally reacted to this disclosure in classic Tumblr form: with all the feels.
 
8) He's not Helen Mirren, Chiwetel Ejiofor, Romola Garai, Patterson Joseph, Sophie Okonedo…
And that's really the point, isn't it? As talented as Capaldi undoubtedly will be, all anyone has been able to talk about so far with regards to the fabled casting of the twelfth doctor has been the fact that it's beyond high time for the role to go to someone who's not, well, Peter Capaldi. 
As British as they come—Capaldi's Scottish accent in The Thick of It was the real deal—the aging actor can't help who he isn't, but that won't stop many fans from being bitter that once again, the role of Britain's most beloved hero short of Harry Potter has gone to a white man, instead of to the many other worthy men and women who could have done the role justice. A cursory glance at any discussion about Twelve immediately finds heated resentment over the subject of the long line of white male doctors; now that Capaldi has been cast, expect the discussion, if anything, to grow even more pointed and angry.
 
9) But if anyone can do it…
Look, we're not saying we're happy that now fandom has yet another white British dude to, alternately, fawn over and argue about. 
But with decades of comedy under his belt, and hair that looks like the actual older sibling of the hairstyles of David Tennant and Matt Smith, we're guessing that Capaldi is at least interesting, and entertaining, enough to make the new series worth tuning in for.
 
Illustration via podbots/deviantART