YouTuber PeeWeeToms has been battling cancer in front of his fans for the past several months, but the video he posted Thursday was one of his most devastating to date. His journey, it seems, is drawing closer to the end.
As the British YouTube star suffers from sarcomatoid carcinoma, a rare disease that has properties of two different kinds of cancer (carcinoma and sarcoma), he's posted videos on his channel that detail his surgeries, his emotions to the disease's highs and lows, and his realization that the cancer is winning.
PeeWeeToms, whose real name is Daniel Thomas, has written that his disease is "a mixture of cancers all in one. Sucks to be me!"
Late last month, he said his health was declining but he released a somewhat more upbeat vlog titled "Cancer isn't taking me yet" that included the hashtag #dontgiveindontgiveup. But in a video posted Thursday, Thomas had disastrous news. As he wrote in the video description, "Unfortunately the cancer has now spread to everywhere and life expectancy is now very short. I'm sorry I don't have better news."
In the video, Thomas—who has 126,000 subscribers—showed his latest test results and said, "They can't do surgery. They can't even amputate my arm or part of my chest … It's just really hard to say the stuff that's here."
With a shaky voice, he revealed his cancer has spread to a lung, his chest wall, and his liver. He also apologized to his fans that he can't give them better news. It is a painful video to watch.
"Life expectancy now is not very long," he said. "At all."
He said he's devastated by the news and that he wasn't sure when his fight against the disease would end.
"I'm struggling now," he said.
His fans in the comments section of the vlog are, as well.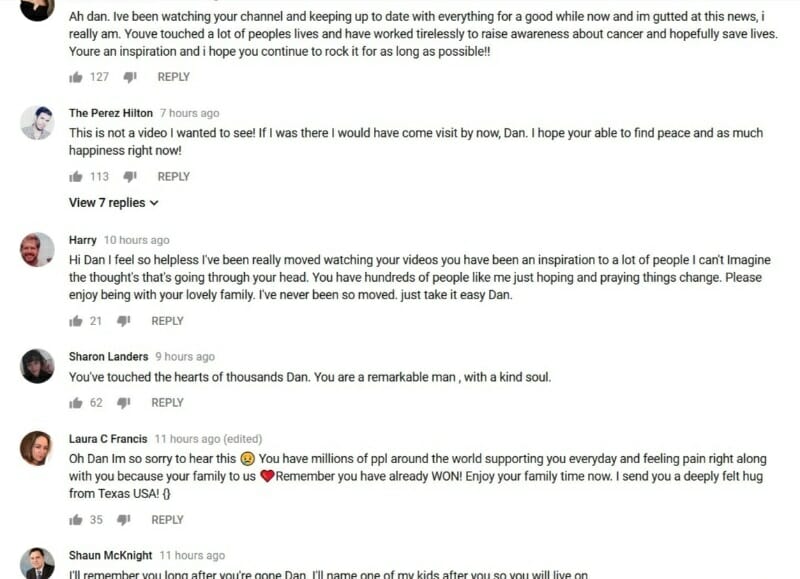 But Thomas still managed a few upbeat moments in his latest vlog.
"I really need to make the most of the time I have left with the ones that I love," he said. "I'll still put some fucking exciting videos out for you."
H/T Mashable