"I should, but I don't," laughs a not-all-that embarrassed Michael Jackson when his sister asks, "Do you work real hard on your dancing?" Then he goes on to discuss the spontaneity and effortlessness that comes to him onstage.
"I just do it and it happens."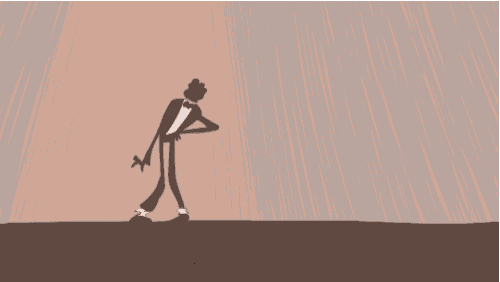 GIF via Blank on Blank
Jackson was 22 at the time he and his sister did this 1980 interview, which has been resurrected and paired with new animation as part of PBS Digital's Blank on Blank series. The series takes audio footage of interviews on various subjects and animates it to give new life to old words. In the case of Michael Jackson, the episode is bittersweet.
Animator Patrick Smith tackled the interview, which was conducted by Los Angeles reporter John Pidgeon—who wasn't prepared for the request to direct his questions to Janet, at the time an unknown younger sister whose name he didn't know. The Blank on Blank website shared some of Pidgeon's recollections of the interview: 
Shirley [Brooks, publicist for Epic Records] slowed, then stopped me with her arm.

"One thing," she said, as if it was an insignificance she had overlooked and just remembered, "you don't mind if his sister sits in on the interview, do you?"

Already aware of a distant figure on a marshmallow sofa, I shook my head readily.

"Of course not, Shirley," I assured her with a smile. "What's her name?"

"Janet."

"Janet," I repeated.

"Oh, and one more thing…"

Shirley paused, to ensure she had my attention. Anticipating another trivial afterthought, I wasn't ready for the bomb Shirley was about to drop.

"If you could direct your questions to Janet, she'll put them to Michael."

My mouth opened and I turned to query this extraordinary request, but the arm that had been barring my way was behind me now, launching me through a double doorway and down several carpeted steps into the presence of he-who-must-not-be-addressed-directly, while I struggled to convert a confused backward glance into a great-to-meet-you grin, and wondered whether I was permitted to say hello face to face or expected to channel my greeting via the kid sister too.
Pidgeon and the Jacksons go on to discuss Michael's recording and performance methods, and the inherent godliness of singing—or at least the inherent godliness of Michael's singing. Read the full interview here.
Screengrab via YouTube