There are many familiar elements in Pedro Almodóvar's latest film, Pain and Glory. Clothing, furniture, and backgrounds in bright colors that pop out on-screen, notably in his trademark red. A story that involves nostalgia, identity, and love. And performances by two actors who have appeared in several of Almodóvar's previous films—Penélope Cruz and Antonio Banderas. But Pain and Glory is one of the Spanish auteur's most personal films to date. It follows a filmmaker not unlike himself. 
Pain and Glory
RELEASE DATE:
10/4/2019
DIRECTOR:
Pedro Almodóvar
RELEASE:
Theatrical
Antonio Banderas plays a fictionalized version of Almodóvar in this lush, deeply moving portrait of a Spanish filmmaker.
Banderas plays Salvador Mallo, a fictional version of Almodóvar (Women on the Verge of a Nervous Breakdown, Volver). While some aspects of Mallo's life mirror Almodóvar's life—like the fact that Mallo moves to Madrid as an adult—others parts, particularly the character's heroin use in the film, are not based on his own life. Almodóvar, speaking at a Q&A with Banderas following a screening at the New York Film Festival on Thursday, said that he never got into heroin, but was "surrounded by many friends who did." Mallo's first crush, a painter and builder, is also not based on Almodóvar's life. The film is best described as Mallo describes his own work in the film: autofiction. 
"That's the nice thing about fiction," said Almodóvar. "You can write it and experience it through the actors." The filmmaker added that his "entire biography is told in all the films before this one," so Pain and Glory is not the only one that draws from his own life. But because it traces the childhood and adulthood of a Spanish filmmaker, it offers an intimate look at Almodóvar's creative process and his thoughts about filmmaking in general.
"It surprised me when I read the script for the first time," Banderas said at the screening, "because there were confessions." 
Pain and Glory begins with Mallo (Banderas) sitting in a pool, his eyes closed. Soon we are transported to another scene at a river in a moment from Mallo's childhood. This is the first of several flashbacks in the film, which helps the audience understand who Mallo is through his upbringing and experiences. Cruz plays Mallo's mother Jacinta with her usual intensity, while Asier Flores gives a standout performance as a young Mallo. Almodóvar sets the scenes from Mallo's childhood with beautiful imagery, likely to show the character's longing for the past.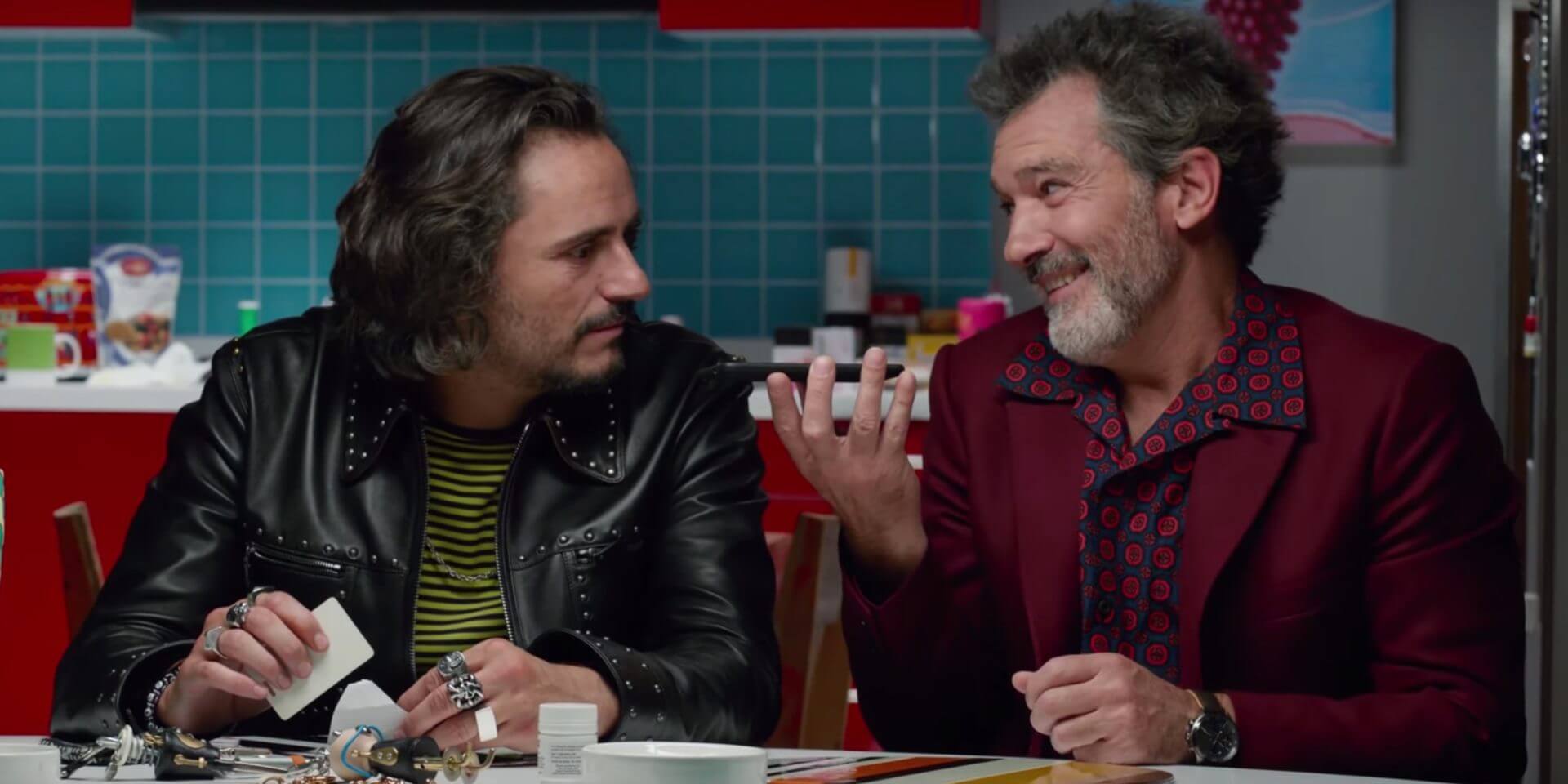 We're introduced to the "pain" element of the story fairly early on, with a series of colorful animated graphics that dictate all of Mallo's medical conditions, from depression and anxiety to migraines and back pain. As an adult, Mallo appears outwardly successful and well-liked. He's constantly invited to an array of cultural events and speaking engagements, and he lives in a colorful home filled with modern art—which an actor for one of his films, Alberto Crespo (Asier Etxeandia), says looks like a museum. But Mallo is privately dealing with both physical pain and the pain of being a creative person, and he starts using heroin for the first time at the age of 60 as a way to cope with it all, alongside his prescribed pills. 
Almodóvar and Banderas both spoke about Banderas taking on a role that audiences aren't familiar with seeing him in. In Pain and Glory, Banderas is not a strong, athletic hero. He is a filmmaker in his middle age trying to figure out how to write again. Banderas said that a heart attack two years ago helped shape his role as Mallo. The actor brings a softness to his role in a film about the creative process and aging. 
Pain and Glory was released in Spain earlier this year and has already been selected as the pick for the country's international film entry at next year's Academy Awards. It's a quietly moving work that is, in many ways, unexpected for a filmmaker who has made several thrillers. There is little drama or suspense here, just a beautiful portrait of a filmmaker who survives by his creative work.