In the years since his wife's death, Louis Waters (Robert Redford) has lived a quiet life of routine in his small Colorado town. He watches the news in his living room. He socializes and gossips with a group of local men. He sleeps alone. Then one night his neighbor, Addie (Jane Fonda), knocks on his door after dark with a simple proposal: "Would you like to sleep with me?"
It isn't about sex, as she quickly explains, but rather simply companionship. She too is several years past the loss of her spouse, and, as she puts it, "the nights are the worst, aren't they?" Even though she and Louis have been neighbors for years, they barely know each other, so Louis is understandably speechless at first. But once the initial shock wears off, he has to admit… it would be nice not to be alone every night.
Our Souls at Night is based on the 2015 novel by Kent Haruf, which was published posthumously after his death in 2014. That's strangely apt for a story about two people who have reached the twilight of their life and settled into such a routine that they never expected to be knocked out of it by someone new. Screenwriters Scott Neustadter and Michael H. Weber previously tackled The Fault in Our Stars and were also writers for The Disaster Artist, this fall's much-anticipated riff on cult classic The Room. At the helm is Ritesh Batra, who wrote and directed the BAFTA-nominated 2013 Bollywood rom-com The Lunchbox. Both writers and director do solid work in bringing Haruf's story to screen, but let's be honest: the real attraction here is watching Redford and Fonda's acting opposite each other again.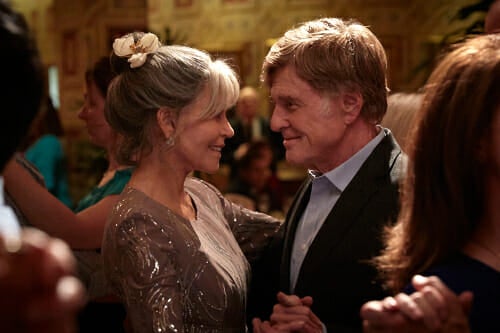 The two legendary actors previously shared the screen in films such as The Chase (1966) and Barefoot in the Park (1967), but this reunion is well worth the wait. These are two actors at the top of their game and with nothing to prove at this point, and they bring a quiet, understated humanity to every moment they're on-screen together. And even after all these years, there are plenty of sparks. They may not be kissing in the rain—that's how you get pneumonia—but the subtlety of their burgeoning romance is all the more affecting because it's played out entirely through little smiles and glances and charmingly awkward moments. So much of the romance we see on-screen is heightened and exaggerated for drama's sake—comic misunderstandings and jealousy and last-minute races across town to apologize. It's both refreshing and incredibly endearing to watch a pair of immensely talented veteran actors play out a relationship where all those silly games of youth have been put aside and they're together simply because they chose to be.
Our Souls at Night almost plays out like a more mature echo of the traditional arc of a romantic relationship. Addie's surprise proposal and their first night together has all the awkwardness of a one-night stand, even though everybody's clothes stay on and "sleeping together" isn't just an evasive euphemism. From there, they begin the task of actually getting to know each other, to see if this could be more than just falling asleep next to each other. As they grow closer, eventually kids come into the picture: But here it's not a newborn, but their grown children and Addie's grandson. And the complications aren't diapers and late-night feedings, but the much more difficult weight of worrying whether your kids will be OK once you're gone.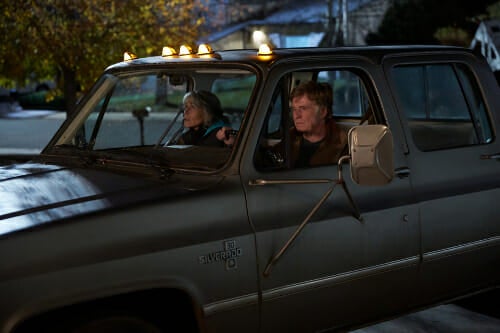 While this is definitely Fonda and Redford's ballgame, the supporting cast shines as well. Judy Greer and Matthias Schoenaerts play Louis and Addie's grown offspring, respectively, and Bruce Dern is delightfully crotchety in a small role as one of Louis' friends who takes great joy in teasing him about the new relationship.
Our Souls at Night would be worth watching even if it was just to see Redford and Fonda working together again, but thankfully it also serves as a gentle reminder that it's never too late to find love. Sometimes you just have to get out of your comfort zone and knock on their door.