Directioners are reeling from newly leaked footage of two of their idols, Louis Tomlinson and Zayn Malik, smoking joints and joking about drug use while riding in a van with what appear to be members of their security team. The two crooners were on their way to a concert in Lima, and spent the time alternately smoking and warming up, while laughing about their lives.
"Are we allowed to talk contraband in this?" Malik asks shortly before Tomlinson passes him a joint. 
Tomlinson seems to be filming the video while narrating the trip in the van, teasing Malik about his "intense warmup regime."
At one point the van passes a police car, and Tomlinson jokes that the police is "sure [he] can smell an illegal substance in [their van]."
"And he's hit the nail on the head," Tomlinson jokes. 
"So here we are," he says, "leaving Peru… joint lit… happy days."
Tomlinson seemed unfazed by the idea the video could come back to haunt him, but members of the fandom seemed shocked that he'd actually filmed the scene. They promptly responded as only fandom can—with photosets and hysteria: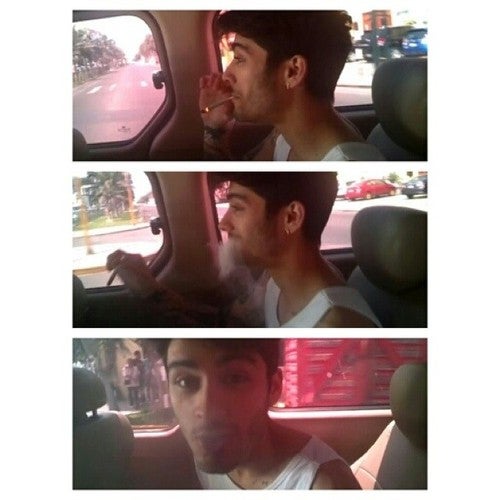 Photo via creddie–forever/Tumblr
The mighty Twitter side of the fandom also promptly trended a number of hashtags in response, some more disturbing than others, particularly #CutforZouis. Self-harm out of a wish to show solidarity with members of the band has always been one of the serious problems that plagues corners of the One Direction fandom; thankfully, most of the people using the tag on Twitter and Tumblr are urging others not to participate in the trend.
While this isn't the first time rumors about the band members and illegal drug use  have surfaced, this is the first time it's been caught on video. 
"I wonder if this will come back to haunt me," Tomlinson muses at one point.
Oh, Louis. You don't say.
Screengrab via YouTube