Three weeks ago, the heartthrob hub known as One Direction announced a new upcoming single.  On Wednesday afternoon, after weeks of teasers and five days before the song's official release, Twitter user r4dicaldanny leaked the single and promptly gained tens of thousands of followers.
"Best Song Ever" may not actually be the best song ever, but it's definitely the best leak ever, at least as far as the fans are concerned. 
if this gets 100 rts ill put best song ever on youtube sorry not sorry

— (@r4dicaldanny) July 17, 2013
Within minutes the leak had caused a fandom explosion. The Tumblr mirror of a YouTube link which was promptly pulled for copyright infringement gained nearly 40,000 notes within an hour. 
Any doubt you might have had that you're listening to a 1D song instantly fades at the chorus, which contains the anthemic lines:
I think it went oh oh oh

I think it went yeah yeah yeah

I think it went ohh woo!
The peppy number also contains the line, "Said I had a dirty mouth / but she kissed me like she meant it."  The mystery girl, dubbed "Georgia Rose" in the song, instantly sparked a flurry of speculation about who her real-life equivalent could be—and lots of fans joking about changing their names. (You guys were joking, right?)
The fandom instantly swung into freakout mode, with Twitter fans generally outraged and apologetic.
@NiallOfficial :( We fell awful but we were too excited not to press the play buttom :( Sorry,we are a bad fandom :(

— Bianca Maria (@Bibiydd1) July 17, 2013
Meanwhile, Tumblr fans were generally delighted. While Twitter joked that Directioners were the best/worst fans ever, Tumblr was churning out fanart.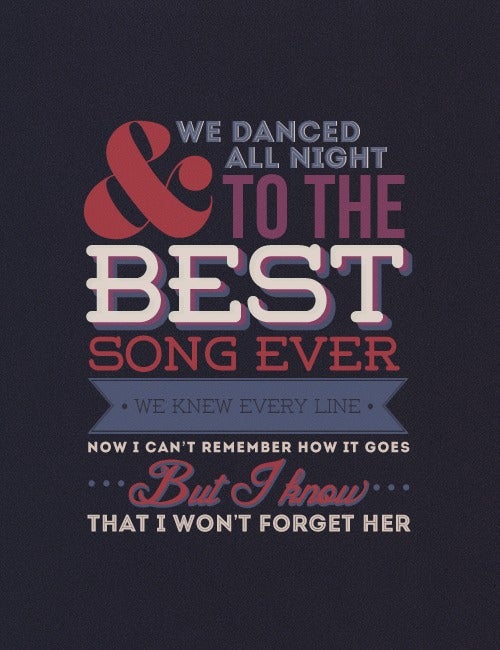 Illustration via iluvmybfharrystyles
And, of course, joking about how the fandom has no sense of privacy. 
WE HACK INTO SECURITY CAMERAS

WE HACK INTO TWITTER ACCOUNTS

WE LEAK SONGS

HALF OF THIS FANDOM WILL BE IN PRISON BY THE TIME WERE 30
The winner of the day seems to be Zayn Malik, whose high note is all anyone can talk about.
THE FANDOM RIGHT NOW pic.twitter.com/1vLJqMmjjG

— Let Larry Out! (@NancyAtwal) July 17, 2013
"YES HELLO MR OBAMA HAVE YOU HEARD ZAYN MALIKS HIGH NOTE IN BEST SONG EVER???!!???!!??!" gushed modestcantmanagethis. 
While the single has already been yanked from YouTube, copies are proliferating throughout the fandom.  Fans may not be able to agree on whether their illicit activities are embarrassing or awesome, but they do seem to agree on one thing:
Piracy is no excuse not to have a virtual dance party.
Photo via nadiahadlina/deviantART