The Occupy Wall Street movement may have to find a new home after Friday's planned eviction of the encampment in downtown Manhattan's Zuccotti Park. (Update: In fact, the eviction was postponed, and the protesters are on the march.)
But wherever the economic protesters reassemble, they'll remain a sought-after audience for celebrities seeking a photo op.
Anyone want to bet on who will follow Rage Against the Machine's Tom Morello, who delivered a four-song acoustic set Thursday?
Now, Morello's usually among the first on the picket lines, unplugging under the moniker Nightwatchman, which he used at Zuccotti. He cofounded the Axis of Justice nonprofit and actively contributes to Jail Guitar Doors USA, among other noble causes.
But we suspect the next famous rocker on the front lines will have credentials that owe more to Billboard than The Nation. Hence the Daily Dot's office joke that Occupy Wall Street is slowly turning into Lollapalooza.
Things started on a surprising, inspirational note with Jeff Magnum of Neutral Milk Hotel, then unraveled with rampant Radiohead rumors and an unintentionally ironic cameo from Kanye West.
Now an appearance at Occupy Wall Street is  the easiest attention-getting move this side of a Southwest Airlines tarmac.
In our infographic, the Daily Dot takes odds on who's next: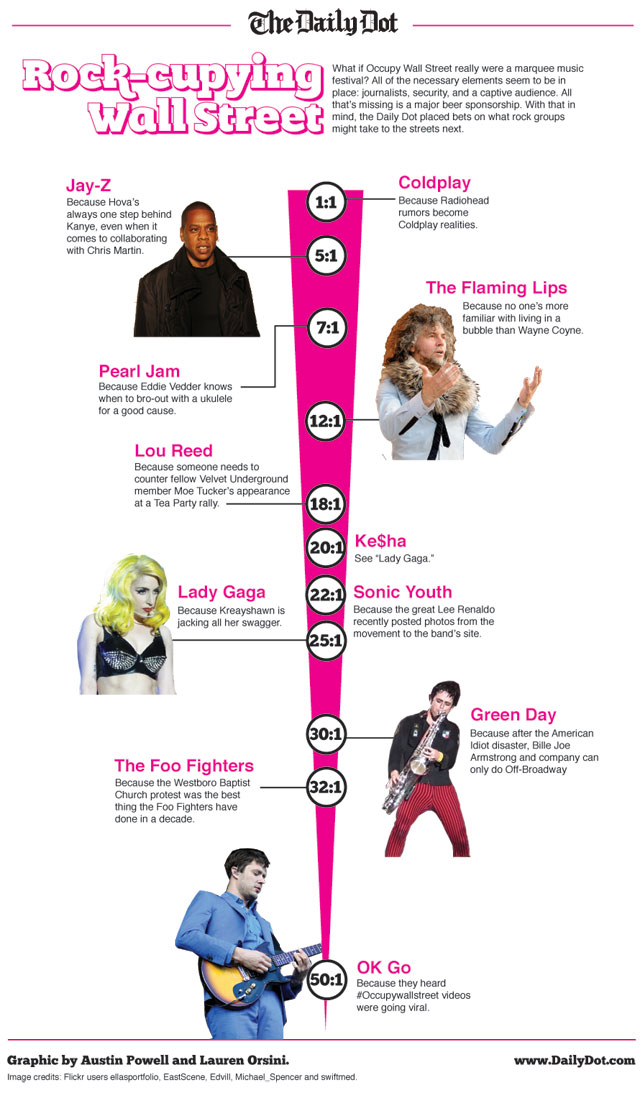 Infographic by Lauren Orsini