If you ever wondered what La La Land would be like without any singing, and with the two main characters replaced by Nick Swardson and Simon Rex, now's your chance.
Typical Rick, the Comedy Central webseries, returns for its second season on Monday, and it's yet another show that documents the road to success in Hollywood. Swardson plays Gary, a struggling actor from Iowa. After shooting season 2, Swardson has to lose weight for his next movie—he got husky to look funnier next to Rex, who plays the titular Rick.
"I'm about to go to the gym," he tells the Daily Dot. "I have a movie that I am shooting in a couple of weeks and I have to look semi-normal."
Swardson is referring to his upcoming role in The Buddy Games, which he will star in alongside Josh Duhamel.
"I gained weight for the last season of Typical Rick, so I'm trying to shed about 12 to 15 pounds," he adds.
Did Comedy Central insist that Swardson get fat for the role?
"No, it just helped the character to be a little sluggier and more 'Midwest.' It helped the juxtaposition of me and Simon. He is an insanely good-looking dude totally in shape. So I thought it made it funnier. Trying to make it so that every element is against the character of Gary."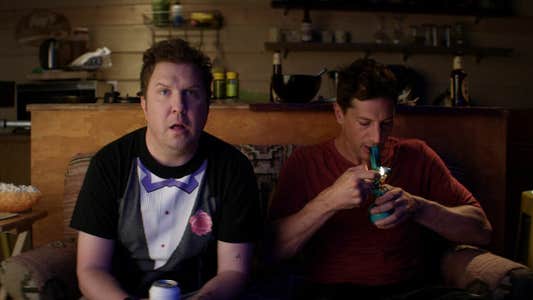 In one episode, Gary and Rick try to make a pilgrimage to Coachella, but instead Gary overdoses on shrooms and ends up battling a few demons. Rex plays the lucky hunk who gets all the ladies and work, and leaves Gary on the couch smoking weed by himself. Chris D'Elia returns as Gary's mortal enemy, and Charlie Sheen plays, well, Charlie Sheen.
Swardson saw success early on in his career, writing Grandma's Boy and Malibu's Most Wanted. He says his success is largely due to his ability to diversify.
"If you want to live in L.A…. the more well-rounded you are the better off you are," he says. "As a standup comic I saw more of the big picture. I wanted to try writing, I got a screenwriting book and I just had ideas, being a big movie fan. I wanted to eventually make it to movies, so I just started writing on my own, working with dialogue and writing scenes, writing anything, just as long as you write, it doesn't matter. It's not like everything you write is going to be gold."
After a Comedy Central Presents special in 2001 about John Stamos and working at the Planet Hollywood in Minnesota that had movie artifacts from unimpressive films like Critters, he broke into film.
"So my buddy had the idea for Malibu's Most Wanted, or had the character for Jamie Kennedy, and I thought of some scenes for the movie and he was like, 'You should write the screenplay.' So together, it took a couple months, but together we grinded out a screenplay, and then it was bought by Warner Bros."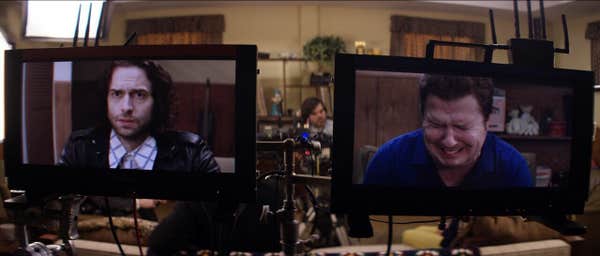 Despite being a comedy, the show actually is a reflection of Hollywood and Swardson's life. It's not Nick Swardson's Pretend Time—but he did move from the Midwest to L.A. Swardson, who is originally from Minneapolis, started doing improv in high school. After one court-ordered visit to rehab and a graduation, he was ready to hit the streets. But standup wasn't his first move into comedy.
"I got into standup comedy because my improv school folded," he says. "And I didn't have any outlet so I decided to do an open mic and try standup comedy because you can get on right away if you were a first-timer."
Both his road to standup and Typical Rick are examples of taking advantage of moments when things don't go as planned. Swardson says you can work really hard on something and have it fall through, and that's when you have to unleash a backup plan.
"Typical Rick was sold when I went in to pitch a different show that I had worked my ass off on," he says, "We pitched the show and they were like 'no' and I was like 'fuck' so I threw Typical Rick at them, which I came up with drunk, which I wrote on a fucking napkin at a fucking movie theater. And I pitched it to them and they bought six episodes in the room."
Just like in Swardson's standup specials and his movies, Typical Rick takes the mindset of a bro and gives it layers to make quality satire. In one episode, Gary goes to a gay club to do some Hollywood networking, and ends up going home with a producer, played by Smallville's Michael Rosenbaum. It's here the scene could go south and appear homophobic, but as a smart writer Swardson does not let that happen. Instead he flips the situation back onto Gary. You'll have to watch the episode to see how he gets out of this sticky situation.
"I kinda live that life, you know?" Swardson says. "I mean, I always have, but it's not just that [bro] mind set. There's a method to the madness. It's not just hardcore bro-down, there are levels to it. It's a like a bro with a purpose. It's not just mindless shit. It's a solid stool. It's a solid, firm bowel movement."