In February of 2008, a 14-year-old boy put his cover of Chris Brown's "With You" up on YouTube, the video-sharing website made popular just a few years earlier. Wearing jeans and a polo, the teenager sat on a couch in his basement, the walls adorned with posters of The Simpsons and Tupac, crooning the popular tune like a natural. 
I first saw it when I was in college; it had only a couple hundred thousand views. "SO cute!" I wrote on the Facebook walls of my friends and in AIM message boxes. Like many others with the similar sentiment, I shared it because I liked it. 
I wasn't the only one.
By July of the same year, the little kid in the video, a mop-topped Canadian by the name of Justin Bieber, was signed to Island Def Jam records with Usher as his mentor—and the rest is history. The video now has over 40 million views.
In many ways, Justin paved the way for a new generation of teen stardom. Gone are the days of hawking demo tapes to record labels. Now there's a new formula: sing popular songs, record them, put them on YouTube, build a fan base, and hope the right people see it and love it. 
We scoured the would-be stars of the post-Bieber YouTube generation, trying to find the next Justin. Here are our favorites. Usher, you can thank us later.
Drew Tabor
Song: "Mirrors" (Justin Timberlake)
Views: 330,000
Why we love it: "Mirrors" is everything to love about J.T., so it's a pretty big pair of shoes to fill for an acoustic guitar cover. Drew nails it.
What to listen for: She gets a little raspy on the hook—and it sounds super-indie.
Where you'd hear it: At the end of an episode of The Hills if it were 2006, or at a college coffee house open mic night.
Swag factor: She's playing "Mirrors" against a MIRROR and the irony isn't lost on us, folks. We also like that she's not trying to wear anything too showy. 
Bieber index: 3½ Biebers

Isaac and Ian Roney
Song: "U Smile" (Justin Bieber)
Views: 480,000
Why we picked it: Watching dozens of Justin Bieber covers on YouTube is enough to bring on that alcohol dependency that not even applying to marketing and PR jobs off of Craigslist can match. Every boy with shiny shaggy hair, a ukulele, and a dream is on the Internet trying to be the next JB, but these two brothers were our top choice.
Yeah, but why? Well, they're, like, 8. They do a pretty good job with the song in a I-guess-I'm-stuck-going-to-my-sister's-chorus-concert kind of way. Some of us watched the whole thing (twice!) (OK, it was me).
Bonus: They are being filmed by their mom, who can't not be a stage mother. This makes it even better: molding and grooming and primping future idols of America! The boys do hand motions that someone had to teach them.
Swag factor: They've been studying the Justin method, but we hope they don't quit their day jobs (of being 4th graders). Little pitchy, dawgs.
Fan insanity: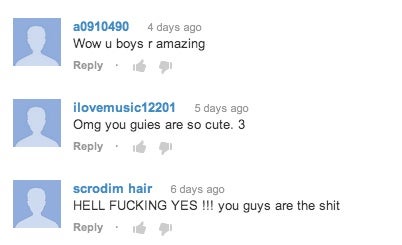 The verdict: We don't think the record labels will be knocking down their door anytime soon (the world is only big enough for one Bieber), but we're confident they could sell out a high school auditorium.
Bieber index: 2 ½ Biebers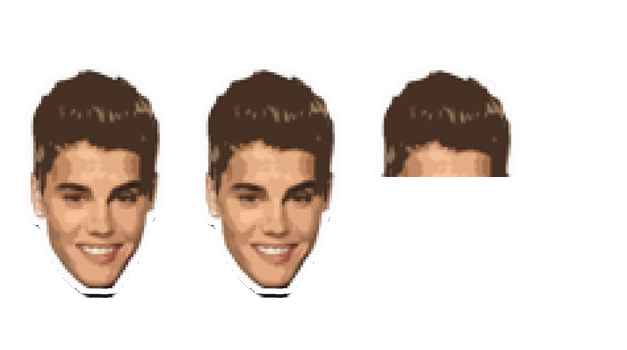 Cimorelli
Song: "We Are Never Ever Getting Back Together" (Taylor Swift)
Views: 10 million
Why it's different: These six sisters have made themselves Internet-famous with their covers of popular songs and impeccable harmonizing. They're cute and approachable. And they have five brothers and don't seem to be of Duggar descent. They put up a video every month and rack up thousands of views within hours of its debut.
Swag factor: These girls look like they stepped out of an Urban Outfitters or Forever21 ad, so whoever is picking out their outfits is doing them a favor. They look like any girl at a high school lunch table, which adds to their extreme appeal. YouTube stars—they're just like us! 
The best part: 2:03–2:07. Taylor doesn't do that in the original and it sounds so good!
Fan insanity: They have a big audience (this video alone has over 10 million views), and fans make it a point to call out their favorite Cim Sister in the comments. They have more than 360,000 followers on Twitter. (They tweet as a group and each have their own accounts). They've started the Bieber trail—they have their own original album, Believe It, and the songs are pretty good. Listen to their original, "Million Bucks." Catchy.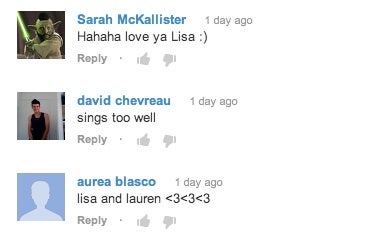 Daily Dot's fave Cim Sister: [Ed.: Don't make us pick! OK, it's Lisa.]
Better than Taylor's original? It just might be.
Bieber index: 4 Biebers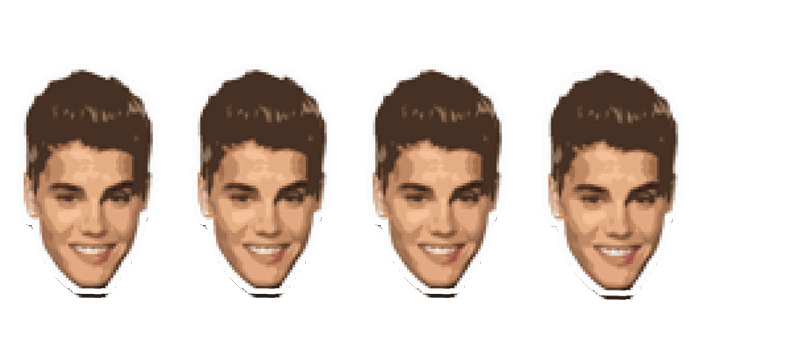 Josie Charlwood
Song: "Skyfall" (Adele)
Views: 168,000
Why we picked it: There aren't many people who can successfully cover Adele, but we think Josie is one of them.
Swag factor: The red hair and the accent, her playing the piano (at least it's not a karaoke track!)—all of it makes it authentic, if not totally original. 
Why we can't give it a lot of Biebers: Because that being said, let Adele do Adele, girl. We'd rather put on the original. Please and fank you.
Bieber index: 2 Biebers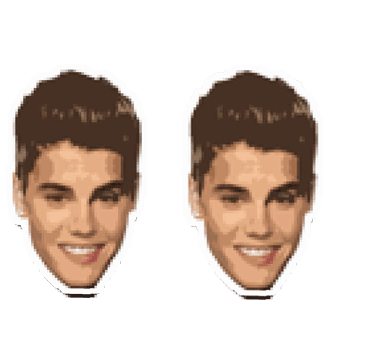 Lennon & Maisy 
Song: "Call Your Girlfriend" (Robyn)
Views: 17 million
We know. You've seen them on Nashville playing Connie Britton's daughters, singing a Lumineers cover. But, like Justin, these two sisters were hanging out on YouTube for 2 years before they ended up on your flatscreen. 
Swag factor: Cups—and they did it before Anna Kendrick did in Pitch Perfect. Plus, their style is impeccable—they're 12 and 8 and dress better than most adults I know. The Warby Parker Brooklyn look that Lennon is rocking makes her a prime contender for Season 13 of Lena Dunham's Girls. With names like Lennon and Maisy, their parents really knew what they were doing.
Super-cute: This cover of Ingrid Michaelson's "You and I," sung by the sisters a few years ago, will be great footage for their inevitable E! True Hollywood Story episode. 
Leave it to diehard fans to put haters in place:

Bieber index: 4 Biebers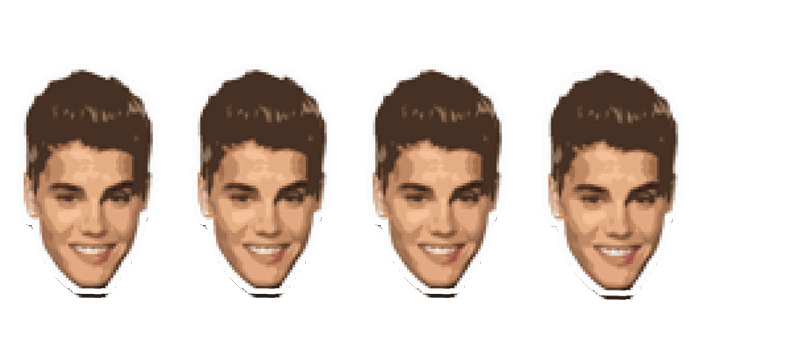 Kina Grannis and Boyce Avenue
Song: "Fast Car" (Tracy Chapman)
Why we picked it: Both of these YouTube success stories are now writing original music and touring the country on their own accord, but they have a plethora of covers on their individual channels to get viewers used to their sound and style. This is one of the covers they do together (and who doesn't love this song, really?).
Record a cover using only PhotoBooth so we know it's real: Listen to Kina sing Beyoncé's "If I Were a Boy."
Can a guy do a female vocalist justice? Boyce Avenue does with this cover of Rihanna's "We Found Love."
Fan insanity: Kina's fans have dubbed themselves "Kinerds." Watch this video of Kina performing her original song "Message From Your Heart"  and asking her fans to come up on stage to sing with her. Listen to the crowd go absolutely nuts. It's like watching a small-scale, more endearing version of Taylor Swift appreciating her fans.
Bieber index: 4½ Biebers

Niki and Gabi 
Song: "Beauty and the Beat" (Justin Bieber)
Why the half-Bieber face? Come on! Sorry, but they talk through the dance break, explaining why it's too awkward to dance. Plus, they touch their hair too much. They remind us of the episode of Full House where Stephanie sings "The Sign" with "her band" but they spend too much time on "their look" and ending up bombing their performance at the Smash Club (but learn many valuable lessons in the end!).
Why there's hope: They have good voices, so there's potential for the post-teen YouTube years.
Why we could be wrong: We just looked into their other videos—(check out "Give Your Heart a Break")—with much hope. BUT. We were disappointed to find a lower-budget Rebecca Black–style music video with lackluster vocals but a lot of over-sexualized gesticulation. Womp womp.
Fans may disagree with us: "good voice"; "one on the left is so hot." Sex sells; we get it, I guess.
Bieber index: Half a Bieber
George Barnett
Song: "Get Lucky" (Daft Punk)
Views: 2 million
Why'd we pick this one? The video has more than 1 million views because of a few things:
1) It's entertaining. Different camera angles liven up the usually monotonous tone of low-production-cost video.
2) He plays all of the instruments himself, and sings (great editing; this must have taken a while).
3) He owns his performance (take note, Niki and Gabi).
He's got the look: His scruffy, messy skater-boy look is going a long way here.
Swag is when: Fans ask to have your babies in the comments.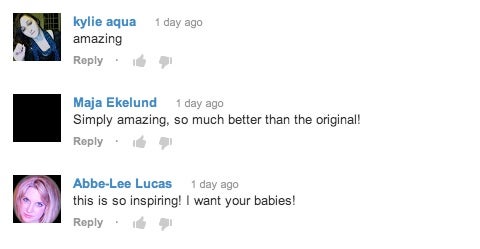 Bieber index: 3 Biebers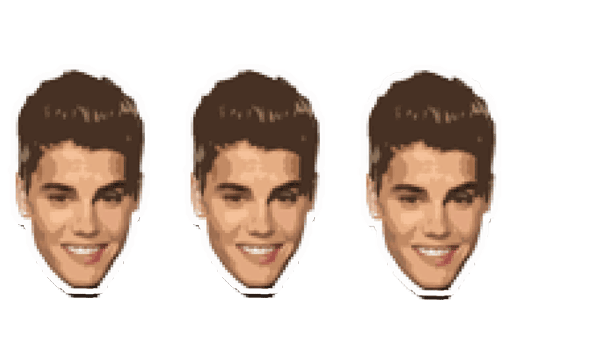 Alex G
Song: "Heart Attack" (Demi Lovato)
Views: 2 million
Why we love it: Alex has an amazing voice and she fits into the teen pop scene quite perfectly. She also seems to "get" what makes a popular video among her demographic (dreamy lighting! Acoustic guitars! Boyz suck!). Her outfit seems like she's dressing for the video (not like she just sat down in front of the camera randomly). She's a brand; she even has her own beauty channel that she links to throughout the video. (We aren't linking it here. We can't be bought, Alex.) 
Why it gets old fast: Because, well, we'd rather listen to Demi Lovato's original. This seems to be a running theme with most YouTube covers: No one's putting his or her original mark on things. Sorry, Alex.
But… People seem to really love her. She's got the look and the vocal chops so the (millions of) fans come running. The top comment seems to sum it up the most (at least for us):

Bieber index: 2½ Biebers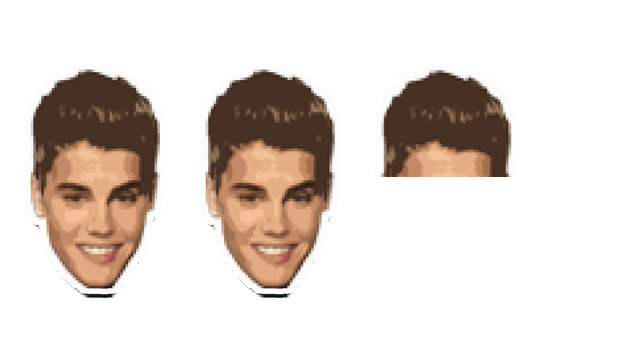 Sam Tsui and Kurt Schneider
Song: "I Knew You Were Trouble" (Taylor Swift)
Views: 2 million
The 411: Chances are, this isn't the first Sam and Kurt YouTube video you've seen. (If it is, ahh, you're welcome.) These friends hit the (YouTube) scene in 2009 and immediately gained millions of fans and views with their creative takes on popular songs. They gained more notoriety on YouTube than Justin ever did. Yes, really: Justin was picked from the World Wide Web pretty quickly while these two friends have pretty much dominated the viral cover-video market since they began.
This cover of Rihanna's "Stay" is pretty amazing:
Fan insanity: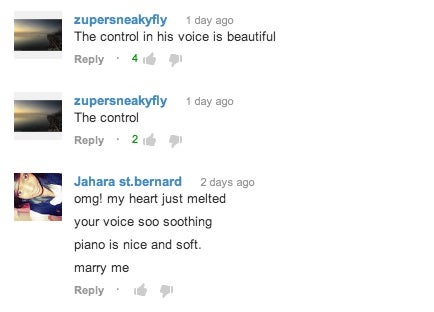 Why they're better than Bieber: There are, like, six of him in this Summer Pop Medley video:
Could Bieber do this? No. No he can't.
You seem a little obsessed. Fine.
Bieber index: A Perfect Bieber.


Illustration by Jason Reed | Bieber heads by Fernando Alfonso III