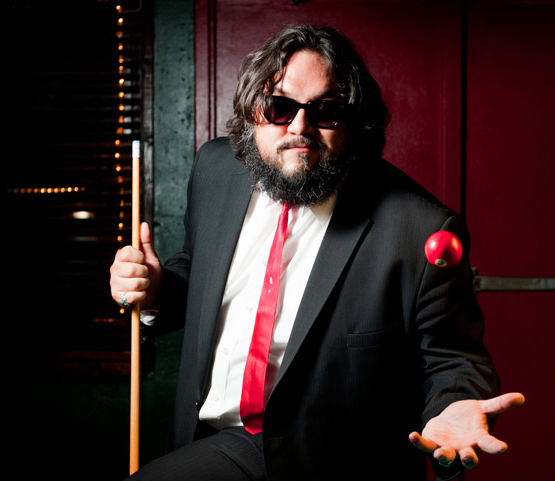 The votes are in—but we won't know until Tuesday night if Twitter's singing sensation, bearded bluesman Nakia, mobilized his online fans to keep him on NBC's singing competition, The Voice.
He's definitely inflamed the audience. Shortly before Nakia performed live on NBC's reality competition The Voice last week, the program's Twitter account announced, "Fun fact: @Nakia's suit is fire repellent. We keep it safe."
The social media-savvy singer brought the heat, first on Team Cee Lo's group rendition of Sly & the Family Stone's 1968 classic "Everyday People," and then, in his solo spotlight, a commanding take on Kings of Leon's "Sex on Fire" that miraculously resuscitated the life modern radio has sucked out of the original.
Viewer votes will determine which of the four remaining members of Team Cee Lo will advance to the next round. Through Monday morning, viewers could vote by calling, clicking, or buying a Nakia single on iTunes—up to 10 times per artist per voting method.
Nakia's Twitter followers, mobilizing with the #vote4nakia hashtag, took every advantage of the voting mechanisms. Dr_Pingus wrote to the singer, "So, I hijacked everyone in my Psy 201 class's phone to vote for you. 10 times off each phone. 510 votes. (: Hells yeah! #vote4Nakia."
That fervor is no coincidence. Mere minutes after leaving the stage last Tuesday, Nakia was already plugged back in and drumming up support from his online community.
"Back in the V-Room and ready to tweet with #TeamNakia—are you ready to get your vote on? What did you think? I love y'all!"
And he kept up a stream of tweets all week—even after the virtual polls closed Monday morning.
Should Nakia make the cut, he'll perform Tuesday night. Viewers will then have 12 hours to vote him into the final four, who will be revealed Wednesday. If he makes it, Nakia promised to follow a bunch of his Twitter supporters—the ultimate nod in the new world of online celebrity, where the relationship between artist and fan goes both ways.
Photo by George Hsu via Nakia.net