Viewers of "Modern Primate" were in for a rude awakening when they refreshed their YouTube feeds earlier this week.
The My Damn Channel-owned YouTube channel hadn't updated much since the person behind it, Chris Menning, made his last video in April, but the tone has changed too. After the hiatus, a new introductory video surfaced, in which Love Me Cat and Owly from My Damn Channel's Love Me Cat, planned to discuss dating advice for men every week. The most recent video covered pickup lines.
The channel describes itself as "Evolved comedy for dudes of every gender," and the most recent uploaded content reflects that. But this new outlook is only a fraction of the topics Modern Primate used to cover. If you just discovered the channel, you wouldn't have even known that at one point the channel focused on gender, race, and society—especially since it appears that My Damn Channel wants to erase evidence of these past dicussions for the new, narrower approach. 
Only 24 of Menning's 61 videos—song mashups, filler, and his "Boyfriend's Guide" series— remain on Modern Primate. His more political videos, however, even including his farewell message, were gone.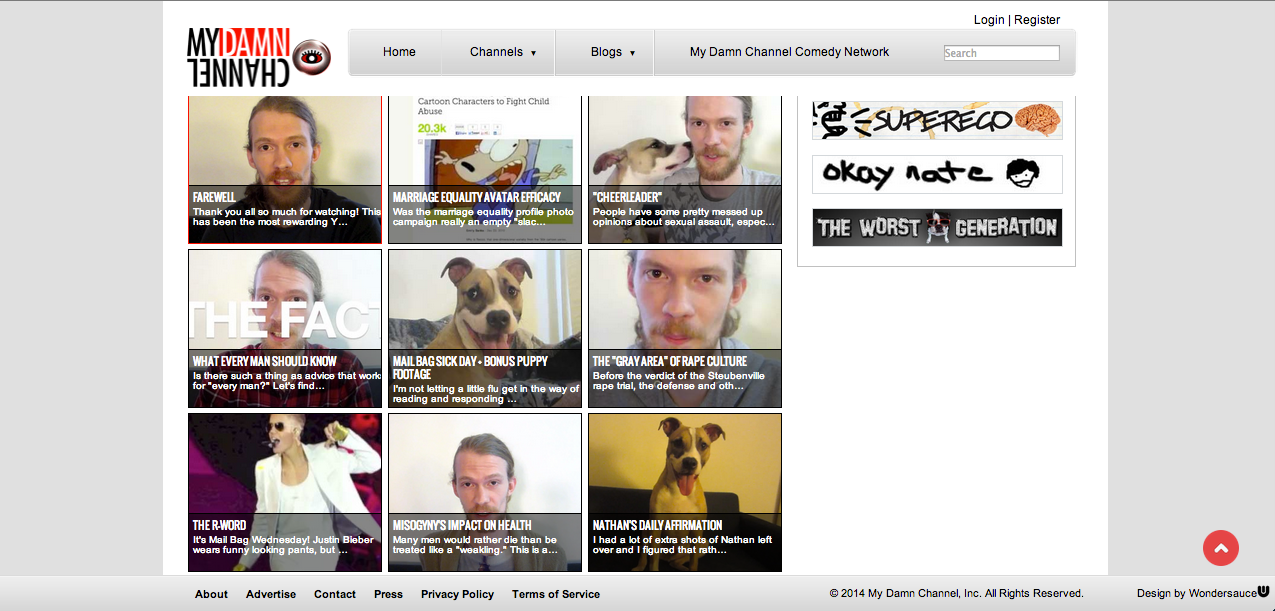 In those, he covered everything from sexual assault, marriage equality, the r-word, and even how to answer someone who asks, "Why is there no White History Month?" It's all still available to watch on My Damn Channel, but gone from Modern Primate itself.
Menning isn't pleased with the overhaul. He first discovered the videos were missing when a college professor who used them emailed him about it. He hadn't received any notice from My Damn Channel, nor was he told to shift his focus from these topics back when he was working for them.
He blasted the change in direction on Twitter Saturday and accused the company of "proving the institutionalized sexism" (although, according to him, "bigotry" might have been the better word).
So @MyDamnChannel has deleted all of my social commentary videos on @modprimate in favor of puppets talking about picking up "hotties." :(

— Chris Menning (@cjmenning) January 18, 2014
I'm sorely disappointed in the new direction @MyDamnChannel has decided to take @modprimate. I do not endorse it at all.

— Chris Menning (@cjmenning) January 18, 2014
"From a practical standpoint, there was no reason to delete them, particularly given MDC's willingness to keep my other videos up," Menning told me in an email. "The only reason I can see is that they felt that the politics of the feminist videos were bad for business, or simply that they were embarrassed of the word 'feminism' (an all too common attitude that my videos were actively pushing back against). And if that's the case, I don't know why they hired me in the first place."
He vowed to reupload the videos to YouTube, and while My Damn Channel legally owns the content he made for them, he plans to put extra commentary on them so they'll fall under fair use.
My Damn Channel has come under fire by fans in recent weeks for continuing to upload content to Daily Grace and monetizing on it after Grace Helbig split up with the content network.
My Damn Channel did not return a request for comment.
Update: My Damn Channel replied to our request for comment with the following statement. 
 "With Modern Primate dormant since early last year, we decided to bring it back to Chris' and our original vision of a comedy and satire channel for 'admittedly geeky yet self-aware men' in their 20s and 30s. While doing so, we did not delete any videos, but temporarily set some to private on YouTube. We have tremendous respect for Chris and his work, which is why these videos have always remained on MyDamnChannel.com, and they are once again accessible on YouTube as well. While 'unlisted,' the videos – including all prior links and video embeds – should live in perpetuity online. We hope that Chris continues to create great content that speaks to his passion about these issues."
Menning also updated us that the videos are now unlisted, and not private. 
Photo via ModPrimate/YouTube