Here at the Daily Dot, we swap GIF images with each other every morning. Now we're looping you in. In the Morning GIF, we feature a popular—or just plain cool—GIF we found on Reddit, Canvas, or elsewhere on the Internet.
Teatime is a ceremony over which English dowagers have presided for generations. It has remained unchanged for all that time. "I'll be Mother," says the presiding dowager, firmly establishing relative power roles.
Oh, there have been occasional minor modifications when silver teapots were introduced (please steep in china, serve in silver) but otherwise the English tea service is as unchanging and tradition-bound as its Japanese counterpart.
This GIF perfectly expresses the immutability of the ceremony itself, cup after cup, pot after pot.
A product of Sheepfilms.co.uk, this GIF challenges the inevitability of the mandatory tea and biscuit. Could it rather be a glass of Prosecco and a slice of flan? Or would that be inferior somehow? It's a rare GIF that can evoke 1984 and also convince you you're better off with what you have.
With 28,792 notes and counting, Teatime promises to be the most controversial hour in the Commonwealth.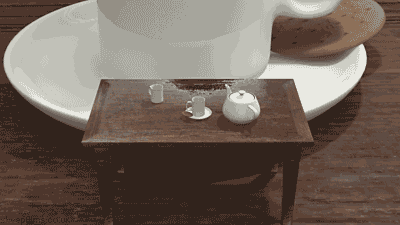 GIF via Sheepfilms/Tumblr